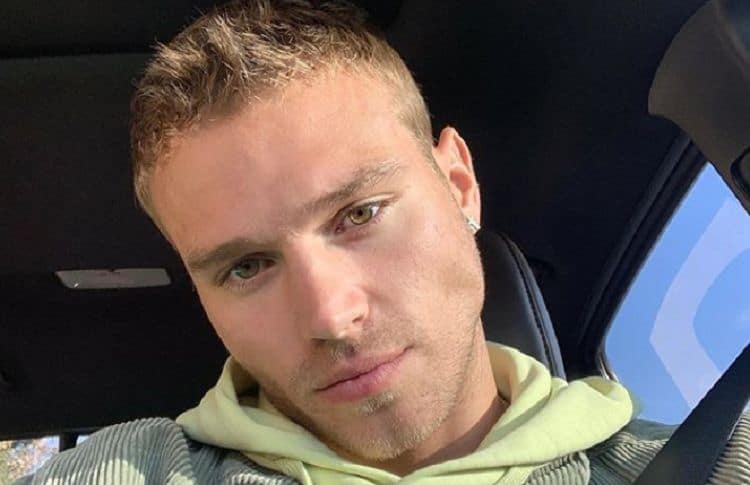 Instagram is mostly used for showing off a few photos of what we believe are our best shots, and that is what Matthew Noszka also did. After making a new deck for his mother, his friend took a picture of him shirtless, which Matthew posted for his 500 followers to see. That was all it took for his modeling career to take off since that picture attracted a model scout, Luke Simone. Matthew flew to New York, but to book jobs, he had to lose weight by walking because he could not afford gym memberships. So far, Matthew has modeled for Hugo Boss, GQ, Nike, and other leading brands and has also become an actor. These ten facts will let you know more about Matthew.
1. What encouraged him to consider modeling?
When Matthew heard that Luke was a Wilhelmina agent, he did not think about it and told his mother, who was also doubtful. They both looked at Luke's profile and realized he was legit, and since his mother watched "America's Next Top Model," she knew that the agency was quite big. Still, when Luke told him to send shirtless pictures, Matthew was hesitant and even wanted to give up before his career started. However, his mother convinced to do it, and before long, Luke said the model would earn $1,500 per day in a Nike photoshoot. The money alone was enough to convince Matthew, who is from a low-income family, that modeling was the right career for him since he used to make only $7 per hour.
2. For two months he auditioned but never got the job
After quitting the basketball team and with his teacher saying he was a good actor, Matthew thought about having an acting career and even signed up with WME. However, after being sent to numerous auditions for two months, he never landed the role since casting directors always chose the more experienced actors to be the lead. He kept hoping for only one director to take a chance on him, and luckily, Irv Gotti did; thus, Matthew wound up in "Tales."
3. One photo on Instagram led to him becoming a model
Matthew was hoping to become a professional basketball player like his grandfather, who played for the Boston Celtics. Therefore in college, he was active, and his skills had seen him get an offer to play in Germany, but the model wanted to finish school since, at the time, he was a junior. Even after becoming discovered, Matthew still wanted to pursue his basketball dream, and his coaches encouraged him. However, according to Pittsburgh, Matthew had to quit the basketball team and school too after getting so many modeling jobs, and it became a struggle trying to juggle everything.
4. He started a company to fuel his philanthropic efforts
Incredibly, there are still places around the globe where electricity is a luxury, and children have to use other sources of light to do their homework at night. That reality touched Matthew and his friend; hence they started a company, Revive, to create solar-powered packs. They come with chargeable bracelets that are also solar-powered; thus, when a customer buys one bracelet, they donate a bracelet.
5. He got a speeding ticket on his way to his first job
Opportunity comes knocking once in a lifetime, so they say, and when Matthew was informed that he had booked a job with Nike, he could not contain his excitement. He drove with a friend since he was not very familiar with the city; he had only visited the place once while in the eighth grade. On his way, the excitement took over, and before he could get to New York, he was served with a speeding ticket. He shared the incident during his casting process, hoping it could give him a competitive edge to reveal his personality.
6. He has experienced awkward situations in his modeling career
Matthew was not comfortable with the world he was being introduced to, at least at first. When Luke told him to send him some shirtless pictures of himself, Matthew must have thought he was a pervert, but his model friend convinced him it was normal in the industry. Then again later, when Luke sent Matthew to Leonardo Corredor, the model was expected to have test shots in his underwear. He felt strange being naked in the presence of a stranger, but after a few shots, he got comfortable.
7. His parents had mixed reactions about him being a model
Matthew grew up working in construction alongside his father, Daniel, who perhaps expected him to carry on with the trade. Therefore when Matthew became a model, and his style of dressing changed, Daniel was surprised at his son's sudden obsession with sneakers and designer clothes. His mother, on the other hand, was glad to see her son in magazines, which she thought was quite an achievement.
8. He is a mama's boy
Mama's boys have never been associated with anything positive, and most women are discouraged from marrying them. However, even Mr. T confessed that he is one because all he does is in respect with his mother. Similarly, for Matthew, he loves his mother so much that when going to Italy for an event, she was his date, according to Harper's Bazaar. Since he gets to travel so much, Matthew ensured that his parents got passports to at least get out of the country and explore the world.
9. He was not interested in acting initially
Matthew does not come from a well-off family and was glad to have been admitted to a Division 1 school under a full scholarship. Unfortunately, he could not go and ended up in a Division 2 school but still under a full scholarship. Since he had been late to join the performing arts college, Matthew talked to his advisor about his best course of action. The advisor said the only choice was to take an acting class elective. Against his wishes, Matthew joined the acting class and fell in love with it eventually to the point of aspiring to be an actor.
10. Why he is passionate about breast cancer
Matthew said that breast cancer is dear to his heart because both his mother and grandmother had it. He even got a tattoo in his mother's handwriting and another of a breast cancer ribbon. However, it is more than just having tattoos; the model said he would launch a foundation. He has an Instagram account (https://www.instagram.com/noszkafund/?utm_source=ig_embed), which aims to raise awareness of breast cancer.