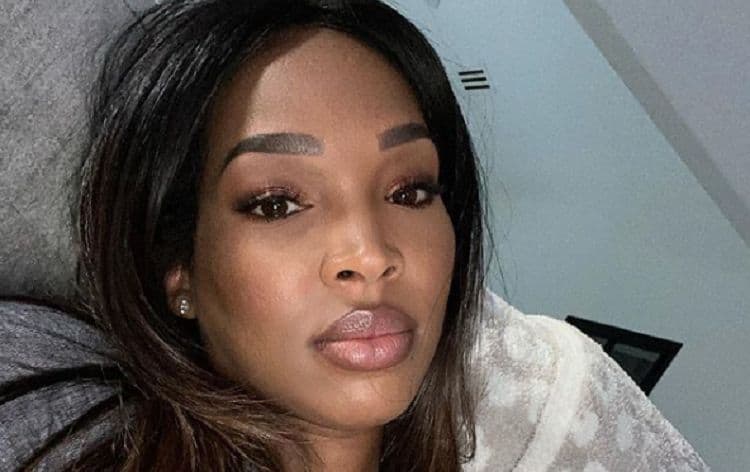 If you spend a lot of time scrolling through celebrity gossip on social media, you've likely come across Malika Haqq's name more than a few times. Initially well-known for her friendship with Khloe Kardashian, Malika's romantic relationship with rapper O.T. Genesis resulted in her name (and face) becoming a regular feature on Instagram pages dedicated to the latest news. But aside from being linked to celebrities, Malika has also had a career of her own. Even after more than ten years in — and around — the industry, however, she still hasn't become a household name. Keep reading to discover ten things you didn't know about Malika Haqq.
1. She's a Professional Actress
If Malika's face looks familiar to you outside of reality TV and celebrity gossip, it's likely because she has made a few on-screen appearances. Most notably, Malika starred in the 2006 film ATL alongside her sister, Khadijah. Though they didn't have a starring role, their characters certainly left an unforgettable impression on viewers. Although Malika has been relatively quiet in the acting world in recent years, she may be gearing up for a return to the camera soon.
2. She Has An Identical Twin
Malika isn't the only one in her family with celebrity connections. Her identical twin sister, Khadijah, is also part of the same circles. The two have collaborated many times over the years and can often be spotted together at public events. Khadijah is also an actress and is married to former NFL player Bobby McCray.
3. She Has a YouTube Show With Her Twin Sister
Malika has a YouTube series with her twin sister Khadijah called Side by Side. You can watch all the episodes on their YouTube channel and listen to the twin's thoughts on lifestyle topics and beauty tricks.
4. She Once Dated Rob Kardashian
In case you forgot about it, we're here to remind you. Believe it or not, Malika once dated Rob Kardashian. The true Kardashian fans surely remember this! The two broke the news about their dating situation in the first season of Khloe & Lamar, a spin-off of the Keeping Up With The Kardashian reality show. As life would have it, Rob and Malika's thing didn't last, and they ended it after only a few weeks.
5. She's Dated Quite A Few Celebrities
Malika's relationship with O.T. Genesis may have been the most recent one to garner attention, but he certainly isn't the first celebrity she's been linked to romantically. Over the years, Malika has dated several well-known people, including her best friend Khloe Kardashian's brother Rob. Malika has also had relationships with Ronny from The Jersey Shore, Nick Carter, and Adrian Wilson. Since her split with O.T. Genesis, Malika has been happily single, and it doesn't look like she has plans to change that any time soon.
6. She Met Khloe Kardashian Through An Ex Boyfriend
Malika and Khloe Kardashian have been friends for a while. Their friendship has lasted so long that it's almost like they've known each other their whole lives. But it wasn't always like this. As a matter of fact, they were complete strangers at one point. According to a close source, they first met in 1999 when Malika was dating one of Khloe's closest guy friends. As Khloe recalls, she had a feeling that her friend deliberately didn't want to introduce them because he knew they'd hit it off right away. Even though Malika's relationship with Khloe's friend didn't work out in the end, the two ladies formed an instant connection and have been BFFs ever since.
7. She Used To Work For Khloe Kardashian
Not only that Khloe and Malika are best friends, but they were also ex-colleagues. A few years ago, Malika worked for Khloe as her assistant, but she decided to quit in 2012 to focus on her own dreams. Luckily, this decision didn't destroy their friendship. Quite the opposite, it was probably for the best that they left the employee-boss dynamic in the past. Since Malika quit as her assistant, she and Khloe have only grown closer together and are inseparable today.
8. She Is Afro-Iranian
Even though Malika was born and raised in California, she is actually of Afro-Iranian descent. A lot of Africans were brought to Iran because of the slave trade, and it is not rare for their descendants to remain in the area today.
9. She Struggles With Anxiety
Anxiety is a very common mental health issue that most people face nowadays, even celebrities. Living in the public eye can even make your anxiety worse, and Malika knows it. She has been very open about the fact that she struggles with anxiety, and she even opened up on several occasions to cope with her anxious feelings. During an interview, Malika said that she has been using CBD to help reduce her anxiety symptoms. She also mentioned that exercising plays a huge role and that it's a great stress reliever for her as it helps to improve both her mental and physical well-being.
10. She Released A Makeup Collection
Malika's friendship with Khloe Kardashian may have its perks, but she refuses to just be known as "the friend". Malika is working hard to establish herself as a businesswoman and recently teamed up with Khloe and Becca Cosmetics to create and release a makeup collection. The aptly named Becca's BFFs was inspired by Malika and Khloe's friendship, and the two were motivated to work on this project by their own experiences with makeup over the years.
Tell us what's wrong with this post? How could we improve it? :)
Let us improve this post!