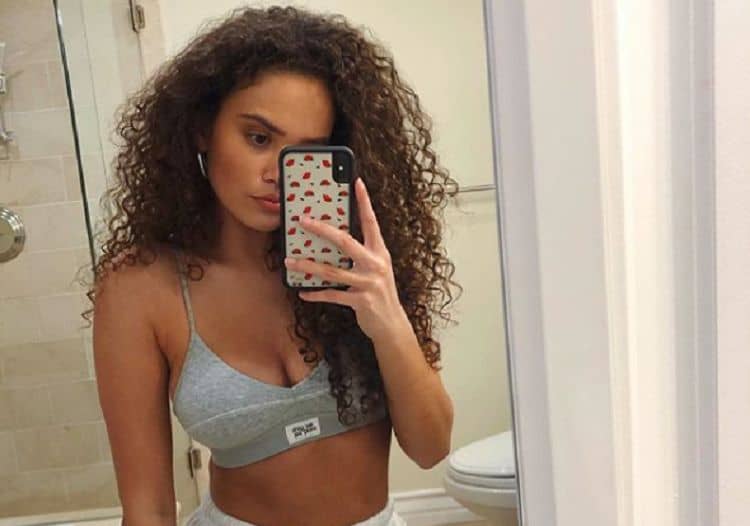 Born on July 22, 1998 in Arlington, Texas, Madison Pettis is an American actress, voice actress, and a model. She has an African American father and her mother comes from an Italian, Irish and French background. Madison got her first taste of modeling and acting after her mother entered her daughter into a contest for a magazine cover for a local magazine. Since her discovery, Pettis has developed a career in many areas of the entertainment business. Pettis has already had some roles in some pretty popular television shows, as well as some roles in big feature films. You may know who this adorable young girl is, but you probably don't know a whole lot, so here are ten things you didn't know about Madison Pettis.
1. A contest started her career
Pettis' mother wanted to enter her daughter into a contest that was being hosted locally, looking for a new magazine cover photo for FortWorthChild, which is a local parenting magazine. This was when she got her first break, maybe not her biggest, but it got the ball rolling. She was signed on with an agent, which meant that she had an agent since the time she was just five. But this helped her to get modeling jobs and even acting roles.
2. No boyfriend
Pettis is free and single. Although she is right at the age where she should be boy crazy, apparently, all she is devoting her time to right now, is her career. At seventeen yeas of age, she is totally career focused and that is not at all a bad thing. There is plenty of time to date and get serious about a guy, but how often do you get amazing roles in Hollywood that other kid actors and actresses would kill for.
3. The Disney Channel inspired her acting
At her young age of five, she fell in love with the Disney Channel, especially the show, That's so Raven. It inspired her enough that she started taking acting lessons, including ones by, "Everybody Fits Acting, for film," which is a course that was saw other, now famous names, such as, Selena Gomez, Jennifer Stone, and Cody Linely.
4. Played with Barney
Early in her career, Pettis played a role on the hit children's series, Barney & Friends. This is a coveted role and show for many new, young actors, as it can help boost their career on to bigger and better things. With Pettis' well rounded abilities to entertain, this was a great part for her as she played, acted, sang and danced with all the other cast members, and especially the main one, Barney himself. In 2006, she began portraying the role of Bridget in an American children's television series Barney & Friends.
5. Modeling campaigns
Pettis' modeling career started very young. At five years of age, Pettis was already in modeling campaigns for Neiman Marcus, General Motors and Procter & Gamble. She has also modeled for Love Pastry along with Alli Simpson and Cody Simpson.
6. Played in Dr. Seuss
In 2008, Pettis accepted a small role in the Dr. Seuss movie, Horton Hears a Who. The Dr. Seuss movies were big box office movies, so for her to even have a small part, it played a big role in her acting repertoire and was just one of the roles that helped propel her career, even further.
7. Game show appearance
Many celebs like to participate in a TV game show of one kind or another, at some point in their career. Pettis decided to give a try at one that had been popular for a while, Are You Smarter Than A Fifth Grader, hosted by Jeff Foxworthy. She
8. First onscreen kiss
Pettis discussed her first onscreen kiss during an interview, talking about how awkward the whole situation was. She talked about the cameras had to be right close to make sure they could see everything they were doing and getting the scene right took so many takes. She mentioned that there were like 3 different set-ups and they all took about 5 takes each. First onscreen kisses are hard for adults, so imagine being a young girl and having to perfect your first kiss with lots of cameras in your face.
9. Net worth
As of now, it is estimated that Pettis' net worth is $500,000, which isn't too shabby considering she is so young. She has had continual work since she began her acting and modeling career, and it's pretty obvious that if she keeps up this pace, by the time she is older, she is sure to start landing some major feature film roles, hit television series roles and more. Her net worth, no doubt, is only going to climb and I bet we hear a much bigger figure in the not-too-future.
10. Hobbies
You often expect that an actor who already does things like dances and sings, would have different hobbies they turn to and enjoy when they aren't doing these activities on a regular basis, as a way of their work. But this is what Pettis loves to do, dance and sing, and they are not only a part of her career, but they are her favorite hobbies too.
Tell us what's wrong with this post? How could we improve it? :)
Let us improve this post!