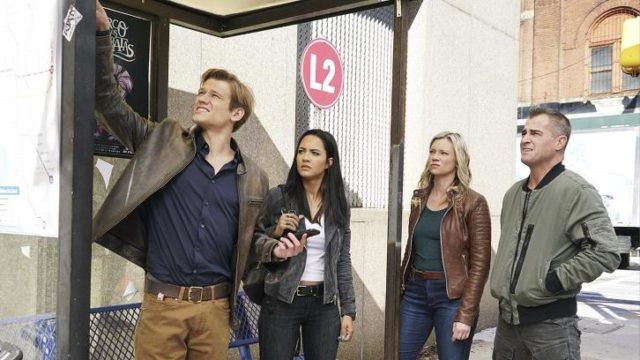 Someone needs to tell me if the scene from Up is actually possible, because, though it was just for a minute, MacGyer just recreated it. The rest of the episode was dedicated to one Mrs. Jack Dalton. No, she is not actually Jack's wife, unless you count a fake marriage license to one of Jack's aliases. However, Dawn and Jack did bond during their near-death experience in New Orleans, as well as their time in Los Angeles before she robbed her "hubby." This time around she puts her trust in Jack, but can he trust her not to double-cross him?
Dawn comes to Jack for help when her CIA handler is killed. She explains that her handler believed a member of the CIA was helping people get into the country under false covers. Dawn advised against making waves until they could nail down who the traitor was. When he was killed, she knew that Phoenix were the only people she could trust. But Phoenix doesn't trust her, and for good reason. Once Dawn proves her story is real, Mattie is more than motivated to go after the traitor, nicknamed "Echo."
While Mattie loops in Julian, the Director of the CIA's L.A. division, Dawn, Jack, Mac, and Bozer track down some of the people holding fake passports. What they get is a lot of gunfire to distract from the money in the walls. The whole project was a counterfeiting ring. Phoenix tracks the money through its germs (eew), all the way to Peru. But whoever is manufacturing the paper there tips off the police. During the mission, Jack wanted to take the time to really get to know Dawn. Their first date was being tied together at gunpoint in a New Orleans swamp area. It makes sense that their second date would be in a Peruvian jail cell.
Once Phoenix gets out of jail, they track down the money mill, and the number of the CIA traitor. Unfortunately, Mattie's been unknowingly working with him the whole time. It was her good friend Julian, out to prove that he could outsmart the superiors who long denied him the promotion he deserved. Mattie didn't spend decades building her career at the CIA to get the reputation she has for nothing. Either taking someone out with a cigarette lighter was always in her repertoire, or she's been spending too much time with Mac.
Despite all the warnings from Mac and Riley, Dawn did indeed betray Jack. She stole a million dollars of the real money and left the CIA. But it wasn't for evil purposes. Everything Dawn shared with Jack was the truth. She grew up in foster homes until she could make it on her own, and there was one group home in particular which was very good to her. That's where she dropped off the money, so the kids could have a better chance than she did. She can always make some more money on her own.
So Jack and Dawn don't have a future, but would they be able to meet again down the road?
Tell us what's wrong with this post? How could we improve it? :)
Let us improve this post!