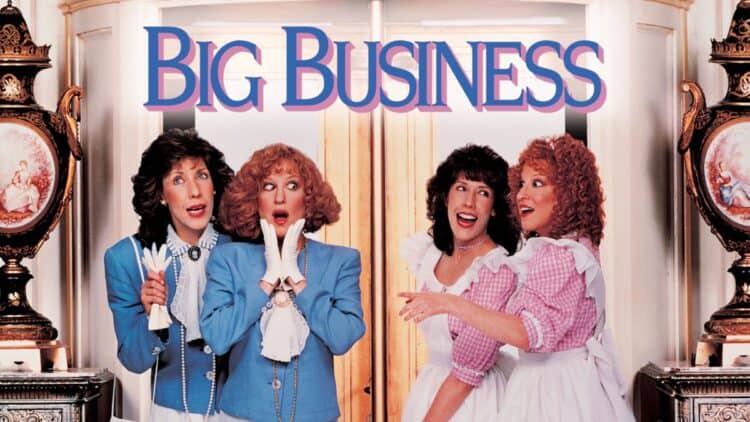 The 80s turned out to be a great decade for good memories and fun comedy, and the 1988 movie Big Business starring Bette Midler and Lily Tomlin was a fun feature at the time that has likely been nearly forgotten at this point. This story is fairly simple since it has to do with a wealthy couple that is lost in the backcountry near a place called Jupiter Hollow when the wife, who's pregnant, goes into labor and has to stop at the local hospital. When another couple enters the hospital at the same time, the hilarity begins when the women both give birth to twins, and the elderly nurse mixes up the babies in the ensuing confusion. As a result, Sadie and Rose Ratliff and Sadie and Rose Shelton are raised in vastly different locations while each one of them acclimates to their environment in different ways. Both Sadie's have a distinct love for the big city, while both Rose's enjoy a simpler life that isn't quite as complicated. But thanks to the mix-up, both sets of twins are seen as opposites, which is kind of funny since the differing personalities between each twin offer up a great deal of comedic interest.
When the Sheltons, who own a part of Jupiter Hollow thanks to their father, are about to sign a deal to strip-mine the place, Rose Ratliff, who is heavily invested in her home, makes her way to the big city, with Sadie coming along. After several near-misses in which the ladies almost ran into each other, they finally end up meeting and finding out that they were switched at birth. When this happens their lives change just enough as they discover their passion for one lifestyle or another. It's very likely that this wouldn't be a hard movie to see as a reboot, though it's likely that it would be changed enough to update it for the current era, and might even have to tweak things to make sure that the mix-up could happen.
The reason for thinking that Tina Fey and Amy Poehler could make this happen is that they've been great together on screen and have successfully starred in a couple of insanely funny movies. To think that they might be able to make this work is kind of an interesting thought since their brand of comedy would be fun to see in this capacity. Whether or not this would take place in the country and the city is hard to say since the idea is still solid considering that the two opposite locations would be a great contrast, but there might be a different pair of locations that might be just as possible to draw a few laughs and even broaden the story a bit. Their level of comedy would manage to bring this movie into the modern era and even give it a slightly different look which would be a lot of fun since to be fair, they might not be of the same caliber as Midler and Tomlin, or maybe they are, but Fey and Poehler are in a class all their own, and this feels like it would be something that people would be willing to give a chance.
In the past couple of years, it's been noted that nostalgia has played a big part in cinema and TV since old ideas have been coming back into view and have been seen to be rebooted, remade, and redone in ways that not everyone agrees are great, but are still interesting enough to consider. This movie would likely be a simple matter compared to many others, and it could even become a family movie that would be open to a great deal of comedy as well as a lot of feel-good moments that Fey and Poehler are skilled at creating. The pair have been known as one of the best comedic duos to come along in the history of show business, and it's not hard to think that they would receive a huge vote of confidence when it comes to rebooting this movie. Whether or not they would want to take on the project would be the biggest question. Then there would be the idea as to whether any of the original actors might want to appear in a cameo.
It appears to have become obvious that some actors don't want to revisit their old movies and would go a long way toward avoiding such a thing. But to see Midler and Tomlin show up in a reboot would be kind of fun since it would be a nice homage to the original movie. Thinking that this could happen is easy, but believing that it will is something else that might not be fulfilled since again, the movie is one of those that might have been lost to memory a while ago. It would be a fun idea to think about though.
Tell us what's wrong with this post? How could we improve it? :)
Let us improve this post!