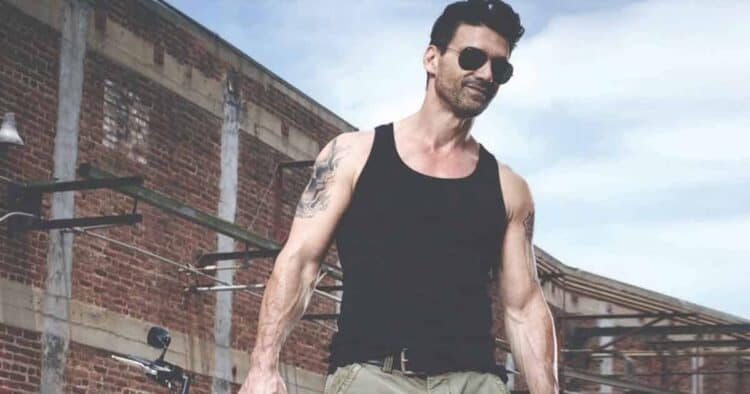 It's been a minute since hearing about Frank Grillo, but it would appear that this is because he's been busy working on The Dagon, which sounds like an odd title for a movie, but might turn out to be kind of interesting since it's apparently going to be showing Grillo in a family-man role as he'll be doing his best to keep his family safe from a group of deadly creatures that are, as it's been stated, always surrounding the family, or something like this. Maybe my wording isn't correct, but it does sound almost like the movie might have an A Quiet Place vibe. But hopefully, this distinction won't be as strong on-screen as it sounds. At the moment there's not a lot to be said about The Dagon, but it's a hope that this will help to continue Grillo's rise as he's been one of the few actors that have been climbing the ladder of success in a convincing manner over the last several years. This current movie that's starting to get a bit of attention may or may not be the ticket to launching his career to a new level, but it's another reason to watch and see what he can do.
To be fair, some of his appearances have been great and others have been kind of 'meh'. It does feel as though Grillo has been finding his rhythm over the years, and his time spent in the MCU was entertaining, but it doesn't stand out as the best part of his career even if it meant belonging to a humongous franchise. His time spent in Warrior with Tom Hardy and Joel Edgerton was interesting since he played the part of a kind-hearted individual that was ruthless when it came to coaching his fighter in the octagon.
One of his more enjoyable movies in the last year or so was the action-heavy Boss Level, which starred several other notable names including Mel Gibson and Naomi Watts. There's no doubt that Frank is an action star and has the chops for it, but this movie, as well as a few others, have shown that he has the capability of taking on a more dramatic persona as well, and he's not too bad at comedic delivery when he's called upon for such a thing. In short, it doesn't feel as though Frank has been given the high-dollar chance that he's worth at times since it does appear that he's grown tremendously as an actor and isn't a flash in the pan type that can be replaced at a moment's notice. His dramatic acting might still need a little polishing, but compared to other action stars that have gotten by without being forced to change their act over the years, Frank is the type of guy that can be convincing enough no matter what part he's playing. The guy just needs a chance to show that he can do something special, and after that, it's fair to think that he's bound to be someone that can be seen as entirely reliable and will get the job done. In The Dagon, it feels as though he's being given a chance to do something that he's not as well known for, so it could be that this movie will show folks what he's all about.
Until we hear more details about the movie it's not likely that many people are going to know what it's all about yet, but it does sound as though this story will be one of those that's capable of baiting people in only to pull the rug out from beneath them when they least expect it. This type of story is a lot of fun since it leaves people with an expectation, but it's vague enough that folks don't know what's coming until it's already happened, or until that perfect moment when they think they have things figured out. Such a story is a great deal of fun to write as much as it is to experience, and with Frank's already proven acting skills it feels as though this could be an element that might make The Dagon worth watching. Getting one's expectations up is a risk, but it's one that many might be willing to take simply because Frank has been more than a little impressive as of late.
One hope is that he won't become a played-out action star, since too many individuals have entered via the action genre and have ended up being misused or discounted in ways that end up killing a person's career. Frank has what it takes to be a memorable star since plenty of people happen to enjoy his work at this time, but it remains to be seen if he's going to be able to maintain his status as a lead character in the years to come. It's very possible, he has the talent, but hopefully, The Dagon will reinforce this feeling.
Tell us what's wrong with this post? How could we improve it? :)
Let us improve this post!