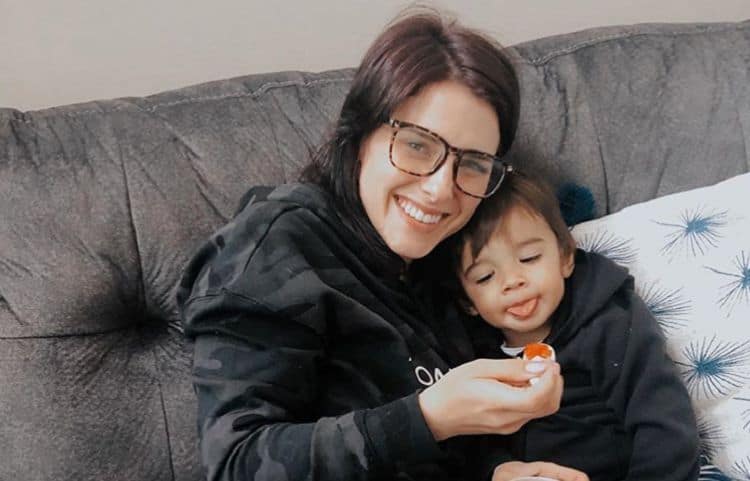 It's been over a decade since MTV aired the first episode of Teen Mom. Since then, what started off as a single show has become a franchise featuring several spin-offs. Teen Mom 2 is the franchise's longest running spin-off and it's cast has grown to include more kids, new parents, and new partners. Among the One of those newcomers is Lauren Comeau. Although she isn't technically a member of the cast, she has become associated with the show through her relationship with her boyfriend, Jose Marroquin. The couple began dating in 2018 and welcomed a child together soon after. Keep reading for 10 things you didn't know about Lauren Comeau.
1. Her Relationship With Javi Has Had Some Problems
Everyone goes through ups and downs in their relationship, but Lauren and Javi seem to have had more than their fair share. During the time they've been together, they've gone through several breakups and Javi was even involved in a cheating scandal right before their son was born. Despite their struggles, the couple seems to be doing well now.
2. She Didn't Want To Be A Part Of Teen Mom
Dating someone who is involved in the reality TV world can be challenging, especially if you don't have any interest in being on reality TV yourself. When Lauren and Javi first began their relationship, she didn't want to be a part of the team mom world. However, that eventually became unavoidable as the two continued to get serious.
3. She Met Javi Through A Friend
Lauren and Javi met each other in 2017 while they were both attending a friend's wedding in Delaware. At the time, Javi had just ended his relationship with Kailyn and probably wasn't expecting to enter another one so soon. However, Lauren and Javi had an instant connection and got serious pretty quickly. They announced their pregnancy less than a year later to the surprise of many fans.
4. She's From Maine
Lauren was born and raised in Maine and she still has some family there. She even took Javi and his son, Lincoln, up north for a nice visit. Lauren eventually relocated to South Carolina before moving to Delaware to be closer to Javi.
5. Javi's Ex Is Not A Fan
Teen Mom 2 fans were originally introduced to Javi through his relationship with one of the show's stars, Kailyn Lowry. The couple was married from 2012 to 2017 and has one son together. However, since ending the marriage, Kailyn and Javi have had a rocky relationship that has spilled over into Lauren's relationship with Kailyn. Things became especially tense between the two when Kailyn found out that Lauren called her an inappropriate name.
6. She's Really Into Fitness
Bouncing back after having a baby isn't an easy thing to do, but Lauren has gotten back in shape since giving birth to her son. She loves to stay fit and healthy and she encourages other to do the same. She often posts motivational messages on her Instagram account to inspire her followers to get up and get moving.
7. She Sells Health Products
In addition to her love for fitness, Lauren also works as an independent consultant for a brand called Arbonne. According to the company's Instagram bio, they sell "clean, vegan products that improve the mind, body and skin. "
8. She's An Aunt
Lauren is a very proud aunt who has a close relationship with her two nieces. She loves spending time with them. When she was still living in South Carolina, they made regular appearances on her Instagram. In fact, when Lauren first started getting lots of attention on social media, some followers thought her nieces were her children.
9. She Takes Her Role As A Stepmom Seriously
Even though Lauren and Kailyn don't have the best relationship, Lauren is still crazy about Lincoln, Javi's son with Kailyn. Lauren and Javi have worked hard to create a blended family for their boys, and they all seem to be happy together. Lauren always includes Lincoln in her posts on social media and the two seem to have a good relationship.
10. She's A Brand Ambassador
Having a big social media following has become a great way to make money. On top of her work with Arbonne, Lauren is also a brand ambassador. She has worked with brands like Brumate and The Polymath Mom. Each brand her given her products and a discount code to promote and share with her followers.