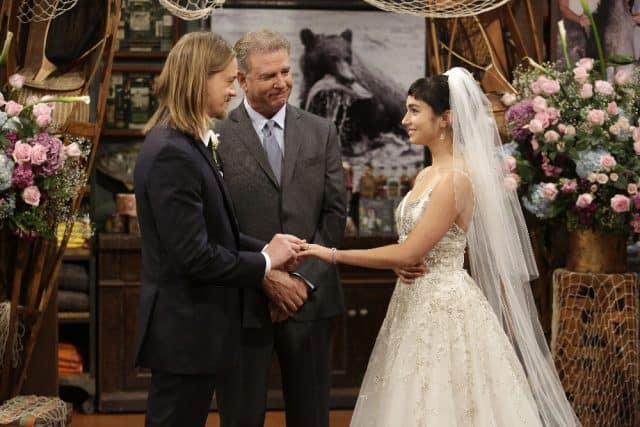 Over the years, Last Man Standing has done its share of poking fun. It doesn't discriminate. It pokes fun at Mike, Ed, Kyle, Mandy, Chuck, Ryan, and the like. But unlike some other shows, there is no "sad sack". No one is the butt of a joke without redemption. Arguably, Kyle and Mandy take the most heat on this show, but this wedding was a beautiful, simple, redemptive effort.
This week on Last Man Standing: In final preparations for their wedding, Mandy goes full bridezilla on her family and friends, which alienates Ed from the wedding party. Mandy must set her ego aside to get Ed to return the wedding.
I feel like I say this every week, but I appreciate Last Man Standing because it's a dying breed of show. It's funny just like any other sitcom, and it's about family like a lot of other sitcoms, but what it has that other shows lack are these really beautiful, true to life, heartfelt moments. Kyle and Mandy's wedding exemplified that tradition. Mandy can be insufferable and Kyle is a dumbbell, but they are both loved and they love each other.
It may be the love that Kyle was shown by Ed and Mike in this particular case that got me misty-eyed. They rag on Kyle, a lot, but them both being so willing to help him out was beautiful. In fact, I think maybe my one criticism of this episode is that it didn't go far enough. I would really liked to have seen Mike and Kyle have a minute to talk before the wedding, or perhaps see Ed give his best man speech. I would've liked that a lot, but this episode was really about Mandy and Kyle's love, and not much else. That much is clear.
Here are some other thoughts/great moments:
It's always good to see Bill Engvall. I wish he was the preacher at my church.
"He'll come dressed like Spider-Man!"
Molly Ephraim was a fabulous bridezilla in this episode.
"When do we get to throw rice at her, and can it be rocks?"
I will forevermore be able to notice a "raisin in your wedding oatmeal". It cannot be unseen.
"I'm not just gaining a son, I'm spending a fortune!"
I'm not sure I understand the decision to move the wedding to Outdoor Man.
Perhaps the greatest wedding vows of all time were Kyle's. "Ditto"
Either way, I appreciated the reverence with which the wedding was handled, and the truth in how it played out. What else can I say other than I appreciate Last Man Standing's heartfelt nature and how different it is from other sitcoms. I, too, found it to be a little dusty in the room when Mandy and Kyle said their wedding vows, and I wouldn't have it any other way.
What did you guys think? Did you enjoy the episode? Let us know!
Last Man Standing airs Fridays at 8/7c on ABC
Tell us what's wrong with this post? How could we improve it? :)
Let us improve this post!