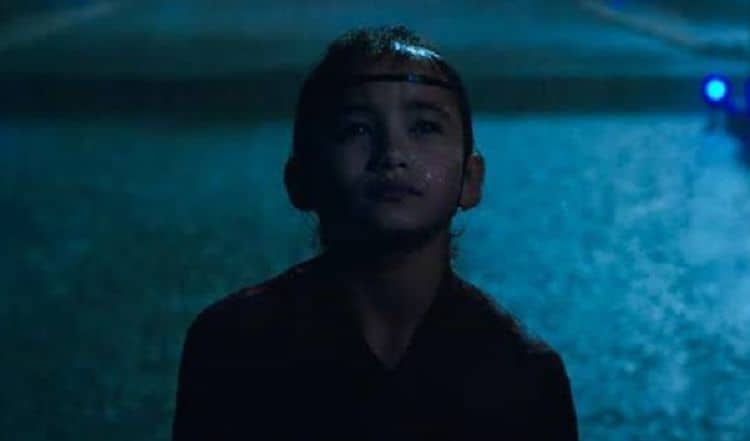 2021 has been a very exciting year for Kaylee Hottle. Not only did the young actress make her debut on-screen appearance, but it was in a major movie. Her role in the film Godzilla vs. Kong has gotten her a lot of attention. Although the film hasn't gotten the best reviews, Kaylee's performance has gotten a lot of positive reactions. There are a lot of people who can't wait to see what the future has in store for the rising star. Not only are her acting skills undeniable, but the fact that she is deaf has made her journey even more impressive. Although some may see a hearing impairment as an obstacle, Kaylee refuses to let anything stand in her way. Keep reading for 10 things you didn't know about Kaylee Hottle.
1. She Isn't The Only Deaf Person In Her Family
Although there are a variety of things that can cause deafness, genetics often plays an important role. Kaylee comes from a family that, on her father's side, has been deaf for four generations. Both of Kaylee's parents are deaf. She also has an older sister who is deaf and three younger siblings who are hearing.
2. She Comes From A Diverse Background
Kaylee was born in Georgia and she's very proud of her roots although it appears that she now lives in Texas. Her mother is Korean and her father is White-American. Kaylee's parents are no longer together but it looks like she has a great relationship with her mother's boyfriend, Ryan Kelly.
3. She Still Attends 'Regular' School
Now that Kaylee is officially a movie star, her life has become quite different from other kids her age. However, she has been able to maintain a sense of normalcy by continuing to attend her regular school, The Texas School for the Deaf. It doesn't appear that she has any plans to switch to home school.
4. She Already Has Fan Pages
At this point, we weren't able to confirm that Kaylee has any social media accounts, but her fans have already gone to work creating pages in her honor. She has at least two fan pages on Instagram and one of them already has more than 3,300 followers. That's not too shabby for someone who literally just started their career.
5. She Has A Strong Support System
Lots of creative people have struggled to find support from their loved ones. The reality is that many parents would much rather their child follow a traditional path than an artistic one. Fortunately for Kaylee though, she comes from a very supportive family who is excited to take this journey with her.
6. She Loves Track And Field
Acting may be what is getting most of Kaylee's attention at the moment, but it's certainly not the only thing she's interested in. According to Just Jared Jr. Kaylee's favorite sport is track and field, but the site doesn't go into detail about whether or not she's participated in the sport herself.
7. Sofia Wylie Is Her Favorite Actress
Every actor has at least one person in the industry who they've always looked up to, and for Kaylee that person is Sofia Wylie. For those who aren't familiar with Sofia's work, she is best known for her role in the Disney series Andi Mack. Millie Bobby Brown is another one of Kaylee's favorite actresses.
8. Alexander Skarsgard Learned ASL To Communicate With Her
Even though Kaylee has done her best to adapt to the hearing world, working in a new environment where everyone around you is hearing was probably a pretty overwhelming feeling. Everyone on the set of Godzilla vs. Kong did their best to make sure she felt comfortable and her co-star, Alexander Skarsgard, even learned sign language so they could easily communicate.
9. She Loves Seafood
To lots of kids, the idea of eating seafood can be a little icky, but Kaylee is clearly working with a very refined palette. While talking to Just Jared Jr. she revealed that seafood is one of her favorite things to eat although she didn't share the specific dishes that she enjoys the most.
10. She's Been In Commercials
Godzilla vs. Kong is officially considered Kaylee's first on-screen role, but it isn't actually the first time she's been in front of a camera. She got her start doing commercials. In fact, it was a commercial she appeared in with her mom that led to her being cast in Godzilla vs. Kong. Although Kaylee isn't someone who has always wanted to be an actress, she's definitely started to warm up to the idea.