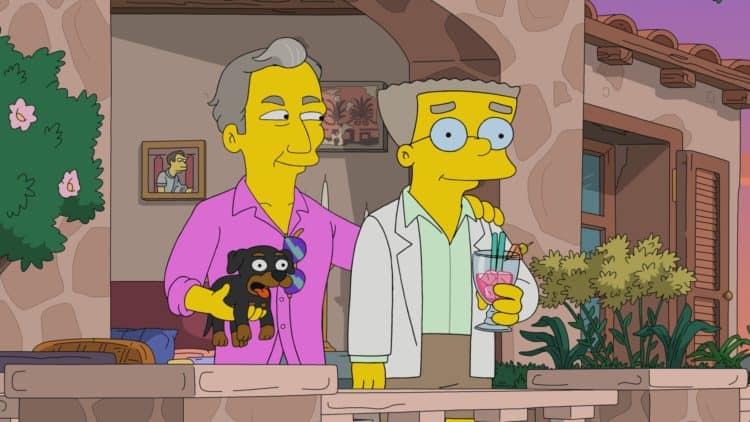 Even though Waylon Smithers Jr. AKA Mr. Smithers isn't part of the Simpson family, he has become one of the show's most memorable characters during its more than 30-year run. Smithers has been working as Mr. Burns' assistant since the show started, and he is known for being good on the job unlike some of the other employees at the plant. Although Smithers' love life hasn't played a major role in the show, in 2016 it was revealed that he is a gay man. Many viewers felt like this finally opened the door for Smithers to have a little romance added to his storyline, and it looks like the time has finally come. In November of 2021, Smithers' love interest was introduced, and it resulted in lots of feedback from viewers. Let's talk about how viewers reacted after seeing Smithers finally get a love story on The Simpsons.
Smithers' Coming Out Story
For years, many fans of The Simpsons speculated that Mr. Smithers was gay. So, when he came out in 2016 it wasn't a surprise to many but it was still a groundbreaking moment for the show. In the episode, Smithers comes out to his long-time boss, Mr. Burns, but Burns instantly lets him know that he doesn't share the same feelings. As you can guess, this rejection sends Smithers into an emotional tailspin, but Homer comes up with a plan to introduce Smithers to a new man to take his mind off of things. The episode made news all over the world and many considered it a groundbreaking moment for the show. What many people didn't know about the episode is that it was actually inspired by true events. Rob LaZebnik, who wrote the episode, tapped into the real-life experience of his son's, Johnny, coming out story. While the episode was still comedic, it also handled Smithers' sexual orientation with care and compassion.
Who Is Smithers' Love Interest?
Before we can talk about how fans feel about Smithers finding love, we should probably talk about who it is that he's found love with. Smithers' boyfriend is a wealthy and smooth man named Michael De Graaf. According to Nerdist, De Graaf is "a billionaire fashion mogul, a dog lover, and, well, a very straightforward man who isn't afraid to put his feelings on the line." When Smithers and De Graaf meet for the first time, Smithers doesn't initially realize that De Graaf is flirting with him. However, Homer lets him know that he might want to start paying attention to his advances. De Graaf then asks Smithers on a date, and the two hit it off. They eventually share a kiss full of some major cartoon fireworks. Most viewers will probably agree that De Graaf is a major upgrade from Mr. Burns in every way and it's nice to see someone chasing Smithers for a change.
So far, it looks like their connection has the potential to blossom into a long-term relationship. It'll be interesting to see how their story unfolds over the next several episodes, but it's looking like Michael De Graaf could potentially become a recurring character on the show.
How Fans Are Reacting
Smithers finally getting a boyfriend has gotten lots of reactions from viewers. Although some people still don't think Smithers' character should be gay, the responses to his new relationship seem to be overwhelmingly positive. A Twitter user named lovejoshua2021 wrote, "What a beautiful episode, written with love @TheSimpsons. I love you all. Stay beautiful and I can't wait to see you again. #TheSimpsons". Another user, lIllImikelIllI, tweeted, "#TheSimpsons hot streak continues! The Wayz We Were, Lisa's Belly, A Serious Flanders parts 1&2, and Portrait of a Lackey on Fire have all been excellent. This is the best and the most consistent the show has been in years." Some have even said that they felt the episode introducing De Graaf was worthy of an Emmy.
With so much support for Smithers and his relationship, it seems only right that De Graaf sticks around. Not only would it be good for entertainment purposes, but it would also be nice to see Smithers really get some genuine happiness. If the writers try to throw some heartbreak into Smither's storyline, a lot of people will probably be annoyed. As one of the longest-running TV shows on the air, it's great to see that The Simpsons can still bring fresh content to the screen. Hopefully, we'll get to see even more great moments between Smithers and De Graaf as the series continues.
Tell us what's wrong with this post? How could we improve it? :)
Let us improve this post!