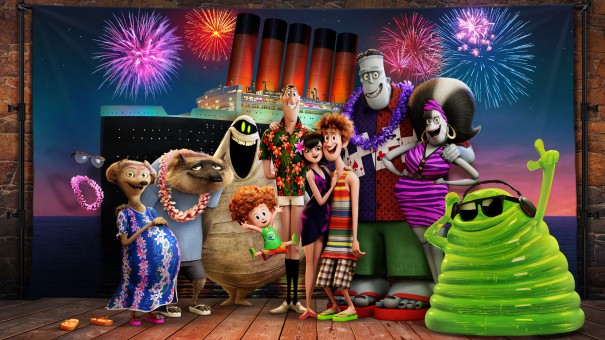 Sony Pictures Animation has released the trailer and poster for Hotel Transylvania 3: Summer Vacation, the third installment in the Hotel Transylvania franchise. The film is scheduled to be released on July 13, 2018.
According to the synopsis of the film, Mavis surprises Dracula with a family voyage on a luxury Monster Cruise Ship so he can take a vacation from providing everyone else's vacation at the hotel. The rest of Drac's Pack cannot resist going along, and once they leave port, romance zings Drac when he meets the mysterious ship captain, Ericka. Now it's Mavis' turn to play the overprotective parent, keeping her dad and Ericka apart. Little do they know that his "too good to be true" love interest is actually a descendant of Van Helsing, arch nemesis to Dracula and all monsters.
Adam Sandler, Andy Samberg, Selena Gomez, Kevin James, David Spade, Steve Buscemi, Keegan-Michael Key, Molly Shannon, Fran Drescher, and Mel Brooks are reprising their voice roles from the previous films. Director Genndy Tartakovsky is returning to direct the film along with Michelle Murdocca back producing and Sandler executive producing, with a screenplay by Tartakovsky and Michael McCullers.
"This time around, we are all leaving the hotel on a summer monster cruise which is a fun change," Gomez tells People magazine during an interview. "The comedic situations the characters from the first two films find themselves in might be the funniest yet! My dad Drac begins dating, so in this one Mavis acts as the overprotective parent. I had a good time playing up that dynamic!"
Gomez said that it was fun getting to revisit the character she started voicing since the first film. "It's great because I have grown up alongside the character who I love voicing," she said. "I have always admired her spunk and smarts. She is sweet and confident while struggling with being her own person. I like playing a character who loves her family and being in a film that brings families together."
Here is the trailer of Hotel Transylvania 3: Summer's Vacation:
Here is the poster: