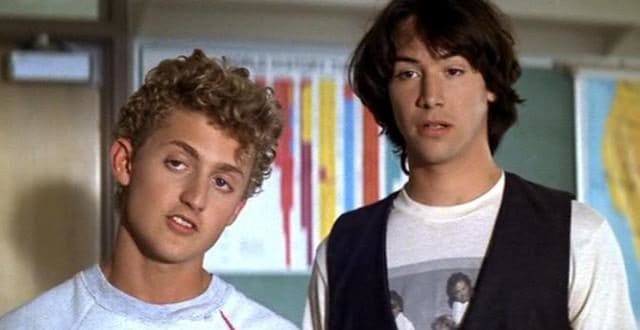 It's not really feasible to say that all of the quotes from Bill and Ted's Excellent Adventure are memorable or great, but taken in context a lot of them are pretty funny. The movie was allowed to become a cult classic as a lot of people from back in the day remember it fondly, and now that a third one is in the works it's time for a refresher course. There's no way to know what's really going to come out in a third movie but one thing is kind of certain, Bill and Ted are going to have to fix a mess that they made by just being themselves.
They don't really need enemies when they've got themselves.
10. Okay, wait, if we were one of Europe's greatest leaders, and we were stranded in San Dimas for one day, where would we go?
Come on, how many times in a lifetime would you get to say or even hear something like this? Of course Napoleon would go to the Waterloo Water Park, because of course a man out of time wouldn't be walking around gaping at everything in sight that's so foreign.
9. This is a dude who, 700 years ago, totally ravaged China, and who, we were told, 2 hours ago, totally ravaged Oshman's Sporting Goods.
Watching Genghis Khan go off on a mannequin is one of the highlights of this movie since it's undeniably funny and has that chaotic bent that the movie needs.
8. Be excellent to each other!
It's one of the simplest quotes and it's one of the most powerful at the same time since it carries the heaviest and most important message of the whole movie.
7. Remember when she was a senior and we were freshmen?
It seems like everything that Ted says around Bill about his stepmom Missy ends up being met with a "SHUT UP TED!". It'd be odd having a stepmom that's only a few years older than you though.
6. It seems to me the only thing you've learned is that Caesar is a "salad dressing dude".
Yes, it's true, the guys were absolutely horrible at history and, well, just about everything else.
5. 69, dudes.
If you had to ask what number the guy that looks just like you thinks you're thinking then you might be a special kind of stupid. Well, they are to be honest so it pans out.
4. Whoa. He didn't even card us, dude.
Now granted back in the day someone might have looked at these two funny if they bellied up to the bar, but a customer was a customer if they looked old enough.
3. Ted, you and I have witnessed many things, but nothing as bodacious as what just happened. Besides, we told ourselves to listen to this guy.
When you tell yourself to do something you should be able to trust yourself so long as the guy that told you to do something was in fact yourself. Dizzy yet?
2. "All we are is dust in the wind," dude.
Thousands of years of philosophy and Ted comes up with a simple little quote that sums it all up. Awesome.
1. Strange things are afoot at the Circle-K.
If there's such thing as an alpha quote in a movie, then this is it for this one.
Catch you later Bill and Ted!