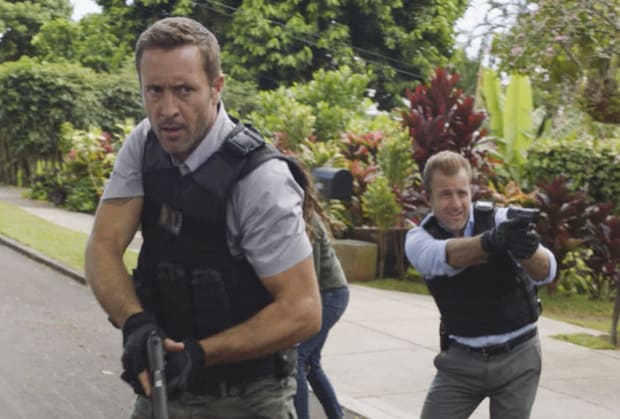 If you saw Hawaii Five-0 Season 8 Premiere on CBS September 29, then like many fans, you probably said: "WTF happened to the Five-0 team?" Good question. Where are Kono and Chin? After all these years, we've simply come to expect them to be there. But, they weren't. They're gone, ostensibly to San Fran.
Salary Dispute
In reality, they left over a salary dispute. They allegedly demanded equal pay with Scott Caan and Alex O'Loughlin. Didn't happen and, poof, they're gone. OK, they're good actors and played beloved characters on the show for years but, let's face it, Danno and Steve are the stars of the show just like they were in the original years ago. So, demanding equal pay didn't quite work out for the two cousins but, hey, you can't knock a guy for asking, right? You can just kick 'em to the curb, however. We'll miss them anyway and they'll always be CHin and Kono to us fans. Here's hoping that both Grace Park and Daniel Dae Kim show up on new shows real soon.
The New Girl
So, enter the new girl. She's super-hot Meaghan Rath, who will be playing Tani Reyand. She really kicks bad-guy-butt. At first, when Danno and Steve ask her to join Five-o, she declines but later changes her mind. She's definitely a good fit and we can't wait to see who she gets romantically involved with. Will it be Danno, who already seems to like her, or will smooth Steve steal her heart?
From Recurring to Regulars
And, four of the recurring Five-0 characters have been promoted to regular status, namely Kimee Balmilero who plays Dr. Noelani Cunha, Dennis Chun as HPD Sgt. Duke Lukela, and Taylor Wily playing Kamekona, as well as Ian Anthony Dale. He plays Kono's recently released from prison husband, Adam, and we're looking forward to seeing how the writers explain that he's still there but she's gone away to San Francisco.
A Fire Never Says It's Had Enough
So, the Season 8 premiere revolves around a vicious arsonist who is broken out of prison by an ingenious hacker. The arsonist then sets fire to everybody who helped him escape. The Five-0 team tracks him down but, when they get close, he sets a massive wildfire to help with his escape. The team ends up taking shelter in an old cabin in the wilderness. In true McGarrett form, Steve heads out on his own to get help. He manages to commandeer a helicopter and lifts the entire cabin with the team inside to safety. It's a very dramatic scene with amazing special effects albeit somewhat implausible. Needless to say, they're all safe except for the arsonist who escaped their custody and ran off into the fire. Of course, only one body is found after the monster fire is extinguished and it's the arsonist.
Steve's Restaurant?
Meanwhile, Danno invests in a restaurant remodel and wants Steve to join him as his partner because it would be "fun" to do together. The plan is for an Italian restaurant in Chinatown. Early in the show, Steve thinks Danno's crazy for thinking up the idea. But, in the ending scene, he has the lease in-hand and becomes a partner with Danno in Steve's. All's well that ends well but will the Hawaii Five-0 boys find that everything they've gone through all these years at Five-0 is nothing compared to the horrors of the restaurant biz? Guess we'll just have to stay tuned to fight out.