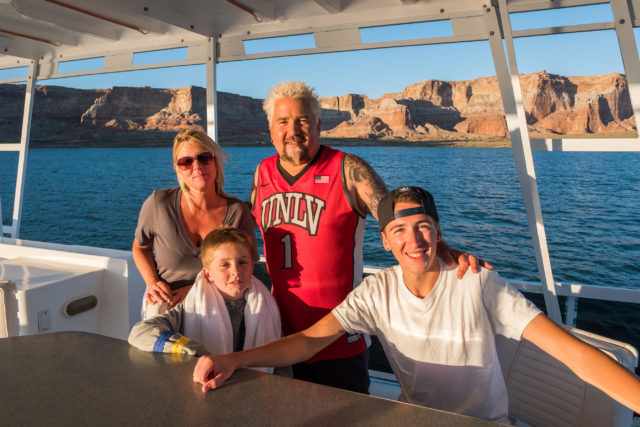 In 2015, Guy Fieri's sons wrote an open letter to their father's fans titled "The Food Network is Killing Our Father". The truth was that their high energy dad was keeping a back breaking filming schedule with "Diners Drive Ins and Dives" and other Food Network show appearances. Fieri still has a hectic schedule but now the family is all along for the ride with "Guy's Family Road Trip". Is this new show worth watching? You betcha! The first episode that aired on August 13th and already this show is shaping up to be a favorite for families who love food.
Guy Fieri (born Guy Ferry–he changed his name from the Americanized "Ferry" to the original "Fieri" to honor his Italian grandfather) is a family man. When he first gained fame and some fortune on "The Next Food Network Star" rumors swirled that he was a ladies man who was divorcing his wife now that he was a star. This could not be further from the truth. He has been happily married to his pretty wife Lori since 1995. Their son Hunter was born in 1996 and then came Ryan in 2005. This new show has him take to the road with his family in tow for a really neat old fashioned summer vacation adventure–Fieri style. That means lots of campfire cookouts, local festivals and yes many restaurant visits.
Guy's son Hunter, now a Sophomore in college is the young man to watch. Although he can seem a bit awkward at times being filmed when he talks about food he can look at the camera, take that "money shot" savory bite like a pro and banter with the chef while visiting one of his dad's Mexican restaurants. Guy looks on beaming like a mechanic does the first time his child takes apart an engine. Guy's younger son, Ryder acts like a normal 5th grader but is quite poised and polite as he helps mix up a batch of his favorite food–waffles. It's great that he's not too sophisticated and doesn't ask if the waffles are gluten free and is okay with dumping big blobs of butter into a vat with his hands. He's just happy to be there and it's clear that being on a trip with the family has a lot to do with it. Family vacations are precious times and although this one is being filmed, we can all relate to a family in an RV seeing America.
Guy and his kids ride mountain bikes, play catch at the campground at night, joke around, and really seem to enjoy each other's company. Guy and Lori get some alone time at a bar to sample booze. As a couple, they are fun to watch as it's obvious the spark is still there between them. With reality shows depicting the worst interpersonal relationships possible, this wholesome nuclear family stands out. Dad might have bleached blond hair and an earring but he is Clark Griswold, only much cooler. You will notice that dad is the only one pulling out his phone to take photos. The kids don't have their heads glued to a screen–at least not on camera.
Does the Fieri clan always get along so well? Probably not. Like all families, there is sure to be some periods of boredom and the occasional argument off camera. The boys I am sure they have their sulky moments where they would rather not be filmed. Still and all they are doing this to spend the summer with dad and that is admirable.
On "Guy's Family Road Trip" there will be no dramatic violent moments or scenes of sexual compromise and that is wonderful. For those of us needing a break from the sensationalism and strife going on in the world around us, this show is just the breezy summer break we need. Episode 2 will air August 18th on Food Network.