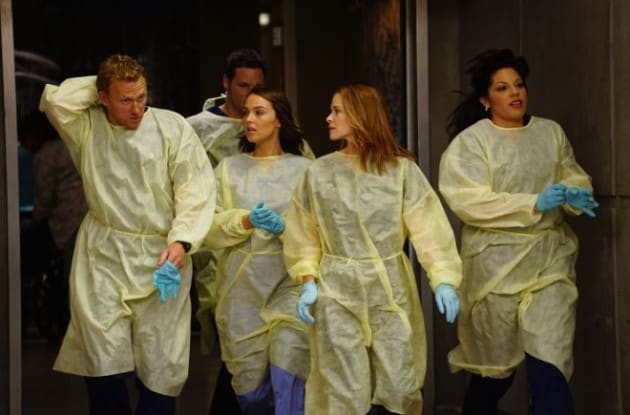 While we're still freshly mourning the loss of McDreamy, on-screen more than a year has gone by since his death on Grey's Anatomy. That doesn't mean Derek Shepherd is forgotten, it simply means we're forced to put our own mourning aside and awkwardly adjust to the new normal. Apparently this new, surreal reality is meant to be just that since Grey's opens like the pilot; it's new interns day!
The new arrivals are bright-eyed, bushy-tailed and have no idea what they're in for. Their superiors do though, as Webber has given this speech so many times the Grey Sloan Memorial doctors are repeating it like a chorus in the gallery. Even more surreal is that Edwards of all people is holding herself up to the standard of being the new Bailey. The first minutes of Grey's Anatomy present as Season 1, while the rest of the episode is like a snippet of the Season 2 ferry boat crash (reduce, reuse, recycle much?).
The doctors must respond to the collapse of a tunnel. Meredith, April, Amelia, and Maggie are dispatched to the accident site to work on a single patient, which looks very reminiscent of the ferry boat crash from years ago. Wouldn't you know it the guy is even impaled with a pipe; seriously, we've done this before, it didn't end well. The doctors do what they can, but this patient never really had a chance. April takes the lead in the situation, staying with the patient knowing he is going to die. The others head back, not knowing just how insane of a plan April is about to cook up. Refusing to let her patient die, April transports the man trapped inside his car, while the man is still trapped inside his car, to the hospital.
Back at the hospital, Owen decides to put his patient of the hour in a natural suspended animation with cold saline to keep him stable (this déjà vu I can't place, but it feels familiar). Avery thinks Hunt is still working like he's in a combat zone with his crazy ideas, but ultimately Webber gives the go ahead to try to save another life. Hunt really is crazy since the procedure has only ever been done on pigs.
It does work though, and actually gets Jo thinking about taking a page from April's book and signing up to go work in the Middle East for awhile. Alex isn't happy about this, and is even less thrilled when Jo wants him to come with her. This is the point where we really need to take stock of the person Alex is. As a first-year intern Alex was a cocky, rude man-whore. He had nothing but ambition and no time for emotional attachments, other than the dysfunctional ones he had with his family. Since then he has put down solid roots with an esteemed career, a healthy relationship, and good friends. He is practically godfather to Meredith's kids and was considered for a seat on the hospital board! That is not a man who wants to suddenly pick up his life for a new one.
We are also introduced to the hunky new surgeon in town, Dr. Andrew DeLuca, when he brings in a pregnant patient from the accident, the fiancée of the accident site victim (Ava/Rebecca anyone?). When the patient has a crisis because of some very dumb, over-eager interns, it is revealed that Dr. DeLuca is also in fact, an intern. The ignorant interns are asked to leave, and Edwards, Callie and Arizona have to deliver this woman's baby while she has a fractured neck.
Elsewhere in the land of reality that I can actually comprehend, Catherine Avery and Richard Webber are finally getting married. Catherine's maid of honor, Jackson, supports the bride by watching football on the couch eating snacks. It's a good distraction from the tension between him and April after her return from the Middle East. The tunnel crisis prevents the wedding from going forward, but Catherine proves she really is made for Richard because she just happily switches gears and comes to the hospital to help with the onslaught of patients. However, Catherine teeters on the edge of self-sabotage, bossing Richard around by the end of the day. Richard's problems with Catherine may need to be put on hold though, as his daughter Maggie seems to get very upsetting news by the end of the hour.
Owen is contemplating making a change after returning from combat as well. He no longer wants to be Chief of Surgery, preferring to let Webber or someone else hold the position indefinitely. Webber recommends his best man, Bailey; it's about time she climbed the ladder.
Big changes are on Meredith's mind as well. After a year in self-exile with her kids, Meredith is unsure she wants to live in the house that Derek built for them, and so decides to call a realtor. This stuns Amelia, and after the situation at the accident site, she has had enough and decides to finally unleash her anger on Meredith. Amelia is still so angry that Meredith took Derek off of life support without calling her, and for once Meredith can't defend herself, instead breaking down. She doesn't feel comfortable in her own life anymore, so she asks Alex if she and the kids can come stay with him for awhile, and he doesn't even have to think about it before saying yes.
Grey's Anatomy caps off with its conclusion to this crazy day next week. Was the déjà vu episode needed, or just plain weird?
[Photo via ABC]