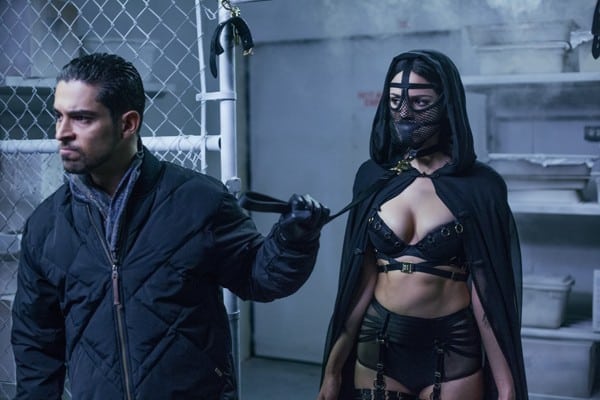 It's been more fun than ever, but we've finally reached the midway point of the second season of From Dusk Till Dawn: The Series. We had our characters land in some interesting places in the previous episode, so let's check out what happens in this week's "Bondage."
The episode opens with Seth and Sonja being forced to deal with the "sins of the brother," after Richie's experience with selling the girls in the previous episode. Luckily, Eddie is around to save the day. As I've mentioned throughout my reviews of this season, From Dusk Till Dawn is really taking good advantage of a strong supporting cast this year — much more so than last season. These secondary characters are giving our leads even more material to play off of, and it's paying out dividends as the season goes along.
Meanwhile, Santanico and Richie's predicaments are, unfortunately, not going along as they would like (particularly due to Carlos's interference in the last episode). Seth, however, does manage to find Richie, reuniting the characters for the first time since last year's finale. This leads to a plot that has the brothers work together for mutual benefit, and it's, unsurprisingly, as fun as could be expected. It also allows the show to exhibit some of its early-Season 1 dark humor that has come and gone throughout its run once the supernatural elements started to take a larger role. As for Santanico, she and Carlos spend a lot of time together in "Bondage," and this interaction serves as the episode's character development and mythology building. We also find out exactly what Carlos went through while in the labyrinth beneath the Titty Twister between seasons, which helps to explain his current worldview. In addition, we get a great action scene between Carlos, Santanico, and The Regulator that is just a blast to see.
The Fuller family and Freddie also have a good story arc during "Bondage," and it's nice to have our leads from the previous season finally beginning to meet up again. In particular, I really like this relationship that's being developed between Freddie, Katie, and Scott. As with the scenes with Santanico in the episode, Freddie's interrogation of Scott does a lot of world building, and it begins to answer questions that have arisen this season.
"Bondage" was a slower episode than most of what we've gotten so far this season, but it still added even more layers to the arc of the season while giving us some much appreciated interaction between the characters that we've mostly grown to know and love on the show. We also got some interesting scenes with Danny Trejo's Regulator, and those have managed to be a big highlight this season. From Dusk Till Dawn will probably never have mass appeal, but it has proven that it will never cease to be fun while appealing to the fans that it does have. I really hope that we see another season of this show, because there is so much more untapped potential that would be great to witness.
Quick note, but how cool was it getting to see Santanico in a Hannibal-esque mask? I wonder if an imprisoned Santanico or Richie could develop into a Silence of the Lambs-inspired story in a later season.
What did you think of "Bondage?" Have you been enjoying the second season of From Dusk Till Dawn: The Series? Let us know in the comments down below!
[Photo via El Rey Network]