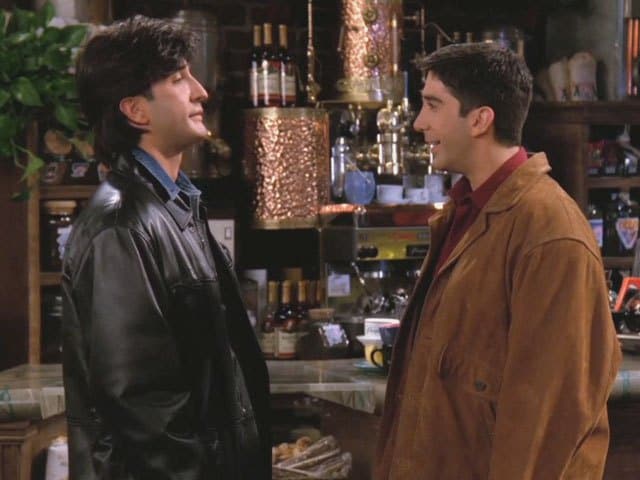 In my 31 years on this planet, I have yet to encounter a show as great as Friends. Sure there have been other comedies that have tried to win my heart (Thank you Happy Endings); but my go-to show continues to be the NBC sitcom that ran from 1994 -2004. The series aired 236 episodes and if you are a fan, you most likely have a favorite. However, is it one of the 10 most watched of all-time? Here is a list of the most viewed episodes of Friends. Some of these are sure to surprise you.
10. "The One After 'I Do'" (Season 8, Episode 1)
Monica and Chandler may have just gotten married, but it was Rachel's pregnancy announcement that had fans tuning into the first episode of the 8th season. The show had not been treated to this many viewers since the conclusion of season 4 with 31.7 million people tuning in to find out who was the father of Rachel's baby. They would have to wait a few more episodes before finding out Ross was the dad.
9. "The One with Ross' New Girlfriend" (Season 2, Episode 1)
It took a whole season for Rachel to realize that Ross was pining over her on Friends. She even went to the airport to confess her feelings for him, but we had to wait a whole Summer to find out that Ross was not alone. He had reconnected with Julie and 32.1 million viewers cried for Rachel that day!
8. "The One with Russ" (Season 2, Episode 10)
Season two of Friends was definitely the most watched of all ten. Even this uneven episode makes the list. Rachel begins dating a guy named Russ, who looks very similar to our favorite paleontologist. 32.2 million viewers tuned in to watch this episode that also featured Monica reconnecting with Fun Bobby.
7. "The One Where Ross and Rachel… You Know" (Season 2, Episode 15)
The Ross and Rachel saga continues as the new couple go on their first date. This episode, watched by 32.9 million, also featured another first for them and I am sure you can guess what that is from the title. Tom Selleck is also featured in this episode as Monica's new love interest Richard.
6. "The One with the List" (Season 2, Episode 8)
There were many obstacles in Ross and Rachel's relationship on Friends and this episode, viewed by 32.9 million fans, was one of the first. Ross needed to decide if he was going to stay with Julie or start dating Rachel. Chandler has the bright idea of Ross creating a list to point out each woman's strengths and weaknesses. Rachel sees the list and is upset. It appears all hope is lost for the two until…
5. "The One with the Prom Video" (Season 2, Episode 14)
33.6 million people tuned into this episode of Friends, which featured Ross, Rachel, and Fat Monica from the 80's getting ready for prom. Ross tries to save the day when Rachel's date does not show up. All of this is caught on the video that the gang watches. Rachel kisses Ross and proves Phoebe's theory that Ross is Rachel' lobster.
4. "The One Where No One Proposes" (Season 9, Episode 1)
Season 8 of Friends was pretty busy one for Rachel. She gets knocked up and then almost gets proposed to by both Ross and Joey. 34.01 million fans watched the season 9 opener where Joey admitted to Rachel that though he had a thing for her in season 8, he really wasn't proposing to her at the hospital.
3. "The One Where Rachel has a Baby" (Season 8, Episodes 23 and 24)
Season 8 was the year that Friends finally took home the Emmy for Outstanding Comedy Series. In the season finale, Rachel gives birth to baby Emma. Almost 35 million people watched the comedy unfold in the hospital, which featured a special guest appearance of Janice.
2. "The Last One" (Season 10, Episodes 17 and 18)
Many people probably thought the series finale of Friends was the most watched episode for the series. However, it only comes in at number 2 with 52.46 million fans tuning in to watch Rachel get off the plane and Monica and Chandler becoming parents. The closing moment when the gang goes and gets their last cup of coffee still brings a tear to my eye.
1. "The One After the Super Bowl" (Season 2, Episodes 12 and 13)
It is pretty clear that season two was the most watched of all the seasons of Friends. The two-part episode that aired after the Super Bowl in 1996 is the most watched episode for the classic comedy. 52.9 million people watched as Chandler hooked up with Julia Roberts, Joey was stalked Brooke Shields, and Monica and Rachel fought over Jean Claude Van Damme.
What is your favorite episode of Friends? Let us know in the comments section below.
Photo by: NBC
Tell us what's wrong with this post? How could we improve it? :)
Let us improve this post!