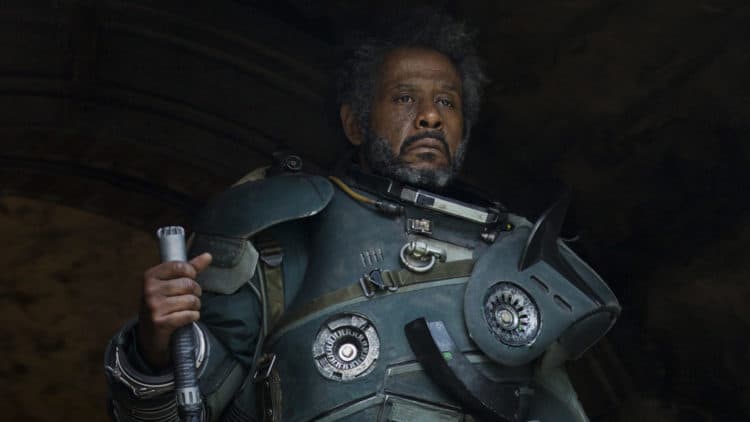 It sounds as though Saw Gerrera is going to be making a return with Forest Whitaker taking up the role again as he joins the cast for the Andor series that will be headed to Disney+. This is the type of news that fans like to hear, but one thing is kind of obvious, Saw and Cassian won't be meeting up in this series since the fact is that they didn't meet up until just before the Empire decided to test out their new toy, the Death Star, on Jedha City, thereby destroying everything with miles of the primary target. This included Saw, who stayed behind while the others escaped, meaning that he wasn't destined to be a part of the story moving forward. It was a little tough to think that such a dedicated character wouldn't be making the final leg of the trip with the rest of the group, but Saw has been a different type of individual since he was first introduced to the Star Wars franchise.
If anything, he's a guy that is ready and willing to do what it takes to stand up to injustice, much like Cassian, but the measures he takes sometimes make him just as bad as the people he's fighting against. What's been learned about the Rebels over the years is that as much as they do stand for justice and freedom of every living being, their doctrines and practices tend to be a little hypocritical at times since they end up harming people just as much at times with their actions or lack of action. There are plenty of excuses for this of course and some are quite valid, but the fact is that Saw has been one of the more hardcore individuals that have worked with the Rebellion since the movies were first created. Seeing him come back in any capacity makes it apparent that we're going to get to see him wreaking havoc once again as he continues to be a thorn in the side of the Empire.
But it also means that the Andor series is going to be a bit segmented as it will have to split between Cassian and Saw now and again while keeping the focus on Cassian most likely since this is going to be his story and his show. That feels like it's going to be a little awkward, but it could be interesting as well since we've been able to see a little more of Saw in the animated series, but haven't really seen much of his other adventures leading up to Rogue One. Seeing how he's pretty beaten up in Rogue One it's fair to say that his days as a survivor were hard-won and came at a pretty steep price. Saw strikes a lot of people as the kind of guy that doesn't like to give ground and won't do so unless there's no other choice and the best way to live to the next day is to retreat. It's bound to be kind of interesting to see the Rebels working with Saw and at the same time sending Cassian out on missions to help their cause since one would think that they might run into each other eventually, but then again, it's a big galaxy.
Now it's just a matter of figuring out what Saw is going to be doing while Cassian is running around the galaxy taking on new missions for the Rebellion since, in the eyes of the Empire, Saw is a troublemaker that they'd love nothing more than to get their hands on in order to obliterate him. It's fair to say that we might not see anything that has to do with the animated series since it almost feels silly to add such things in and run them again. But then, there is the idea that Darth Maul might be shown in the Obi-Wan Kenobi series, so perhaps it is possible that some of Saw's adventures could be revisited in live-action.
Right now it's a giant guessing game since no one really knows how the series is going to go and what it will depict when things get started up. It might be that Cassian will keep center-stage for a while before Saw is let loose again in order to be a pain in the backside of the Empire. But until more is revealed or the show is released on Disney+ it's easy to think that whatever Saw will be doing will be destructive and possibly keep him on course to interact with Galen Erso and his family at one point so as to connect to the Rogue One movie. There's so much going on in the Star Wars franchise and at Disney that trying to keep it all together feels like it would be a huge amount of pressure. But thankfully it does sound as though the Mouse House is keeping it together at this time.
Tell us what's wrong with this post? How could we improve it? :)
Let us improve this post!