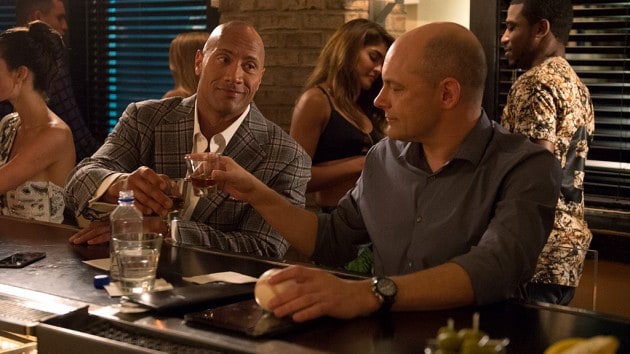 I can't believe it's over already, but this week was the season finale of the freshman HBO comedy, Ballers. As any freshman show would, this show has its ups and downs, but rounded out into what I'd consider a pretty strong freshman run. Now, I will be the first to admit that I'm not 100% pleased with the state of comedy on television today, but this show made me both laugh and care about the characters, and that does a lot during a ten-episode debut season.
This week, on the season finale of Ballers: Ricky meets with his father after a Play 60 event. Charles signs on with the Dolphins. Spencer and Jason track down Vernon to get him to sign his contract before it's too late. Joe is fired from Anderson Financial, and Spencer is promoted to head of their sports division.
In several of my previous reviews, I mentioned that a case could be made for Ballers as a drama. There was certainly enough weight in the dramatic moments. The dramatic chops for all of the actors are there. But I wasn't sure that it would work outside of a half hour format, either. The only reason I brought it up, originally, was because this is a lot different from the comedies I'm used to watching. This week's episode sort of solidified Ballers into the comedy category for me. The finale made me think of Shakespearean comedies, in the sense that it was built to have a happy ending, rather than to be "funny". I'm used to Silicon Valley, so I spent most of the episode waiting for a heartbreaking twist that never came, and was pleasantly surprised by the happy ending.
With so much negativity on television today, I was really upbeat about this episode. Each character was validated in some way. Joe's value was validated through Spencer, who couldn't continue at Anderson's without him. Vernon was validated by his new contract. Ricky was validated (in a sense) by his father, and Charles was validated in football (ironically, he was the only one). Now I know that there is one character missing from this list, and that's Spencer. I didn't really get a sense of validation from Spencer, at first. BUT, when I thought about it, all of this validated Spencer. Spencer likes to be the hero, so when all of this stuff comes together the way it's supposed to, that validates him.
I think the only moment I didn't buy (in the finale, anyway) was Ricky and his dad. I don't think dead beat dads track their sons down to give them an "I gave you that chip on your shoulder" speech. I'm certain that the conversation was important to the series going forward and needed to be included somehow, but I'm not sure that it realistically would've happened. Ultimately, this is a pretty nitpicky point and I am very pleased with how the season turned out.
As always, here are some of my favorite quotes/moments from the episode:
– I loved everything about Ricky at the Play 60 event.
– "I DON'T SUCK!!"- Charles, after getting "the call" from Larry (how great was Dule Hill, by the way?)
– "I'm sure you gave it to her in spades"- Mr. Anderson, with impeccable timing
– "Is there one bartender in Miami you're not on a first name basis with?" "No."- Spencer and Joe, marveling at Joe's friend-making abilities
– "Guess he didn't get that jar of feces I FedEx'd him yet, huh?"- Joe
I didn't watch Entourage, but to me, this show feels fresh enough to continue. I think it paints a wonderfully realistic picture of things that happen to professional athletes, both in and out of the game. I would like to see them spread around the comedy a little more. We all know the Rock has comedic chops; he should let those fly. Rob Corddry and Omar Benson Miller handled the bulk of the comedy this season (not that I'm mad about it), but I would definitely like to see the writers give the other actors more opportunities. I'm sure that in Season 2, Ballers will be able to spread its wings and fly.
What did you guys think? Did you enjoy the season finale of Ballers? Let us know in the comments!
[Photo via HBO]
Tell us what's wrong with this post? How could we improve it? :)
Let us improve this post!