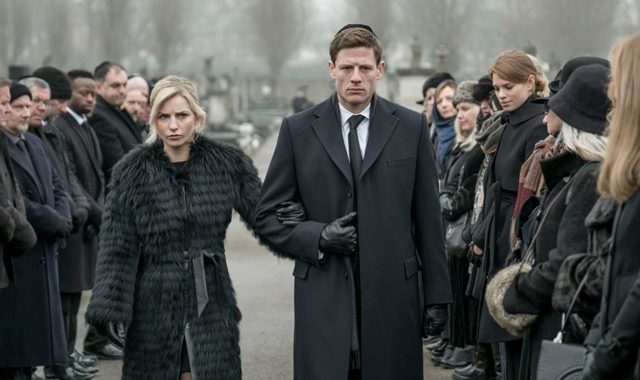 When you think of one of the most far-reaching, ubiquitous businesses on the planet you may think of smartphone manufacturers or gasoline companies. Or, maybe you'll think of McDonald's. After all, they have tens of thousands of restaurants all over the world and employ hundreds of thousands of people. The new show McMafia takes this concept and applies it to international organized crime. This series, created by Hossein Amini and James Watkins, was originally inspired by McMafia: A Journey Through the Global Criminal Underworld by a journalist named Misha Glenny.
McMafia follows Alex Godman (played by James Norton), the son of a Russian mafia head. He grew up in London, where his father is trying to get out of a life of organized crime. This doesn't quite pan out, as you have already seen if you watched the American premiere of McMafia on February 26th. If you haven't yet checked the show out (or if you have and want to learn more) read on to learn Five Things You Didn't Know about McMafia.
It Came Out in Britain First
As a production primarily backed by the BBC, McMafia was originally aired on BBC One beginning on January 1st, 2018. It had been announced three years beforehand (in 2015) and garnered a lot of hype for its season premier. This led to a respectable headcount of about 9.8 million viewers on the very first airing. It is not surprising that BBC One was granted the rights to the first worldwide premiere due to the main location in the series — London. The Netherlands also received the show just one day later (January 2nd) via Internet streaming.
It's a High-Budget Production
According to the BBC, McMafia has a budget of several million pounds — per episode. This insane budget was actually necessary due to all of the international footage that has been included in this show. The series has been filmed in India, Egypt, Qatar, Russia, England, and many more locations (12 different countries, in fact). The sizeable budget also helps McMafia to look good, sound perfect, and offer a phenomenal and engaging storyline.
The Title References Real Organized Crime
McMafia isn't just a clever way of drawing parallels between the global restaurant company and the global crime syndicates featured on the show. It is actually a reference to the practice of criminal "franchising". Essentially, small gangs will pay a fee or provide some other benefit to the main body of a criminal family in exchange for using their name. This will help them shake people down easier due to the reputation that comes alongside using the name of the Chechen mafia, for example.
James Norton's Convincing Use of Russian Is an Illusion
James Norton, who plays the main character Alex Godman, has a few scenes in which he has to speak Russian convincingly. Luckily, his character's parents are played by native Russian speakers who were able to offer a lot of guidance to Norton. He memorized his own lines and then listened for "signal" words that told him when to start. Though this type of Russian communication might be fake, it holds up incredibly well on-screen in McMafia.
There Is a Possibility of More Episodes
Though McMafia in its current form consists of only eight episodes, the creators have both confirmed that they would be interested on working on more. They have stated that the world they are tapping into is huge — international crime truly knows few boundaries. This means that they could further develop their existing storylines or even create some that are brand new. They may visit America or the Balkans — particularly because the native Mafia of the latter was upset to not be included in McMafia as it is today. While nothing is set-in-stone, the creators' willingness to follow through on more episodes could lead to a sequel or companion series being produced someday.
Tell us what's wrong with this post? How could we improve it? :)
Let us improve this post!