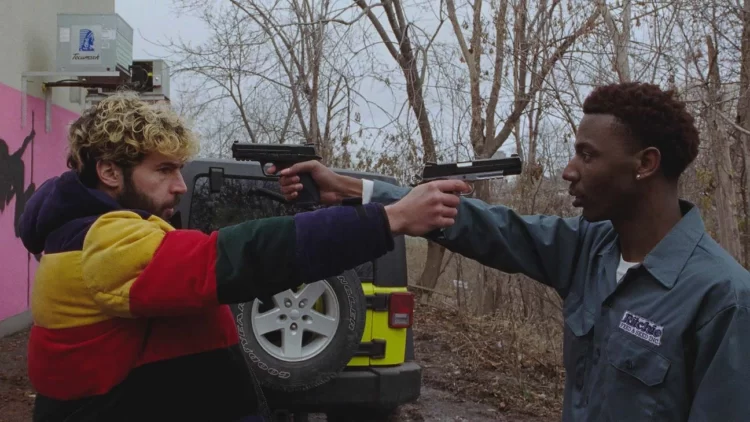 On the Count of Three is an American black comedy thriller film, directed by Jerrod Carmichael (in his feature directorial debut), from a screenplay by Ari Katcher and Ryan Welch. It stars Carmichael, Christopher Abbott, Tiffany Haddish, J. B. Smoove, Lavell Crawford, and Henry Winkler. The film follows best friends Val and Kevin who make a suicide pact and agree to enjoy one last day before they kill each other. In an article by Variety, they described the film saying, "On the Count of Three" is a trifle, but an original one: an existential buddy comedy of despair." The New York Times also published a review of the film and praised the actor's performance saying, "What keeps "On the Count of Three" interesting isn't the pile of back story revelations and contrived plot twists, but Carmichael and Abbott, who inhabit their roles with sensitivity and realness, mostly avoiding the traps of swagger and self-pity that might threaten a movie about two sad guys with guns. You may not believe everything — or, indeed, anything — that happens, but their pain, and their love, are hard to doubt." If you're done watching On the Count of Three, here are five movie recommendations that involve similar themes about human despair, friendships, and mental health.
It's Kind Of A Funny Story
The 2010 American comedy-drama film It's Kind of a Funny Story centers on characters with mental health issues and emphasizes the importance of friendship and social support just like the film On the Count of Three. The film was written and directed by Anna Boden and Ryan Fleck, and is an adaptation of Ned Vizzini's 2006 novel of the same name. The film stars Keir Gilchrist, Zach Galifianakis, Emma Roberts, and Viola Davis and follows Craig, a depressed teen who admits himself to a mental health clinic and finds himself spending his time with the adult patients because the youth wing is unfortunately closed for renovation. He forms a special bond with one of the adult patients, Bobby, and meets another teen patient, Noelle who helps him discover more about his true self. The film has received generally positive reviews, and in a film review published by Reelviews, they wrote, "It's probably a tough job to pack a theater for a movie that takes place within the confines of a mental hospital – that kind of setting does not sell tickets – but the production is more uplifting, life-affirming, and enjoyable than one would suspect. Yes, clichés abound, but they are more than counterbalanced by the strength of the characters and the voice of the lead. There's a lot to like about this little film."
Words On Bathroom Walls
Another film tackling issues related to mental health is the 2020 American coming-of-age romantic drama film Words on Bathroom Walls, directed by Thor Freudenthal, who directed Diary of a Wimpy Kid, and written by Nick Naveda. The film is based on the novel of the same name by Julia Walton and stars Charlie Plummer, Andy García, Taylor Russell, AnnaSophia Robb, Beth Grant, Molly Parker, and Walton Goggins. The film follows Adam, a teen diagnosed with schizophrenia who experiences a psychotic episode at school which led him to start fresh and transfer to a new school. There she meets Maya, who becomes her tutor and as she starts opening his heart, he finds it more difficult to hide his condition. The film received positive reviews and in Los Angeles Times' review, they gave special praise to the cast saying, "The film comes as close to succeeding as it does is in large part due to a top-flight cast doing impressive work zipping between multiple tones — in some ways reflecting the disease at its center, schizophrenia."
The Fundamentals of Caring
The 2016 American road comedy-drama film The Fundamentals of Caring written and directed by Rob Burnett, stars Paul Rudd, Craig Roberts, and Selena Gomez, and is based on the 2012 novel The Revised Fundamentals of Caregiving by Jonathan Evison. Just like On the Count of Three, the film features friendship and characters who struggle to face their painful experiences. The film follows a grieving writer who retires and becomes a registered caregiver. He is hired to become a caregiver of a disabled teen named Trevor. The film's plot centers on the duo's road trip to see various landmarks and see the world's deepest pit as they are joined by a teen runaway. In a review published by Variety, they praised the actors' performances saying, "Solid performances and some genuinely sharp humor elevate writer-director Rob Burnett's second feature." Common Sense Media also reviewed the film and wrote, "This film manages the difficult task of being both a dark comedy and a poignant story. The balance keeps the movie from being too glib and smug due to too much of the former, and too mawkish and sentimental due to too much of the latter."
Don't Worry, He Won't Get Far On Foot
Don't Worry, He Won't Get Far on Foot is a 2018 American comedy-drama film directed by Gus Van Sant and based on the memoir of the same name by John Callahan. The main cast features Joaquin Phoenix, Jonah Hill, Rooney Mara, and Jack Black, and follows paraplegic alcoholic John Callahan after a car accident. With encouragement from his girlfriend, he enters a treatment program and discovers his talent and passion for drawing newspaper cartoons helping him heal and build a new life. In a review by Empire, they wrote, "Van Sant never strays far from the man-overcomes-disability genre, but this is more than made up for by some impressive directorial flourishes and an engaging central performance."
Unpregnant
The 2020 American road comedy-drama film Unpregnant might be on the lighter side compared to On the Count of Three but it also centers on relevant issues and emphasizes the importance of genuine friendship. The film is written and directed by Rachel Lee Goldenberg and based on the novel of the same name by Ted Caplan and Jenni Hendriks. It stars Haley Lu Richardson and Barbie Ferreira, with Alex MacNicoll, Breckin Meyer, Giancarlo Esposito, Sugar Lyn Beard, and Betty Who in supporting roles. The film follows Veronica, a teen who discovers she is pregnant. When she discovers that her home state Missouri does not allow abortion without her parent's consent, she asks her best friend Bailey to drive her to the closest clinic that allows it, in Albuquerque, New Mexico. The film received positive reviews from critics and in a review by New York Times they wrote, "Its driving force may seem topical, but the story's heart is timeless: the harmony between longtime friends, and Veronica and Bailey throw themselves into even the most fraught situations with giddy enthusiasm." Variety also praised the film for its take on themes quite relevant to women saying, "Unpregnant" advocates loudest for allowing young women the space to make their own choices — and that they have friends, longtime or newfound, willing to help when they stumble."
Tell us what's wrong with this post? How could we improve it? :)
Let us improve this post!