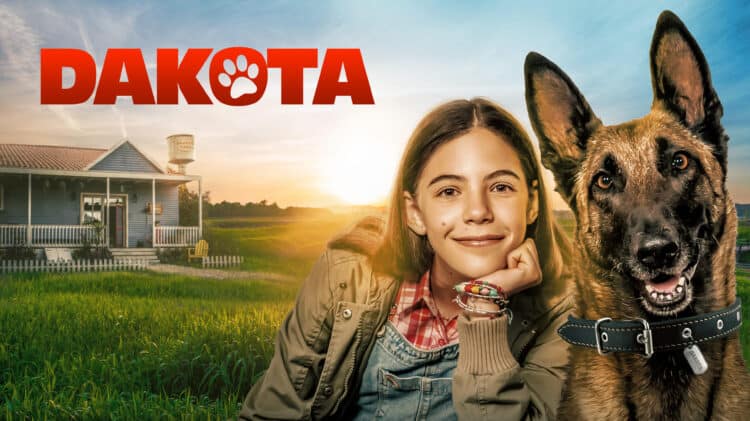 The 2022 film Dakota, directed by Kirk Harris from a screenplay by Johnny Harrington, premiered early this month. The film stars Abbie Cornish, Lola Sultan, William Baldwin, Patrick Muldoon, and Tim Rozon. The film follows Kate Sanders and her daughter living on a farm whose life changes when her late husband's friend and fellow veteran delivers her husband's combat dog to live with them. It was his late husband's wish to bring the dog named Dakota to live with the family. The family faced with grief goes through a journey of healing and finding strength together with the help of the dog Dakota. The film received mixed reviews so far but if you love dogs and you enjoy feel-good family movies, we're sure you still enjoyed watching Dakota. So if you're looking for the next film to watch that features an inspiring story and dog appreciation here are five of our recommendations.
Dog
The 2022 American comedy film Dog, directed by Reid Carolin and Channing Tatum, who also stars in the film, follows an army ranger played by Tatum who must escort his late commander's dog, Lulu, to the funeral. The journey of the two does not go smoothly as they face some hurdles and rush in time for the funeral. Jane Adams, Kevin Nash, Q'orianka Kilcher, Ethan Suplee, Emmy Raver-Lampman, and Nicole LaLiberte also star in the film. Just like the film Dakota, Dog features a hero dog and a bond that starts rough but blooms into a beautiful relationship. The film received positive reviews so far and in a review published by Variety they praised the film saying, "Animals may not be people, but they do have a complex psychology, and it's gratifying to see what could have been a one-dimensional buddy movie doing its best to convey the interior emotions of both parties."
Oddball
The 2015 Australian family film Oddball, directed by Stuart McDonald, is also set on a farm and is based on a true story about a mischievous dog who is trained by her family to protect a penguin sanctuary from foxes. The film stars Shane Jacobson, Coco Jack Gillies, Sarah Snook, and Alan Tudyk. The film gained generally positive reviews and earned several accolades including a nomination for Best Cinematography at the AACTA Awards, Favourite Australian Film at the People's Choice Award, and won Best Performance by a Young Actor (Coco Jack Gillies), and Audience Award for Best Family Film at the Mill Valley Film Festival. In The Guardian's review they commended the family movie despite some shortcomings in the script saying, "Some kinks in the writing notwithstanding, Oddball is fun and thoughtfully minded, with a sweet charm that endears from the get-go. Themes around the importance of environmental preservation arise as a natural part of the story."
Marley & Me
The 2008 comedy-drama film Marley & Me directed by David Frankel from a screenplay by Scott Frank and Don Roos features a Labrador who joins a couple in their journey as their family grows. The film is based on the 2005 memoir of the same name by John Grogan and stars Owen Wilson and Jennifer Aniston. Reelviews praised the film's relatable themes saying, "The movie's themes are universal and its anecdotes feel more real than scripted (not surprising, considering how many of them are adapted verbatim from the memoirs). Marley & Me is a crowd-pleaser, and deservedly so. It's an enjoyable and unpretentious perspective of life that reminds us how important and rewarding the little things can be."
Megan Leavey
Quite similar to Dakota, the film Megan Leavey also features a combat dog. The biographical drama film directed by Gabriela Cowperthwaite and written by Pamela Gray, Annie Mumolo, and Tim Lovestedt is based on true events. It follows Marine corporal Megan Leavey and her combat dog Rex who have saved countless lives working on the frontlines of Iraq. The film stars Kate Mara as the titular character, with Edie Falco, Common, Ramón Rodríguez, and Tom Felton in supporting roles. The film received positive reviews from critics and in a review published by The Hollywood Reporter, they gave particular praise to the film's script saying, "The screenplay, credited to Pamela Gray, Annie Mumolo and Tim Lovestedt, finds nuance in every exchange, whether the moment is comic, heartbreaking or a lived-in fusion of the two. That's especially true on the home front, where the incisive writing and performances make whole lifetimes fully felt in even the briefest of scenes."
Isle of Dogs
Last on our list is the stop-motion science-fiction comedy film Isle of Dogs, written, produced, and directed by Wes Anderson. The film is not necessarily for kids unlike Dakota since it has some darker and more serious themes but if you have a soft spot for dogs this film is definitely a must-watch. The film features an ensemble cast consisting of Bryan Cranston, Koyu Rankin, Edward Norton, Liev Schreiber, Bill Murray, Bob Balaban, Jeff Goldblum, Scarlett Johansson, Kunichi Nomura, Tilda Swinton, Ken Watanabe, Akira Ito, Greta Gerwig, Akira Takayama, Frances McDormand, F. Murray Abraham, Courtney B. Vance, Yojiro Noda, Fisher Stevens, Mari Natsuki, Nijiro Murakami, Yoko Ono, Harvey Keitel, and Frank Wood. The plot of the film centers on a young boy named Atari who attempts to find his missing dog Spots on Trash Island after the town's mayor mandated all dogs to be banished and sent to the said island due to the canine influenza that has struck Japan.
The film received positive reviews from critics and garnered several accolades including nominations at the 76th Golden Globe Awards, 72nd British Academy Film Awards, and two nominations at the 91st Academy Awards, for Best Animated Feature Film and Best Original Score. New York Times wrote a review of the film and praised the film's visuals saying, "Isle of Dogs" is filled with exquisite illustrations, whimsical flourishes and nostalgic details — old-fashioned labels, computer punch cards — that thicken the texture of its imaginary world." In the same article, they wrote, "The dogs provide the emotion in this movie. They're surprising, touching and thoroughly delightful company distinguished by witty vocalizations, expressive eccentricities and too many heartbreaking markers of abuse."
Tell us what's wrong with this post? How could we improve it? :)
Let us improve this post!