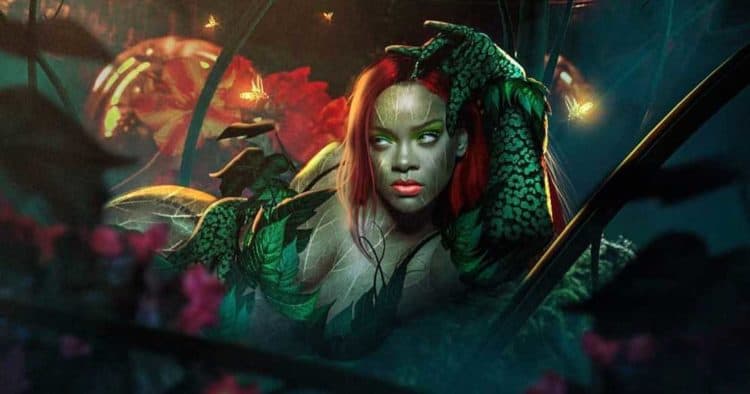 It's easy to say that it would be interesting to see Rihanna as Poison Ivy since she's shown that she can act and that she has a definite affinity for the green-skinned villain that seems to possess more talents than people have realized. There's nothing on the books at the moment as to who's going to be showing up in the next Batman movie, apart from Robert Pattinson, but there's a chance that we might see a small host of the dark knight's enemies since what we know as of now is that Batman will be investigating a series of murders that will no doubt lead him to suspect many of his old enemies. Poison Ivy is a very distinctive individual when it comes to crime however, and if she does show up in the movie you can imagine that the CGI effects are going to have to run wild since the amount of vegetation that could be needed to create the various effects that she's capable of would be a big key to making the character work. According to Jeremy Dick of MovieWeb it seems the Rihanna would be fully ready to take on the role if the studio was to give her a call. Whether they would or not is kind of hard to say since Poison Ivy is one of the many characters that's been depicted as a white woman throughout her history, but it could be time for a change.
To be honest there's been more diversity in Batman as Jase Peeples of Advocate has discussed, but a lot of folks seemed to have missed that point. There have been talks about Mahershala Ali taking on the role of Jim Gordon, but it would appear that his commitment to his role as Blade might ruin that chance. There's also a rumor about Pierce Brosnan taking on the role of Alfred Pennyworth, though again it's all just rumor so far. As a lot of fans know a lot of these characters in the Batman legend have been predominantly white, with only a little diversity here and there to shake things up. Lucius Fox for instance was popularized in Christopher Nolan's movies by Morgan Freeman, who put in an awesome performance. While Poison Ivy was white it seems fair to state that it doesn't really matter what color or race she is since the deadly nature of her abilities is more important than the actual person that becomes her. With Rihanna it's very possible that the fans would get the type of Poison Ivy that they've been wanting for a while since without any disrespect to Uma Thurman, it just wasn't her role, and trying to make thus was a huge mistake. Rihanna brings a very seductive and tantalizing look to the villain that seems more in line with who Poison Ivy really is and what she can do. It's unknown if the studio will ever call her up, but thanks to BossLogic it's a fun fantasy to think about since seeing this kind of image in a movie would be enough to excite a lot of people.
So far Nick Reilly from NME has affirmed, along with several others, that people are reading way too much into this and making their own conclusions in a very premature manner, but it's kind of hard to say that they're wrong to do so. After all fans tend to know what they want to see, even if it turns out that a director doesn't interpret it the same way and ends up bungling it or giving the fans something just as great but entirely different. In any case there's really nothing to say at the moment about this since it's a desire of Rihanna and the fans but it might not turn out to be a reality no matter how hard people want to try and make it that way. If anything, maybe a fan could make their own movie and send it in to appease the people, as this has been done with a few movies, such as Friday the 13th, to great effect. Of course a lot of fan films don't have the extensive budget of big Hollywood movies, but it would no doubt be something that might still be enticing enough for people to look at. The only downfall is that it likely wouldn't feature Rihanna since you can only imagine what she might charge for a simple appearance. So at this point we're all going to be left wondering 'what if' until the cast of The Batman is finally revealed, and will likely draw up our own theories about who will show up and who will be left out in the cold.
Hopefully for those that are pulling for Rihanna to show up the casting director will show some mercy and be able to sign on a few notable names, including Rihanna, to round out the villains in the upcoming movie. Don't hold your breath, but don't give up hope either.