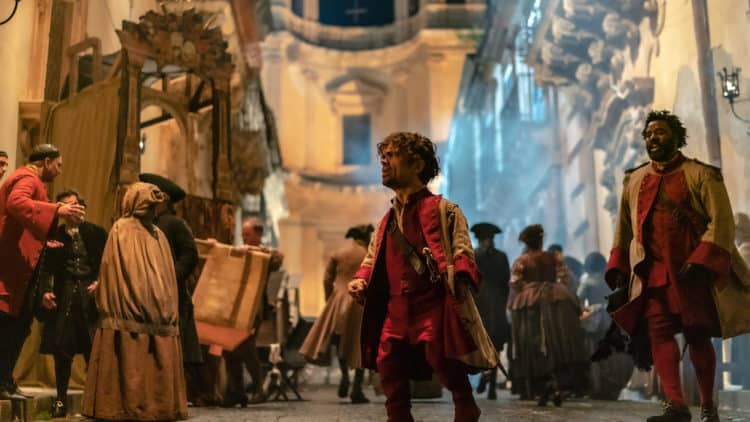 Musical films have been taking over the big screen lately and the musical romantic drama film Cyrano is one of the crowd favorites for this year. The film is directed by Joe Wright with a screenplay by Erica Schmidt and is based on Schmidt's 2018 stage musical of the same name, which was based on the 1897 Edmond Rostand play Cyrano de Bergerac. The film stars Peter Dinklage, Haley Bennett, Kelvin Harrison Jr., and Ben Mendelsohn. It follows the story of brilliant swordplayer Cyrano de Bergerac who is in love with his childhood friend Roxanne. Insecure about his appearance and convinced he will be rejected, he does not pursue her. Roxanne happens to be in love with someone else, a young recruit named Christian, and Cyrano ends up helping the tongue-tied Christian woo Roxanne. The film received generally positive reviews and it was nominated for several awards, including a Best Motion Picture – Musical or Comedy and Best Actor in a Motion Picture – Musical or Comedy (Dinklage) at the 79th Golden Globe Awards, four nominations at the 75th British Academy Film Awards, and a Best Costume Design nod at the 94th Academy Awards. In a review by Variety, they praised Dinklage's performance in the film saying, "Hollywood may have been slow to recognize it, but Dinklage truly merits leading-man status, and while his singing voice leaves something to be desired, Schmidt's bespoke script plays to many of the star's unique strengths — it's a love letter the likes of which Rostand would no doubt approve." The Wrap praised both leads in their review and wrote, "As the movie's lead, Dinklage has many chances to use his comic timing and dry witty delivery. As for Roxanne, Bennett brings the right amount of lovestruck naivete to match Cyrano's tortured soul." If you enjoyed Cyrano and you're looking for similar films to watch, we've rounded up five movies to put on your list.
Roxanne
Roxanne and Cyrano shares the same inspiration in retelling Edmond Rostand's 1897 verse play Cyrano de Bergerac. The 1987 American romantic comedy film Roxanne was directed by Fred Schepisi and stars Steve Martin and Daryl Hannah. It's a modern take on the classic tale and tells the story of firefighter C. D. Bales (Steve Martin) who falls in love with Roxanne Kowalski (Daryl Hannah). Just like Cyrano, Bales refuses to pursue the girl of his dreams because of his appearance, his enourmous nose. Bales also ends up helping another guy pursue Roxanne by helping him write letters for her. The film received several accolades which includes being nominated for Best Performance by an Actor in a Motion Picture – Comedy/Musical: Steve Martin at the Golden Globe Awards, and winning the LAFCA Award and NSFC Award for Best Actor. A review published by Roger Ebert praised the film saying, "What makes "Roxanne" so wonderful is not this fairly straightforward comedy, however, but the way the movie creates a certain ineffable spirit. Martin plays a man with a smile on his face and a broken heart inside – a man who laughs that he may not cry."
The Age Of Innocence
The 1993 American historical romantic drama film The Age of Innocence although not a musical share similar romantic themes with Cyrano.The film is directed by Martin Scorsese and is an adaptation of the 1920 novel of the same name by Edith Wharton. The film stars Daniel Day-Lewis, Michelle Pfeiffer, Winona Ryder and Miriam Margolyes. Set in nineteenth-century New York, the film follows a young lawyer who falls in love with a woman whom he is legally representing for a case. The budding romance between the two turns out to be more complicated as the woman is her fiance's cousin. The film received critical acclaim, and received several awards and nominations which include winning the Academy Award for Best Costume Design, and being nominated for Best Actress in a Supporting Role (Winona Ryder), Best Adapted Screenplay, Best Original Score and Best Art Direction. Miriam Margolyes also won the Best Supporting Actress BAFTA in 1994. The Rolling Stone published a review about the film and wrote, "The Age of Innocence touches a nerve that owes nothing to cozy nostalgia. Scorsese has made the most extravagantly heartfelt film of his career about the impossibility of believing that love conquers all."
Les Miserables
The 2012 epic period musical film Les Misérables has a more serious tone compared to Cyrano but both period films features a good story and great musical performances. The film is directed by Tom Hooper with screenplay by William Nicholson, Alain Boublil, and Herbert Kretzmer. The film was adapted from the 1862 French novel of the same name by Victor Hugo. The film features an ensemble cast led by Hugh Jackman, Russell Crowe, Anne Hathaway, Eddie Redmayne, Amanda Seyfried, Helena Bonham Carter, and Sacha Baron Cohen. The film takes place in France during the early 19th century and tells the story of Jean Valjean who gets imprisoned for stealing bread in order to help his sister's family. Despite being released from prison, Jean is hunted by a policemen who is convinced he has broken parole guidelines. The film won Best Motion Picture – Musical or Comedy, Best Actor – Motion Picture Musical or Comedy for Jackman, and Best Supporting Actress for Hathaway at the Golden Globe Awards. It also won four British Academy Film Awards (BAFTA) and received eight Academy Award nominations, including Best Picture and Best Actor for Jackman, and Best Sound Mixing, Best Makeup and Hairstyling, and Best Supporting Actress for Hathaway. The Guardian praised the film in their review saying, "The physical strength of this movie is impressive: an awe-inspiring and colossal effort, just like Valjean's as he lifts the flagpole at the beginning of the film. You can almost see the movie's muscles flexing and the veins standing out like whipcords on its forehead."
West Side Story
Another musical film that is worth watching is the 2021 musical romantic drama film West Side Story directed and co-produced by Steven Spielberg from a screenplay by Tony Kushner. It is the latest adaptation of the 1957 stage musical of the same name and it stars Ansel Elgort and Rachel Zegler in her film debut with Ariana DeBose, David Alvarez, Mike Faist, and Rita Moreno in supporting roles. The film is set in the mid-1950s in the Upper West Side of Manhattan in New York City, and follows the rivalry between two teen street gangs, the Jets and the Sharks and tells the love story between Tony and Maria who belong to the opposite gangs. The musical film has received several accolades including seven nominations at the 94th Academy Awards, one being for Best Picture. It also received four nominations at the 79th Golden Globe Awards, winning three: Best Motion Picture – Musical or Comedy, Best Actress in a Motion Picture – Comedy or Musical for Zegler, and Best Supporting Actress – Motion Picture for DeBose. The Guardian described the film in their review and wrote, "Steven Spielberg's West Side Story 2.0 is an ecstatic act of ancestor-worship: a vividly dreamed, cunningly modified and visually staggering revival."
Moulin Rouge!
The last film on our list of recommendations is the 2001 jukebox musical romantic drama film Moulin Rouge! directed, co-produced, and co-written by Baz Luhrmann. It stars Nicole Kidman and Ewan McGregor with John Leguizamo, Jim Broadbent, and Richard Roxburgh in supporting roles. Set in Paris during the 1890's, the film follows the story of a young English poet, Christian, who falls in love with Satine, a singer and cabaret actress at the Moulin Rouge. The two fall in love, however, things become complicated as Satine is set to be married to a Duke. The film received critical acclaim gaining eight nominations at the 74th Academy Awards, including Best Picture, and won two (Best Production Design and Best Costume Design). New York Times published a review of the film and defended the film against critics describing the film as having no heart. They wrote, "The movie has so much heart that the poor overworked organ explodes in every scene. You'll have to admit that there's nothing else like it, and young audiences, especially girls, will feel as if they had found a movie that was calling them by name."
Tell us what's wrong with this post? How could we improve it? :)
Let us improve this post!