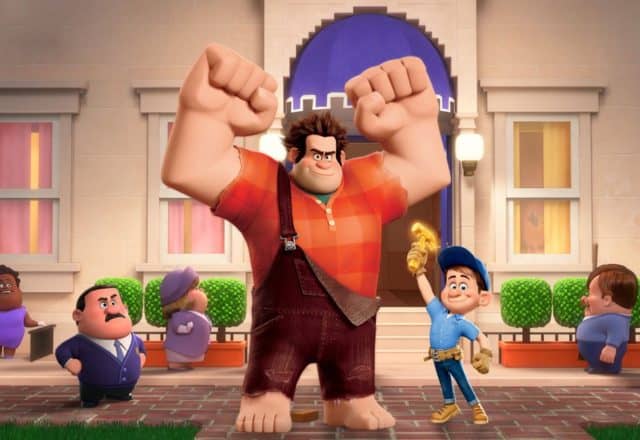 John C. Reilly is a hilarious comedic actor in person but as a voice actor he's just as funny since he gets to go just as crazy and be himself in a way that sparks that kind of nutty behavior that you've come to know him as. In other words he becomes a larger than life character in animated movies, letting loose in a way that he doesn't always do when he's in a live action movie. He hasn't been in a lot of animated movies at this point but his resume is starting to build just slightly as he continues to take on new projects.
Seriously, listening to him voice a character is a laugh riot sometimes.
5. Wreck-It Ralph 2-Ralph
This makes the bottom of the list since it's due to come out this year and as a result there's really no take on it yet. John will be assuming the role of the big guy again though and this time he'll be looking to save Sugar Rush again, but exploring well outside of the arcade along with Vanellope. The title is Ralph Breaks the Internet, so you can imagine that there's going to be some shenanigans going on this time around that you won't be able to predict.
4. 9-#5
The fall of humanity is only offset by the efforts of a few to preserve it in these kin of movies and as 9 makes his way forward he begins to realize why. The Fabrication Machine that was created by humanity is a threat to everything that it considers an enemy, which included humans. Nothing has survived in the world to this point and the Stitchpunks are the only ones that can possibly bring it back from the brink.
3. When Marnie Was There-Kiyamasa Oiwa
Having questions about your origin and who you are is a tough thing to live with. Anna is a troubled young girl that wants to know about her past but has no one who will readily tell her. When she goes to stay with relatives however she notices a young blonde girl standing in a dilapidated mansion nearby. When she befriends this girl she is drawn into a world where the past and the present converge. Later on she is told of her origins, and then everything finally comes into place.
2. Sing-Eddie
Eddie is really more of a bit player in this movie but he does serve a purpose that's more than just putting with his friend Buster Moon and his constant scheming to get his theater back in the black. After a while Eddie shows just how good of a friend he is by helping Buster stand back on his own two feet after the theater is destroyed and Buster has absolutely nothing to fall back on.
1. Wreck-It Ralph-Ralph
Ralph is the reluctant bad guy that's tired of being tossed off the roof at the end of the game and wants a little more respect. Unfortunately the way he goes about it isn't the best as he unwittingly puts the whole arcade at risk and almost destroys his game as well as Sugar Rush in the process.
John C. Reilly is fun to watch and listen to.
Tell us what's wrong with this post? How could we improve it? :)
Let us improve this post!