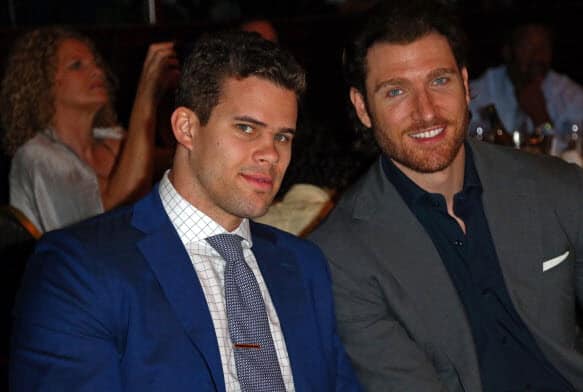 It's no secret that athletes have expanded passed just the playing surface, starring in numerous commercials and scoring some insane endorsement contracts in the past 25 years or so. So naturally, as reality TV has gotten more and more popular, so too have networks hiring on a few players to step in front of the camera for their lives to be recorded. Whether successful or not, these are just a few athletes who have starred–or will be starring–in a reality show.
5. A.J. McCarron – Unkown
The former Alabama Crimson Tide quarterback proved to be a winner on the gridiron–winning two national titles and ending his career as runner-up in the Heisman Trophy voting, but will he be as good on camera? Only time will tell, as he's slated to star in a reality show with his model girlfriend Katherine Webb as he begins his pro career in the upcoming NFL season.
4. Eric Decker – Eric & Jessie: Game On
He may have just inked a huge, $36 million deal with the New York Jets, but even before hitting Broadway for "Gang Green" nest year, Decker was getting primetime coverage. That's because the wide receiver and his wife–singer Jessie James–have had a TV show on E! titled Eric & Jessie: Game On, which focuses on their relationship and the couple's ongoing pregnancy.
3. Michael Johnson – Celebrity Apprentice
Former Olympic gold medal sprinter Michael Johnson proved to be one of the fastest men in the world while still competing on the track, but wasn't quite as successful when dealing with Donald Trump on Celebrity Apprentice. Finishing in 10th place on the third season of the show after leaving for family reasons, he may have had a good excuse, but he was unable to raise any money for his charity while competing.
2. Jeff Kent – Survivor: Philippines
During his playing days, former baseball player Jeff Kent was fiery and competitive. That demeanor showed during his time on Survivor: Philippines, as well. Voted off during the eighth episode, Kent didn't handle his departure from the show in classy fashion, throwing a fit–and, in a weird way, knocking his baseball career.
1. Kris Humphries – Keeping Up With the Kardashians
Whether it was good or bad for his image, NBA forward Kris Humphries didn't seem to hurt his hoops career too much with his appearances on the popular TV show, Keeping Up With the Kardashians while he was dating–and ultimately wed to–Kim Kardashian. Things got juicy when the two battled in court over the validity of their relationship, as it lasted just 72 days after allegedly being paid to help boost the show's ratings.
Tell us what's wrong with this post? How could we improve it? :)
Let us improve this post!