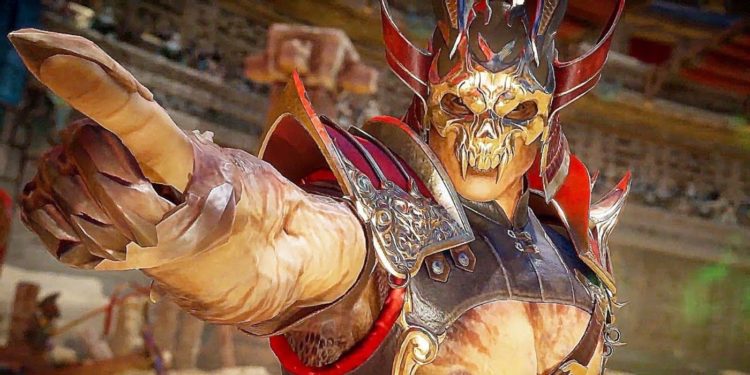 This is one of those times that I do wish that men like Arnold Schwarzenegger and Lou Ferrigno were young enough to take on a role like this since they might not be perfect, but it would be fun to watch. All the same, any actor that would want to take on the role of someone like Shao Kahn would need to be physically imposing and capable of acting like a villain. Mortal Kombat fans know too well that Shao Kahn started as a massively imposing character and was insanely difficult to beat when he first appeared in the games. Some might argue with that, but the majority of us that played the game would likely agree that he was a tough opponent. As the games continued to roll out he did change and gained a few weaknesses to go with his strengths, but throughout the years he's remained a tough character that hasn't been that much of a pushover unless one knows how to beat him. Anyone taking on this role would need to be fairly big unless CGI was the desired goal. In that regard, here are a few guys that could take on the role of Shao Kahn.
5. Henry Cavill
It's tough to see Henry as a villain when he's played such characters as Superman and Geralt of Rivia, but it's not impossible, wink wink, since he's made it happen. But it would be a great switch to see if he could make it happen and might even indicate that his range has been stretched to the limit. Seeing him as a bad guy could happen, but since Shao Kahn is miles above a morally-bankrupt spy, it does feel that this would be a big challenge for Cavill, but it also feels like something he could do. Banking on him to be given this role doesn't sound like a safe assumption since he might actually be put up as Stryker or someone else. But it's an interesting thought.
4. Dave Bautista
Bautista has played the villain before, but he's usually been a very composed and measured type of bad guy most times, and surprisingly enough he's been more chaotic as a hero than as a villain. But one great thing about Bautista is that he does have the imposing look and the ability to be insanely menacing, so it does feel that he'd be able to take on this role and make it work in a very big way. If he could turn on the crazy and become someone that would drive his sledgehammer through someone's skull and blast their spine out of their back then it would work. And to be fair, it does appear that Dave could do this without too much trouble.
3. Michael Jai White
Let's disregard the skin color since nothing is saying that Shao Kahn has to be one color or the other, especially given that he's a fictional character. A couple of things that White has in his favor for this type of character are his size and his ability to be a completely out of control villain that no one wants to mess with. Plus, White is a skilled martial artist that could bring a very impressive skill set to this role that would add to the performance and make him stand out. His acting has also improved a great deal over the years, which would swing the vote in his favor hopefully.
2. Nathan Jones
Jones' size is one of the biggest reasons why he would be seen as a great candidate for the role of Shao Kahn, even if he's already shown up as a different character. But unless that character returns along with many others, it feels as though he could slip into this role and make his mark on the movie in an even bigger way. As far as his acting ability goes, Jones is usually brought in to be the big man that doesn't have a lot of lines and usually ends up being the big, imposing individual that is meant to be a credible threat or someone that is there to get beat up and/or killed by another individual.
1. Dwayne Johnson
This appears to be the guy that a lot of folks believe would be great for the role of Shao Kahn, and they could be right. But with a schedule that doesn't appear to have a lot of openings at any given time, one has to wonder how likely it would be to happen. As a physically imposing actor and someone that's come a long way since he was first inducted into Hollywood, Johnson has become a legitimate actor that has taken on many great roles. So it's hard to see him in this role if he found the time to make it possible. Whoever took the role would have to be aggressive from start to finish, that's for certain.
Tell us what's wrong with this post? How could we improve it? :)
Let us improve this post!