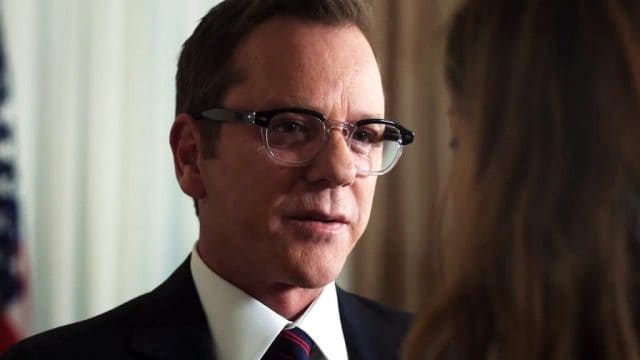 Since there is so little television on in the summer, I have decided to get our readers primed for the upcoming Fall TV season by offering previews of screened pilots for the upcoming 2016-2017 television season. These are not reviews, but simply first impressions based solely on the pilot screeners. First up: ABC's Designated Survivor.
Synopsis:
Kiefer Sutherland (24: Live Another Day) plays Tom Kirkman, a low-level member of the President's cabinet, who is suddenly handed the oval office after a devastating terror attack. His wife (Natasha McElhone, Californication), his chief of staff (Italia Ricci, Chasing Life) and his speech writer (Kal Penn, Battle Creek) all pull him in different directions. FBI Agent Hannah Watts (Maggie Q, Nikita), meanwhile, investigates the origins of the attack, which may not be an isolated incident. Adan Canto (The Following) also stars.
First Impression:
Before I watched it, the synopsis had me thinking this was just a combination of Air Force One and 24. But as it went on, there was a lot more intrigue and political drama than I expected. If you're expecting "President Jack Bauer", you may be disappointed. But there is a lot to like, here. The trailer for the show was excellent, and the trailer does a great job personifying the show. Rather than President Jack, it feels like a combination of The West Wing, 24, and Scandal, pitting relationship and political drama against the constant threat of terrorism. Plus, in today's political climate, isn't it kind of fun to think about cleaning house and starting over with the Secretary of Urban Housing and Development in the Oval Office?
What's Next?:
I, for one, will count Designated Survivor among the shows that I will be watching, at least to begin the new season. There was enough plot, a strong sense of characters, and depth to keep me coming back for at least the short term. The cast is well built and experienced, and it's reasonable to expect a good show out of them. My advice? Set your DVR. ABC is clearly gunning for their next big hit with this show, and I'm inclined to think they're going to get it.
Predictions:
This is surely going to be the go-to live show in its slot. Up against CBS' Code Black and NBC's Chicago P.D., the timeslot will certainly work in its favor. I predict that it will do well enough in the ratings to get a full season order, and be one of the first fall shows to do so.
That sums up our first fall preview. Check back for previews of other highly anticipated fall shows!
Are you more or less excited now for Designated Survivor? Will you be watching live, recording, or skipping? Let us know in the comments!
Tell us what's wrong with this post? How could we improve it? :)
Let us improve this post!