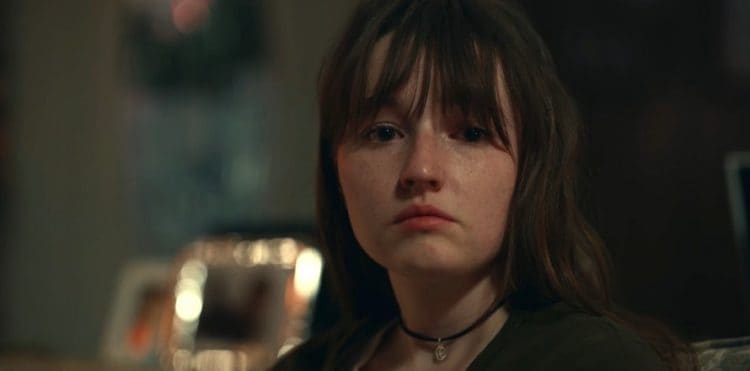 Dopesick is an enticing drama based on the best-selling non-fiction novel, Dopesick: Dealers, Doctors and The Drug Company That Addicted America written by Beth Macy. This series explores the dark side of America; the opioid crisis. Danny Strong the show's creator does an excellent job at seamlessly blending fiction and reality to paint an accurate depiction of addiction and the deep-seated politics in the pharmaceutical industry. The writers spend a great deal of time developing each of the character's storyline on the show. Betsy Mallum is one of the most relatable characters on the series and we quickly become enamored in her journey.
Is Betsy Mallum A Real Person?
Kaitlyn Dever plays Betsy Mallum a young closeted lesbian who works as a coal miner in a small Virginia town. Betsy's character represents a section of the demographic that has fallen victim to the opioid crisis in America. Betsy's story is so vivid which is why many wonder if her character is based off an actual person. In an interview, Danny Strong revealed that he used as many real life stories as possibly could to create composite characters and to bring a universal truth to the entire narrative. Therefore, it's safe to say that Betsy Mallum's character is entirely fictional. However, Dever revealed that she did go through all the interviews that Strong had conducted of people that had been impacted by the opioid epidemic in different ways while preparing for her role.
How Does Betsy Mallum Get Hooked On Oxycontin?
You might be wondering exactly how does a small town girl like Betsy get hooked on drugs. Like most people, Betsy's addiction stems from a an injury she sustained while on the job. Betsy hurt her back really bad while working in the coal mines and Dr. Samuel Finnix, the town's local physician prescribed her Oxycontin to help relieve her pain. Dr. Finnix has been just one of the physicians that Purdue Pharma heavily marketed their "revolutionary" pain medication too. The pharmaceutical company lied about the addictive properties of Oxycontin and even encouraged doctors to overprescribe the medication in order to increase sales margins. When Betsy first starts taking Oxycontin it successfully manages her pain. For a while, it seems as if she's got her regular pain-free life back and she's able to focus on working hard so that she can save enough money to move away from her homophobic parents and start a new life with her girlfriend.
Things take a turn for the worse when the pain medication stops working and Dr. Finnix has to increase Betsy's dosage and she becomes further dependent on the drug. The viewers get to observe every stage of Betsy's downward spiral into the dark hole of addiction. From the painful withdrawals which is described as being "dope sick" to the great lengths Betsy goes to finance her addiction the viewers are forced to live each moment to live through each agonizing moment with Betsy and her parents. At one point, Betsy even causes a major accident down at the mines just to get another Oxycontin prescription. Not only does she hurt herself but she injures her co-worker and this costs her employer thousands of dollars in damages. Betsy's addiction is also fueled by the struggles she endures regarding her sexuality and not being able to live in her truth. Her parents are religious and they don't believe in homosexuality. As Betsy condition worsens, all the Mallums want is for their daughter back and they're willing to even accept her girlfriend. Betsy loses everything, including the love of her life which is the unfortunate consequence of drug addiction.
Betsy's Road To Recovery
There are several instances in which the viewers believe that Betsy is actually going to beat addiction. One of those moments, is when the Mallums stages an intervention with an addiction expert. Betsy eventually agrees to go to rehab, but when someone sells her drugs at an AAA meeting she reverts back to her old habits. Betsy gets hooked on heroin. More than ninety percent of Oxycontin addicts eventually turn this street drug. Betsy with the help of her parents manages to get clean again. This time around, she strives to lead an overall healthier lifestyle by focusing on exercising and keeping her mind occupied. Betsy falls victim to the lure of opiates again. Betsy finally believes that there may be some hope when she learns of a drug called Suboxone through Dr. Finnix. Suboxone has helped Dr. Finnix maintains his sobriety and he offers to take Betsy to the clinic to get started with treatment. Excited about the possibility of starting over, Betsy calls her ex-girlfriend Grace to see if there is a chance that they can reconnect after she gets better. Grace gently lets her down. Betsy decides to shoot up with her drug dealer one last time before she meets up with Dr. Finnix to go to the clinic to start Suboxone. Sadly, Betsy never gets to experience real recovery because she overdoses. The Mallums takes Betsy death really hard and so does Dr. Finnix. Dr. Finnix feels guilty because if he had never prescribed Betsy Oxycontin or if he had done a better job at monitoring her, she would have never gotten addicted to it. The truth is that there are hundreds of thousands of Betsy Mallums. More than a million people have died from opioid overdoses since 1999.