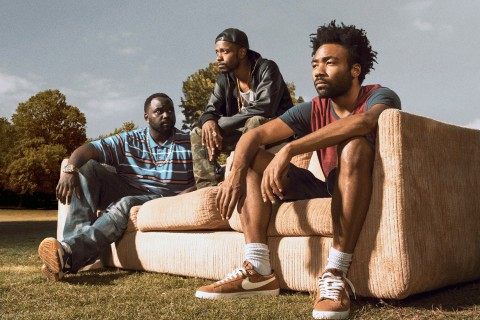 Donald Glover is writing the second season of Atlanta and the series will soon begin filming. For those of you who haven't been following the show, it's an FX series that made it's debut last Fall. The series is a dramatic comedy that centers around the rap scene in Atlanta. The main characters are two cousins who are constantly looking for ways that they can improve their lives and help their families as well. Fans who are awaiting season two will need to be patient and here is why.
Atlanta is renewed for another season
The FX network has ordered yet another season, but it's not going to be here in the Fall of 2017. It appears that the writer, Donald Glover has started the project, but he's too busy to get it ready for Fall. We're told that filming is set to start on the series very shortly, but it hasn't made the deadline for the 2017 year. Instead, it is schedule to air in 2018. No worries though, the show will go on, but there will be a delay.
What Glover is doing
Donald is involved in a new movie for the "Star Wars" franchise. While he is busy being fitted for Lando Calrissian's cape, he's in preparation for the movie that will feature the story of the young Han Solo. this means putting "Atlanta" on hold because he's going to be busy for a while. The good news is that he has already completed the writing for the entire season of "Atlanta" before leaving to start on the new project for Star Wars. The filming of the series is set to commence in September.
Glover likes to take his time
He shared in an interview that he doesn't like to rush his projects. This should make fans of the show feel better about the year long wait. What it means is that he takes his time to ensure every project that he pus out is of high quality and viewers deserve to have the very best. It is a requirement for keeping the ratings of a show up high enough for a next season renewal. Gloves disclosed that he is very happy with the way that season 2 has turned out and he thinks that it is actually better than season one. This is yet more good news for fans.
What to expect
Glover isn't giving away a lot of the details, but he did share some of the things that influenced his writing for "Atlanta." He's a new father and this helps him to understand more where his character is coming from. He also shares that we can expect to see something that is controversial. He wants to kep the show as real as possible and sex and violence are just real parts of the world that we live in, so we take this as a hit of what may be coming up for the 2018 season. Donald was pretty tight lipped about the content for "Atlanta 2" and he's not letting much leak out so we'll just need to be satisfied with this for now.