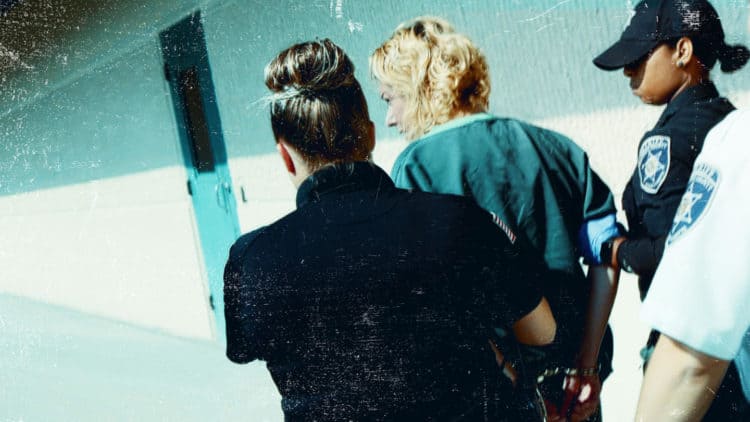 Every year approximately 219,000 women are incarcerated in the US. The Prison Policy Initiative wrote a report in 2008 stating that the number of women being incarcerated is increasing every year not only in the US but also the world in general. In every 100,000 women, 133 are in correctional facilities in both county or state prisons in America. These numbers are a shocking testament as to the rate of increase in crime and the involvement of female citizens in crime. A&E TV released a docuseries detailing the lives of female criminals and the hardships they encounter on a daily in those prison walls. The show is called Behind Bars: Women Inside.
What is the show Behind Bars: Women Inside all about?
The show is a documentary that follows the lives of various female criminals who are in jail for various crimes in the Western Massachusetts Regional Women's Correctional Center. It narrates the real-life stories of mothers, sisters, grandmothers and daughters who are part of various drug smuggling gangs, murderers, and armed robbers just to name a few. Behind Bars: Women Inside shows us an emotional and vulnerable side to some of these women, but due to the fact that the atmosphere in jail is usually too extreme we get to see the volatile sides of these dangerous women and what they do when they snap. Below is a list of the top ten things you might not have known about the new A&E documentary on female incarceration.
Here are 10 things you didn't know about Behind Bars: Women Inside:
1. It is a documentary
There have been many films and movies that have been released that depicted the goings-on of prison life like Orange Is the New Black and Girls Incarcerated. However, these shows are usually scripted and don't really provide a clear view of what happens in correctional facilities. Behind Bars: Women Inside is a documentary that can be streamed on A&E that involves real life criminals in real life situations in real jails doing real time for their criminal activities.
2. The documentary only has 4 episodes to it
The documentary has only one season that contains 4 episodes. The show premiered on A&E on December 10th 2019 at 9pm.
3. Back to back episodes
The show aired back to back episodes each running for 40 minutes as the first 2 aired on December 10th while the other 2 aired on December 17th 9pm EST.
4. There is talk of a renewal
Judging by the show's ratings and viewership based on the first season, the show is likely to be renewed for a second season. However, nothing has been confirmed by A&E officially although rumors have been flying about the renewal talks by the producers of the show and the network. The 2nd season of Behind Bars: Women Inside if confirmed will be released sometime late next year (2020).
5. Kathy Burke is the narrator
Kathy Burke is a well known actress and some of her outstanding works include French and Saunder, 8 out of 10 cats and her character Perry in Kevin and Perry series and movie alongside Harry Enfield. She has done narrations for other crime docuseries such as Bad Girls Behind Bars and her most recent project being Behind Bars: Women Inside where she is the narrator.
6. There is a transgender inmate on the show
In episode 2, the show follows the relationship of a transgender inmate called Franklin and fellow inmate. Relationships are strictly forbidden in jail but Franklin doesn't see this as deterrence to their love.
7. The show details the plights of pregnant women in jail
Vanessa, a pregnant inmate in the Western Massachusetts Regional Women's Correctional Facility happens to also be addicted to heroin. She is fighting hard to get into a detox program so that she can give birth to her child outside the prison or else she will have to face the fact that she'll lose her third child to the foster care system. According to The Cinemaholic, only 6 deliveries out of the 753 federal and state prison inmates in 2019 who had live births were carried out in hospital. The prisons lack the general know-how and facilities and equipment to carry out delivery therefore the pregnant inmates usually have to give birth in their cells.
8. Behind Bars: Women Inside addresses the dangers of drugs
With the show's first episode, we meet Vanessa who is a pregnant woman addicted to heroin looking for rehabilitation from the correctional facility so that she can give birth to her daughter normally. Cash, also a heroin addict, had a relapse and is determined to step away from the life of addiction and leave her criminal history behind to lead a normal life. The Western Massachusetts Regional Women's Correctional Facility provides inmates with a rehabilitation center for those who want to be clean and free from drugs.
9. The show is filmed in the Western Massachusetts Regional Women's Correctional Center
According to A&E TV, the show is filmed in the Massachusetts correctional center which is located in Chicopee Center St. Massachusetts in the United States. It is home to about 200 inmates and is considered as one of the most organized and rehabilitative correctional facilities in the state.
10. The cast are actual criminals
As stated earlier Behind Bars: Women Inside is a documentary about the lives of hard criminals. The show's cast involves some of the toughest gangbangers, murderers and armed robbers. Part of the cast includes Baby D who was arrested for breaking and entering, Krystal who was also arrested for breaking and entering and assaulting a friend, and Julia who was accused of murdering her ex boyfriend just to name a few.
Conclusion
Throughout the show we are introduced to women of various characters, some hardened criminals, while some just found themselves doing the wrong thing at the wrong time. Despite all the troubles that the women face in jail, they still try to prove that there is more to life and that serving time doesn't have to be the end of someone's life. Behind Bars: Women Inside is now available for streaming on A&E.