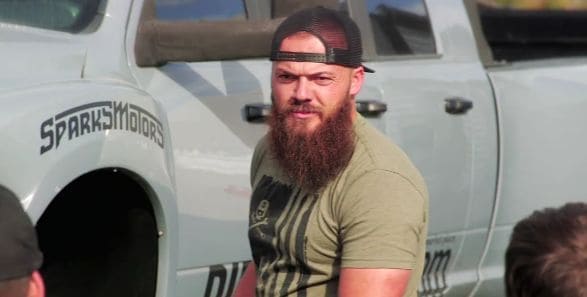 The Diesel Brothers are about to build their most iconic car ever on tonight's season finale. It's called the Mega RamRunner and if that name is any indication, this thing is going to cook. But before the Mega Race takes place Heavy D decided to channel a famous movie to get his troops motivated. Just like Mel Gibson did on a horse in Braveheart in 1995, Heavy D sits on top of a Segway saying stone faced to his crew "Sons of Diesel Brothers, build this truck with me. Let's build the biggest, baddest truck on earth."
It might be the cheesiest line of the entire season but darned if it doesn't get you juiced up. But it doesn't stop there. D then screams "Who's with me?????" at the top of his lungs. According to Monsters and Critics, tonight's season finale episode, titled Good Bros and Goodbyes, sees the team's build for SEMA in Las Vegas face difficulties and they have to scramble to find something to replace it with. Then they rebuild the Megaram so they can give it away.
Check out the trailer below as well as another behind the scenes video after that.
Quick question. Do you think Diesel Brothers has earned a right to a better time slot? They currently air at 10pm but the show's built up a tremendous following that includes over 400K likes on Facebook. Keep in mind that tally was in the 30K mark not even a year ago. It's hard to argue with the personalities on this show. They kind of remind me of a more modern day American Chopper just with cars. Plus the giveaways is a huge incentive for fans to stay involved.
Check out the footage below as the team explains the Mega Ram's CNG conversion kit which they fitted to make sure it's reliable.
Save
Tell us what's wrong with this post? How could we improve it? :)
Let us improve this post!