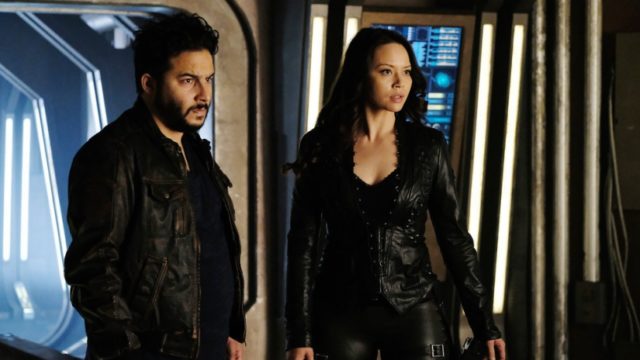 Fans were shocked last Friday after hearing about Syfy's cancellation of Dark Matter after only three seasons. Co-creator Joseph Mallozi announced this via a blog post and expressed his disappoint upon the development. Mallozi created the Canadian science fiction series along with Paul Mullie back in 2015.
Based on the graphic novel of the same name, the story of Dark Matter centers around six people who woke up in stasis pods aboard an intergalactic starship called the Raza. All individuals had virtually no memory of anything upon being awakened. They didn't remember who they were or any of the people they were with, where they were and why they were there, and also why they were in stasis pods. They called each other by the order in which they left their stasis pods, One being the first, Second being next, and so on. The show basically revolved around the crew trying to determine exactly what happened to them in order to find answers.
With such fascinating characters and a story that really could've taken the crew anywhere, Dark Matter had a lot of potential, and it was evident after the first season that the show had amassed an incredible number of fans that were passionate and completely loyal. While the show received mixed reviews from critics, the average fan review was high. The creative team carried on the interest in Season 2, filling it with even more betrayal, drama, and action as it did in the first season. As expected by this point, the Raza crew had been split up by various circumstances. New allies were formed as well as new enemies. After an explosive finale, fans were left waiting for another season to see who survived and who didn't.
Season 3 began with a new set of adventures for the Raza crew. We saw old faces throughout the season and new problems for the crew to tackle. The show seemed as if they were setting up for another grand finale that will translate onto another season after. The season 3 finale left us all with even more questions to ask. Also at this point, the Raza crew that we all grew to care for over the last three years is all just broken apart, gone, or maybe even dead. There were too many doors left closed for answers, and now, we aren't going to have any answers at all.
This was not really the best way to tie up things if there's not going to be another season, especially for the fans. While it all felt natural the way paragraphs end to transition to the next, this one was cancelled so abruptly and unplanned that we begin to wonder why. The show had a solid fan base and a solid viewership each week as well. Whether Syfy is setting up for something else or not, we're not sure as nothing official has been declared. For now, we're left to scour the forums for answers or we can just go back and watch the seasons again to figure it all out ourselves.