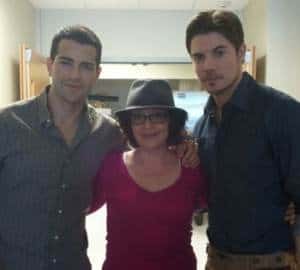 Tonight, TV fans across America will return to Southfork this Wednesday as TNT premieres the next chapter in the Dallas saga and for us here at TVOvermind, the wait is close to maddening. In anticipation to the big event, we have the second part of our interview with Dallas star Marlene Forte as she gives us more secrets from the set of Dallas, most notably about the new generation of Ewings, Christopher Ewing (Jesse Metcalf) and John Ross Ewing III (Josh Henderson).
If you are not aware, Elena Ramos (Jordana Brewster), Carmen's daughter, is the young woman torn between the affections of both John Ross and Christopher, despite Christopher being engaged to Rebecca Sutter (Julie Gonzalo). However, John Ross has won the affections of Elena and the two look pretty happy. Or are they?
What does Carmen think about her daughter being with John Ross?
"John Ross is not my [Carmen's] 'favorite character," Marlena Forte declared with a chuckle, despite Carmen raising all three children under one roof. "Just because I believe that the apple doesn't fall far from the tree. So I'm not particularly fond of J.R. I don't think he has a lot of morals."
However, that doesn't mean Carmen thinks that John Ross doesn't necessarily love her daughter. "I think that he loves her, as much as an amoral person could love anybody." Ms. Forte also commented on giving John Ross a hard time on the show, which will be displayed in tonight's two-hour premiere.
So what happened with the budding relationship between Christopher and Elena? "You find out that at some point that Elena was actually with Christopher," Ms. Forte informs. "So, Carmen was real happy when that happens. But something goes on between them, which nobody really knows, and they break up. Upon them breaking up, Elena feels that Christopher abandons her. She feels that it was because of money, because we are the help, but it is not true. So runs right into John Ross's arms."
Seems like there wasn't closure for Christopher and Elena, so where does this leave Christopher's new bride Rebecca? You will have to tune in tonight to find out…
Dallas premieres tonight @9/8c on TNT.