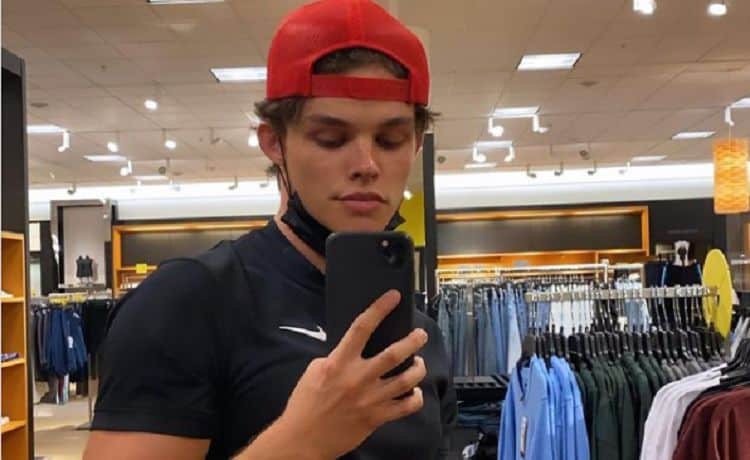 Curran Walters rose to fame when he was a teenager. He began his career as a model, but his model career later evolved into a successful acting career. He spends his time making sure his fans know how talented he is, and he continues to grow in his craft. Still young enough that he has a lot to learn, we can expect to see him get better as the years pass. Considering he's already so good at his craft, his talent is going to skyrocket, his fan base grows even more, and his career is far from being close to over. He's a young man who will become a household name, and it's time to get to know him.
1. He is Young
Curran Walters is still so young. He was born on January 16, 1998, in California. He's from the Oak Park community. He and his sister, Harlowe, grew up there with their parents. He's the oldest child in the family.
2. He Goes Through All the Emotions
One thing he's good at doing when he acts is feeling a range of emotions. He feels what his characters are going through and what they are experiencing. It's not easy for him to sit back and look at the characters through a lens. He feels their emotions and their depth.
3. He is Honored to be a Comic Hero
Being part of "Titans," has been nothing short of an honor for this young star. Anyone might agree, whether or not you are a fan of the comics. They are historic, classic, and they are well-known around the world. These characters and stories have been told for generations now, and being part of this story as a character with such depth is an honor for the young star.
4. He is Finds Challenges in His Work
Those who do not act assume that it's probably a lot of fun to try on costumes and act like someone else. They're not entirely wrong, but Walters is quick to point out that not all costumes are easy to maneuver in. For example, he finds it a bit challenging to act with a limited range of mobility wearing the Robin Hood costume he dons complete with a heavy bodysuit and a mask. It's a challenge, but it's one he's good at tackling.
5. He Does Some Stunts
There are many actors and actresses who do not do their own stunts, and we get it. It's dangerous, and why do your own when someone else is trained and prepared and very good at doing that job on their own? Walters is a man who will do his own stunts to an extent, but he also recognizes when he's not comfortable doing something. In an instance such as that one, he will have his double do it for him.
6. Working During COVID Presents Challenges
He doesn't complain about it. Everyone was just happy to go back to work when COVID hit, and he is one of those actors who were just plain happy to get back to work and back on set. He does admit that working after COVID is different and that it does change things, but he's just happy to be back to work.
7. He Believes in Making Your Own Choices
One thing he's learned as an actor is that making your own choices for your character is a must. He knows that you have to decide what you think is best for that character, and you have to work hard to ensure that it's brought to light and made obvious to fans.
8. He is Excited About his Emotional Journey
If there is one thing this young actor is excited for his fans to see as they embark upon a new season of watching him on television, it's the emotional journey he went on. Both as an actor and as a young man, he feels that the journey he will take his fans on is one that they will remember, embrace, and enjoy.
9. He's Very Private
Curran Walters is famous, but he's not an over-sharing kind of guy. He is happy to talk to the press and provide information about his work, but you won't see him discussing his private life, his personal life, or anything that is outside of his job. He takes his privacy seriously, and it's a good lesson to hold onto when you're in the public eye.
10. He is Doing Well
He's been working as a model since 2014, and he's taken on some big ads, big clients, and now he's working on big shows. He's done well for himself, and having an estimated net worth of approximately $1 million to $5 million as a young man of only 23 is an impressive feat in and of itself. He's taking his career seriously, and he's only going to continue to earn more money and more fame as he works.
Tell us what's wrong with this post? How could we improve it? :)
Let us improve this post!