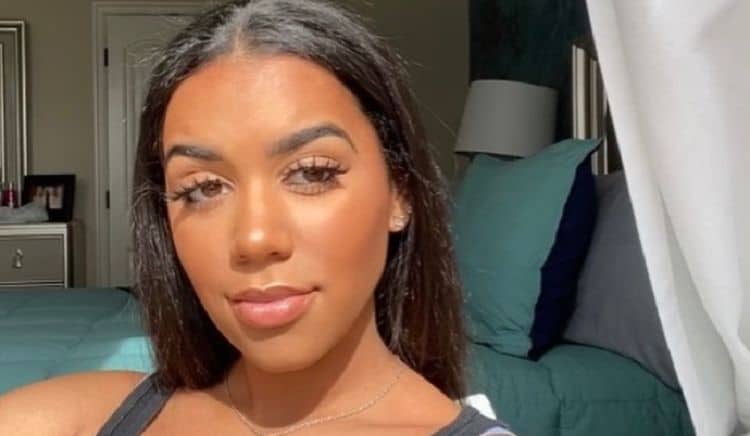 This year's NFL draft was filled with lots of unforgettable moments. Among them was a slightly awkward interaction between CeeDee Lamb and his girlfriend, Crymson Rose. After it was announced that Lamb had been drafted to the Cowboys, CeeDee was on a phone call when his second phone rang. When Crymson noticed the phone ringing, she grabbed the phone from her boyfriend's lap and attempted to answer it. Before she got the chance, CeeDee quickly took the phone from Crymson's hand. Since then, she has been the subject of memes and jokes all over the Internet. But who is the actual woman behind the now infamous cellphone grab? Continue reading for 10 things you didn't know about Crymson Rose.
1. She Goes To Oklahoma University
According to her Twitter bio, Crymson Rose is currently a student at The University of Oklahoma. She is expected to graduate in 2021. When watching the drafts for professional sports, it's easy to forget that the people being drafted are practically kids. The reality is that Crymson and CeeDee are both in their early 20s.
2. She Dated An NBA Player
CeeDee Lamb isn't the first professional athlete Crymson Rose has dated. She was also in a relationship with Atlanta Hawks player, Trae Young. Trae attended The University of Oklahoma from 2017 to 2018 before entering the NBA draft where he was chosen in the first round.
3. She Comes From Diverse Racial Background
Crymson Rose is all about embracing her roots. She was born to a white mother and a black father. It's unclear what specific ethnic group(s) her parents are a part of, but they both seem to have been both in the United States.
4. Her Father Passed Away
Sadly, Crymson's father passed away in November of 2005. On the 10 year anniversary of his death, Crymson role a heartfelt Instagram post in honor of her father. The caption read: "I may not remember the sound of your sweet voice but I will never forget you. I love and miss you so much. words can never explain. 10 long long years. please continue to watch over me and be my guardian angel until the day I finally get to see you again! man I can not wait for that special day.. love you always daddy!"
5. She Isn't Bothered By What People Are Saying About Her
Being the subject of Internet gossip can't be easy – especially when almost all of the comments are mean. After the incident on draft night, Crymson took to Twitter to explain what was going on in the clip. However, after saying her piece Crymson has gone back to being unbothered by the whole situation.
6. Her Boyfriend Came To Her Defense
Not only did Crymson attempt to clear up any misconceptions about her grabbing CeeDee's phone, but the newly drafted Cowboy also came to his girl's defense. CeeDee posted a clip of the moment and let his Twitter followers know that it "wasn't even like dat".
7. Her Faith Is Very Important To Her
Crymson is a very religious person. In 2018, she dedicated her life to God and was baptized at a local church. She shared the experience on Instagram and explained why she decided to give her life to the Lord. She also shared some positive words of encouragement with her followers in hopes that her story would be able to help someone else.
8. She's All Natural
If you've spent a decent amount of time scrolling through Instagram model's profiles, you've probably noticed one thing: most of their bodies are fake. Thanks to Brazilian butt lifts and other fat transfers, it is now easier than ever to get the body of an early 2000s video vixen. However, Crymson Rose appears to be all natural.
9. She Keeps A Low Profile
After witnessing the awkward moment between Crymson and CeeDee on draft day, some people accused Crymson of trying to steal the spotlight for the man. But that doesn't seem to be the case at all. Even though she is officially dating a professional football player, Crymson doesn't seem like the type to want all of the spotlight for herself. She maintains a pretty low profile and isn't someone who reveals a lot of personal information on social media.
10. Crymson Rose Is Her Real Name
The name Crymson Rose may sound like nothing more than a cute name for social media, but it looks like it may actually be her real name. There is nothing to indicate that the name Crymson Rose is just a nickname or an internet handle.
Tell us what's wrong with this post? How could we improve it? :)
Let us improve this post!