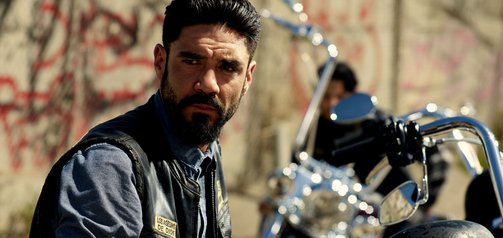 Clayton Cardenas is an actor who is best known for his role in the popular television series "Mayans M.C." The show is a spinoff from "Sons of Anarchy" which concluded its final season, spawning a continuation of the story of a rival gang of bikers. Cardenas has a huge fan base who want to know more about the talented young actor. To satisfy this quest for knowledge, here are 10 things you probably didn't know about Clayton Cardenas.
1. He learned to stop and listen
Clayton Cardenas was asked about what he considered to be the best advice he's ever received. His response to the question was "to listen." Instead of poring over lines it is just as important to listen. This was advice that he was given when he was learning the finer points of acting and he went further to offer that it helped him to feel what the other actor is feeling and it's more than just running through the lines.
2. He works out on the set
There is a lot of downtimes when they're on the set of "Mayans MC," and he finds things to do when it's time to take a break from the hard work. Clayton shared that the members of the cast take advantage of the time to hang out together and also to work out, but when it's time to get back to work, the crew knows this and they're ready to get back into action.
3. Clayton Cardenas is artistic
If Clayton wasn't an actor, he would be doing something that was artistic. She is an energetic person and he is fond of art because it allows him to express his emotions in a way that is comfortable. Although he wasn't raised in an environment where this was considered to be masculine, it's something that he enjoys being around. For Clayton, emotional expression in himself and in others feels good to him.
4. One of his favorite places to visit in Greece
In an interview, Cardenas was asked where he would like to visit if he could go anywhere in the world. He said that he'd love to go to Greece because of its sheer beauty. He's fond of the aesthetics and how lovely the water is surrounding the islands. He is also interested in the architecture and the history of the islands. He said that he'd like very much to sail in between the islands in a boat.
5. He believes in the power of crystals
Cardenas never leaves his home without his crystals. They bring him comfort and help him to maintain his focus and centering. The crystals serve as a reminder to stay within himself and to remember to keep being himself and not put on a face for other people. The crystals help him maintain his forward-moving progress because of these reminders.
6. He's a poet and a painter
When asked what he would do for a living if he wasn't a professional actor, Cardenas said an artist. We learned that in addition to being a professional actor, he is also an artist. Clayton is a painter. He is also a spoken word poet. The more that we look into his personal life, the more that we learn about who he is as a person. The man behind the characters is a very sensitive and creative person who uses art and poetry as an outlet for his massive amount of creativity.
7. He's had roles in many television series.
Clayton Cardenas may be known by some fans for his role on "Mayans" but he's done a lot more than that. He also appeared in "American Crime" in the role of Diego, as Pimp in "Khali the Killer," as Miles in "The Was," a hitman in "House on Lockdown," as bad boy 3 on "Nice Guys," as a bystander on "Madaran" and roles in "Snowfall" and "S.W.A.T."
8. He helps raise funds for charity
Clayton Cardenas has a kind and giving heart. In November of 2017, he was a featured guest at a fundraiser for Breast Cancer Awareness. He also participated in a motorcycle ride fundraiser to support an event to raise awareness for Mesothelioma in June of 2017. While he's a busy actor and producer, he still makes time to give back to his community and to support efforts to help those who are in need.
9. He has a diverse heritage
Clayton Cardenas is an American actor who has a wonderfully diverse heritage. His mother is Filipino-Mexican. This makes him Hispanic American with a diverse cultural background. He also has a sister named Janae Clayton, whom he was raised with as a child. He shares a very special relationship with his mother.
10. His social media account can tell you a lot about him
Clayton Cardenas is big in sharing on social media. If you go to his Facebook you can see pictures of him and also of his family. It is obvious that he is close to his mom because he offers wonderful expressions of love and respect for her. He posts pictures of his mom along with his grandpa on his Instagram account and he's very open about sharing his love for his family. You can look through the various posts that he's made and view his photographs and learn a lot more about who Clayton Cardenas is as a person because he doesn't hold back in expressing himself over social media. This is also a good way to stay current on what is going on in his life and in his career because he keeps his Instagram and Facebook pages updated with plenty of posts. You can join other fans in following him on these sites to stay informed when he makes a new post or puts up new photos.