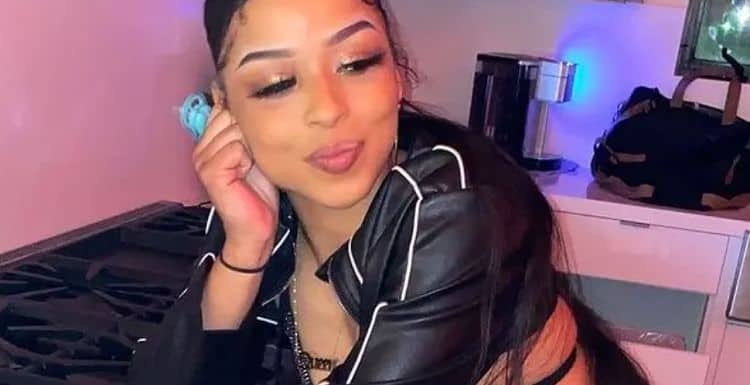 2020 was a year full of ups and downs for lots of people, and Chrisean Rock knows this all too well. At one of her low points during the year, she got into a physical altercation that resulted in her losing one of her front teeth. At a high point, she became the first artist signed by Blueface. Now, she's ready to make the most of her situation and start her career as a musical artist. While there is still some uncertainty about where this musical journey will take her, she's already started to build a solid fan base full of people who are looking forward to see what she does next. Here are 10 things you didn't know about Chrisean Rock.
1. She's From Baltimore
Chrisean was born and raised in Baltimore and lived in several neighborhood throughout the city. She comes from a large family and is the 11th of 12 children. She currently lives in the Los Angeles area, but Baltimore will always have an extra special place in her heart.
2. She's A YouTuber
Most people know Chrisean through her affiliation with Blueface, but she's working hard to establish herself as an individual. She started a YouTube channel in 2018 and has amassed more than 18,000 subscribers. Additionally, her channel has gotten over 491,000 total views.
3. Her Faith Is Important To Her
We weren't able to find any information about Chrisean's specific religious beliefs, but it appears that she is a Christian. She has hinted to the fact that her relationship with God plays an important role in her life. In her Instagram bio, she included the phrase "Jesus is King".
4. She's Experienced Homelessness
From the outside looking in, it may be easy for some people to judge Chrisean but many of those people don't know her story. She became homeless when she was around 9-years-old and went without a consistent place to stay for several years – all while still attending school.
5. She Hasn't Always Had The Best Relationships With Her Family
As mentioned before, Chrisean comes from a very large family and things between them weren't always easy. Her father was in prison for much of her early life. In fact, she didn't even meet him until she was 7-years-old. Chrisean's mother struggled with addiction making it difficult for her to be a consistent presence in Chrisean's life. As a result, Chrisean wasn't able to have a smooth and stress free childhood. Despite that fact, Chrisean still has love for her parents. Fortunately, she was able to lean on some of her siblings when things were difficult.
6. She Competed In Ultimate Tag
Sometimes opportunities come when you least expect them, and that's exactly what happened to Chrisean when she found out she had been cast for the competition game show Ultimate Tag which airs on Fox. Not only did she compete, but she took home the $10,000 prize.
7. She Was A Track Star
Even though things weren't easy for Chrisean when she was younger, track was something she could always turn to. Her track coaches proved to be some of the most instrumental people in her life. Chrisean's impressive track skills brought her all the way to Santa Monica College in California. According to her LinkedIn profile, she graduated from the school in 2020 with an associates degree in kinesiology and exercise science.
8. She Was Abused During Her Childhood
On top of all of the other hardships she had to deal with when she was younger, Chrisean was also the victim of abuse. During an interview with a local Fox News station in Baltimore, Chrisean shared that she was "choked out" and "beat on" during her childhood.
9. She Loves Fashion
Looking and feeling her best are two things that are very important to Chrisean and fashion has given her a way to do that. She has a nice sense of style and she likes to put outfits together. No matter the occasion you can bet that she's going to come in looking her best. She has even become a brand ambassador for clothing companies such as Ethika and Fashion Nova.
10. She's Focused On Positivity
There's no denying the fact that Chrisean has been through more than her fair share of hard times, but she isn't letting that hold her back from having a bright future. She is focused on building the life she knows she deserves and she's all about being positive. While some may not agree with some of the things she's done, Chrisean doesn't plan on letting other people's opinions get in her way.