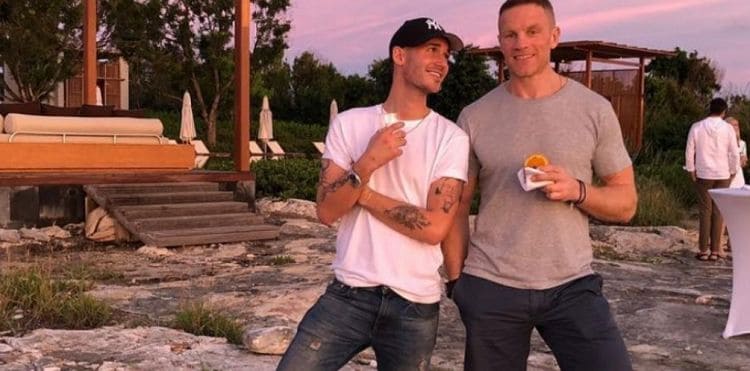 Anytime HGTV brings a new show to the air, it's a good one. The network seems to know precisely what the world wants, and they never drop the ball. From cooking shows to baking wars to being in the homey, lovely kitchens of amazing chefs who inspire us to do our best work in the kitchen, this is one network that gets us all. Now the network is bringing the likes of Martha Stewart and Tamera Mowry-Housley to our screens, and they're being joined by Chris Hessney. The three will judge a new show called "Table Wars," and we cannot wait to see it. However, who is Chris Hessney? We have everything you need to know right here.
1. He is a Married Man
He is a man who has been married for three years to his husband and the love of his life. His husband is Simon Miall, pro-rugby player and financier. He's from England, and he might be a slightly bigger deal over there simply because he's one of their star athletes, but many Americans who follow his sport know precisely who he is. They wed more than three years ago in October of 2018.
2. He Met his Husband On a Blind Date
They were set up, and they are more than happy about it. He calls their first date one that is not at all traditional and one that is not at all how things are meant to go, but it worked well for them. They did all the things that you are not meant to do on a first date, and it just goes to show that there is no right or wrong way to fall in love.
3. They Wed in Paradise
It doesn't matter who you are – you'll agree that their wedding location is paradise. They wed in Lake Como, Italy, and we imagine their wedding day was the dreamiest day of all. Who wouldn't want to get married in Italy, but especially on the beautiful Lake Como?
4. He's an Event Planner
Chris Hessney has his own firm based in New York, and he is killing it. He launched his own firm, went to work planning and managing events, and made things beautiful. If you have an event you want to throw in the area, he is your guy. He has an eye for meticulous beauty, and he's not afraid to bring his visions to life.
5. He is All About Being Personal
What might just set him apart from the other event planners in the business is the fact that he's in this line of work for the relationships. Sure, he can make anything gorgeous, but he knows that the only way to succeed at what he does is to make his jobs personal. He gets to know his clients. He loves them, learns them, and he makes their own visions his.
6. He's Worked with Everyone
While he might be hosting with the talented Martha Stewart right now, he worked with her in the past. He has worked with her in the past to create tables for her own collections, and they have a lovely working relationship. They're coworkers now, and they're having fun with that.
7. He's Been Recognized
Lest you think that he is not as good as we told you, let us mention that Harper's Bazaar called him one of the top wedding florists in the country What does this mean? It means he's good at what he does, and he can do it all.
8. People Adore Him
Chris Hessney is a man who is good with relationships. He builds them with his clients, and they keep coming back for more. Not only that, they have such lovely things to say about him both in terms of the work he does for his clients and the way he is as a person. He's clearly lovely, and people recognize that in him.
9. He Does Keep to Himself
He's a reality television judge, he's a man who works with the biggest celebrities in the world, and he is a man who does big things. He's also a man who has made a lot of friends in the world, yet he manages to lead a relatively quiet life out of the public eye. It's not easy in his line of work, but he makes it work.
10. He Works with Goop
In case you don't know what Goop is, it's the lifestyle brand created by Gwyneth Paltrow. She's the leader, the founder, and the brain behind the business, and she's made it work. He has done several things with her company to make the lifestyle industry swoon, and she keeps coming back for more.
Tell us what's wrong with this post? How could we improve it? :)
Let us improve this post!