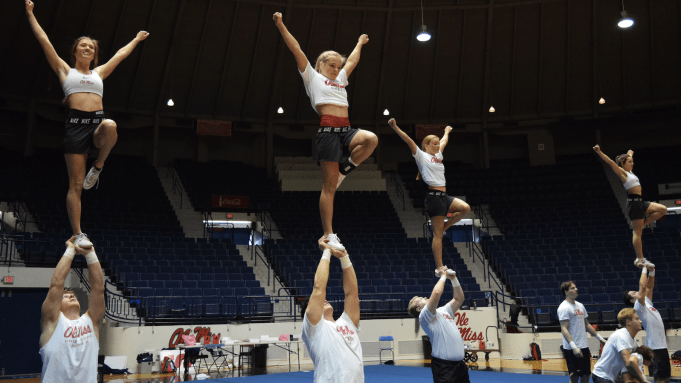 Cheerleaders are portrayed as perky and happy. They help lift a team's spirit when it's flagging. However, there's a lot more to the sport of cheerleading than you might think. While plenty of people believe that holding some plastic pompoms and shaking your tush in a short skirt is all there is to it, coaches Donna and Ryan are on a mission to give people a real-world view inside what it's like to train cheerleaders.
1. Mother & Daughter
Donna Martin and Ryan O'Connor are both cheerleading coaches. Donna is the cheerleading coach at Dunbar High School in Lexington, Kentucky. Ryan, on the other hand, is the cheer coach at Ole Miss University. Obviously, the business of cheering has become a family affair for these women. Ryan grew up watching her mother coach cheerleaders, and she became interested in the sport herself as a result. When she was in high school, Ryan was even on her mother's cheerleading team.
2. Very Different Styles
Donna is an emotional coach. She invests herself in the kids on her teams. Donna shares their trials and tribulations outside the sport and takes on the role of a surrogate mother to any cheerleader who needs her. She believes it's necessary to feel a deeper connection to the individual students and that knowing them better is the best way to make them into great cheerleaders. Her daughter Ryan takes a different tac. Instead of coaching pubescent highschoolers, she is the coach of a college team. Her style is more professional and slightly less personally involved, which isn't to say she has no care for her cheerleaders, quite the opposite. However, for Ryan, there's less wiggle room and personal investment in the individuals. It's her job to make them great cheerleaders, and if they aren't bringing it all to the table, then they can go home, and she'll take the next candidate. Both styles are highly effective. Seeing them from the mother-daughter perspective is an engaging way to get a broad and realistic view of cheerleading as a profession.
3. Third Generation
Having a career is one thing. When you have that career and a family, there's that much more challenge. Donna is Ryan's mother, but Ryan also has a son. Having a family tradition that involves the level of incredibly hard work and shared goals these women have is bound to make a strong and dynamic environment in which to grow up. Moreover, it puts them under extra stress as working mothers.
4. Going For the Gold
The Dynamic mother-daughter duo is motivated in more ways than one. As you might expect, they are involved in competitive cheerleading, and every coach wants their team to win, but these ladies have a particular goal in mind this year. No mother-daughter pair of coaches have ever won in the same year. Donna and Ryan are hoping to be the first so that they can add that honor to their list of achievements. Bringing home a win is always thrilling, but doing it together plus setting a new record is even better.
5. Dangerous Cheer
Cheerleading is a serious business. For all the happy smiles and good-natured teasing of the opponent's team, there's a side to cheerleaders few people ever understand. To be a half decent cheerleader, you have to be flexible, capable of doing extended dance and gymnastic routines, and strong enough to do all the kicks, flips and tumbles that a cheerleader is known for. For all the work, cheerleading is barely recognized as a sport. It wasn't until 2016 that the cheerleaders finally got their long overdue recognition. The Olympics included them as a provisional sport. Given the level of athletic prowess, it takes to compete at cheer it's about time. After all, cheerleaders risk their necks, and that's no exaggeration. Close to 70% of all catastrophic sports injuries happen to cheerleaders. These coaches aren't just pushing their teams to win. They have to do so safely in the most dangerous sport there is. It turns out that throwing a young woman two stories in the air is a lot more complicated than most people think.
6. Donna's Career
As much as she loves coaching cheerleading, a cheer coach doesn't get paid very well. If you want to make your living and coach high school cheerleaders, then you have to have another way to make a living. While her daughter Ryan works with older students and gets paid as a university coach, Donna has a second career. She says she "..was a biology teacher first and a coach second." As a working mom and a woman with two jobs, Donna is an incredibly admirable woman.
7. R-E-S-P-E-C-T
On top of their other goals, the mother-daughter Cheerleader Generation coaches are seeking something more than a win. They want you to see how hard their girls work. This isn't just a pasted-on smile and a cute outfit. The reason for doing this show wasn't just a vanity project. It's about getting some respect for their incredible athletes and their own careers.
8. No Special Effects
This show isn't scripted or staged. When someone gets injured or falls or cries, there's no stunt double or airbag. Some reality shows are… less realistic, but not Cheerleader Generation. When you watch the show, everything you see happened.
9. Not The First Rodeo
Way back in 2001 MTV was airing the early seasons of True Life. One of those episodes was about Donna and her cheer team. Ryan wasn't yet in high school when that episode aired. Five years later they came back with Cheerleader Nation, a short run show that featured the mother and daughter together. Ryan was a sophomore at the time and hadn't yet moved into her adult career, but she loved cheering.
10. Lead By Example
Ryan can still do cheer stunts. She coaches her students professionally, but unlike some coaches, she can physically show them how to move and tumble with her own body. It's rare to find a coach who can do what they expect the athletes are doing in any sport. It just goes to show how dynamic Ryan's relationship with cheer has always been, thanks to her mom.
Final Thoughts
Cheer is a serious business, and the level of disrespect that the job gets shown makes it harder. Sticking with something you love should be easy, but when it can seem like the whole world sees you as less than you are worth because of your choices, it's no easy task. Add to that the need to coach winners and the pressure of performing as the coach, and you have two very talented women who are under the gun all the time. They manage it all with good grace and incredible skill. If you love cheerleading then you probably already plan to watch Cheer Generation. If you're up in the air, we suggest you check it out. You'll be surprised.
Tell us what's wrong with this post? How could we improve it? :)
Let us improve this post!