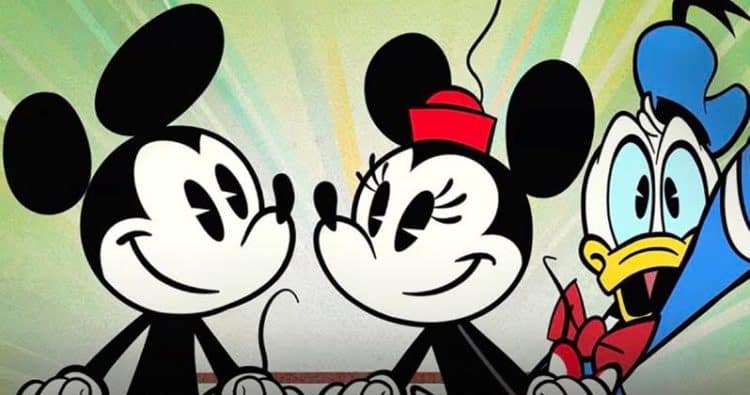 The Wonderful World of Mickey Mouse is definitely different from the full-bodied feel that the old-school Disney cartoons that many of us watched when we were kids. The old cartoons are actually still available for viewing on Disney+, but this batch of toons does look like it might be something that's right up the alley of the kids today since the animation is different, the stories are bound to be a little more cartoonish and the nature of the show does appear to be quite a bit different than anything that's come before. It does feel as though people are already in approval of this since the animation style has been around for a little while and despite being able to get a bit fringe at times, as in Ren and Stimpy kind of fringe, it does feel as though it will be widely accepted as the episodes continue to roll along. Considering that the characters being featured in the show are those that have been around for so long, it's easy to think that this show will do moderately well to excellent since, throughout the history of Disney, Mickey, Donald, Goofy, Minnie, Daisy, and Pluto have all been mainstays on the roster and have been the central figures that everyone else has revolved around most times.
The characters haven't really changed much over the years save for the way they look when animated, but their mannerisms have been kept largely the same which is pretty nice since it means that kids today are getting roughly the same experience that a lot of us did back in the day. It would be interesting to see just how many people realize that there wasn't a huge difference between Disney cartoons and Looney Tunes back in the day despite the very obvious animation differences that went into the making of each one. Both showcased popular characters that were shown to be capable of feats that went beyond the laws of physics and biology, but Disney still felt a little more controlled, perhaps more reserved in a way. Looney Tunes has always been so far out there that trying to compare the two is like trying to compare an apple to a coconut, they might have some similarities but they're about as different as can be. This show that's coming up is definitely more on par with the Looney Tunes in a way since it looks to be defying physics yet again and going to extremes that would remind a lot of people of the Warner Bros. cartoons that folks still enjoy.
But injecting a bit more of an animated feel into the Disney toons has won over a number of people obviously since this show is definitely something different from what a lot of us remember. To be fair, there's nothing wrong with it since it's different but it still looks very amusing and could be something that kids today would identify with in a way that's a lot more effective for them at this time. It's easy to see that the characters have kept their customary attitudes, but it's also nice to see that they've been updated in a way that will cater to the kids of today since trying to roll out the same old toons probably wouldn't be quite as effective. Disney has been working with these characters for so long that it's a wonder that people haven't grown tired of them, but considering that each new generation finds them appealing it's easy enough to guess that until they do finally go out of style if such a thing ever happens, it's going to be customary to see them being reinvented now and again to suit the current time period and satisfy the majority of the fans. Disney has been doing this for a while now as its overall style has changed quite a bit over the years in order to reflect the desires and trends that have been ongoing for a while. It's very easy to think that back in the day that a lot of us couldn't have possibly predicted what Disney would look like today, but the Mouse House has gone from being a charming and big-name entertainment company to being the type of corporation that has managed to take over entire studios and turn them into something that people can't help but enjoy since they've taken over one project after another.
Disney has always had a lot to offer the public, but at this point it's easy to think that there's no possible way that anyone could watch every bit of content that Disney has in a reasonable period of time, meaning that it's expanded in a way that hard to define in an easy manner. But when it comes to Mickey and his companion's things have been moving in a pretty steady manner that has taken the fans into account for much of the way, and this coming show looks like something that a lot of fans will appreciate.