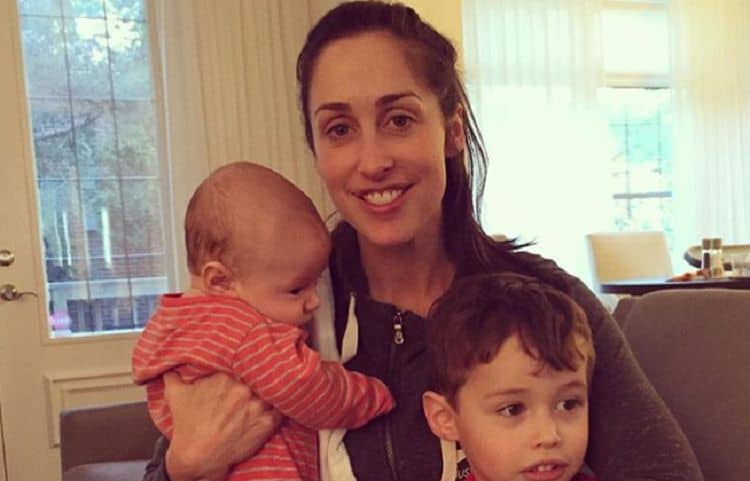 %0AIf anyone has ever questioned whether women can truly have it all in terms of a successful career and a happy family, Catherine Reitman is living proof. Her own experiences inspired her to create the series Workin' Moms. Since her on-screen debut in 1988, Catherine has continually grown and improved. Over the years, she has mastered the art of balancing her career and family. Read on to learn 10 things you didn't know about Catherine Reitman.
1. She Isn't The Only Person In Her Family To Be Involved In TV/Film
Catherine's father, Ivan Reitman, is a film director best-known for directing and producing Ghostbusters and Ghostbusters II. Catherine's mother, Geneviève Robert, is a Canadian actress. Her brother, Jason Reitman, is a well-known actor who has appeared in films such as Juno, Thank You for Smoking, and Labor Day.
2. She Struggled With Postpartum Depression
After giving birth to her first child, Catherine experienced postpartum depression. She was overwhelmed with feelings of extreme loneliness, but didn't initially recognize that she was dealing with postpartum. Many of the things she went through as a new mother ultimately served as an inspiration for Workin' Moms.
3. Her Husband On Workin' Moms Is Her Husband In Real Life
If you've ever felt like Kate (Catherine's character on Workin' Moms) and her on-screen husband Nate had incredible chemistry, that's because the chemistry is very real. Catherine's real-life husband, Philip Sternberg, plays her husband in the show.
4. She Was Born And Raised In Los Angeles
Although both of her parents are from Canada, Catherine was born and raised in Los Angeles. She attended the Buckley School, a private institution catering to wealthy families. Paris Hilton and Nicole Richie were also students at the school at the same time as Catherine.
5. She Hopes The Show Will Reach All Mothers
Although the show's title is Workin' Moms, Catherine hopes that it will appeal to all mothers and not just those who are also following the career path. Catherine says she knows just how isolating it can be to become a parent and she hopes the show depicts some of the realistic struggles that women often have to face. Catherine says she's even had people who don't have children come up to her and tell her how much they love the show.
6. She Has Two Children
Catherine has achieved a great deal in her professional life, but nothing surpasses the accomplishment of becoming a mother. She is blessed with two children, a son and a daughter, and is deeply grateful for the joy they have brought into her life. Despite her hectic schedule, she values every moment she spends with them.
7. She Was A Mean Girl In Middle School
Catherine had a hard time fitting in during middle school. As a result, she became somewhat of a bully to protect herself. She told The Globe and Mail, "I knew how to come up with jokes at someone's expense really quickly. After about a year I realized what I was doing and I still feel deeply ashamed. But it was a survival technique; I was lost, sad and looking for some control. And, I realize now, I was also practising my wit."
8. She's Very Detail Oriented
Paying close attention to the details is one of Catherine's greatest assets and likely what sets her apart from others. She's the kind of person who notices everything and she has leveraged this skill to ensure that Workin' Moms is as realistic as possible.
9. She Sometimes Feels Selfish For Chasing Her Dreams
When Catherine was young, her mother made the choice to walk away from her career to raise a family. Now that Catherine has a family of her own, she has decided to make the opposite decision. She is still very passionate about pursuing her career goals, and sometimes she feels a little conflicted about that.
10. She Studied Acting In College
There's no doubt that Catherine Reitman is a natural talent, but she also has the formal training to back it up. She studied acting at the University of Southern California and joined the Groundlings Improv Troupe while there. Working on improv further helped Catherine hone her skills.