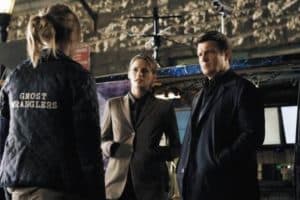 So that was the epitome of an incredibly fun episode, wasn't it? I must confess that what I was really looking forward to about last night was the fact that we would finally get a glimpse of episode 4.07 'Cops & Robbers'that we have all been so excited about. From the promo and sneak peeks about 'Demons', however, I figured it would most likely be one of those funny episodes with lots of one-liners and puns about ghosts and Ghostbusters.
And, well, I wasn't wrong. But what I wasn't expecting was that it was going to be so much fun. I'll be the first to admit that I am not a comedy kind of girl, but 'Demons'really got to me and I found myself genuinely enjoying all the ghost stories and theories. What I really loved about this episode, though — and it's something I have been noticing for a couple of episodes now — is how they are mixing up the team a lot more this season.
Up until season 3, we had a very clear division in the homicide team with Castle and Beckett doing their own thing and Ryan and Esposito doing theirs. But lately, it seems like they are trying out different combinations and, as much as I absolutely loved Ryan and Beckett working together in 'Kick the Ballistics', Castle and Ryan chasing ghost leads in 'Demons'were just a whole new level of awesome. Maybe it's because I have a new found love for Detective Ryan — I have always liked him, but he just seems to get exponentially more awesome and sweeter this season — but I just thought that it really worked having him and Castle paired up with their belief of the supernatural, while Beckett and Esposito stood on the other side of the spectrum being completely skeptical.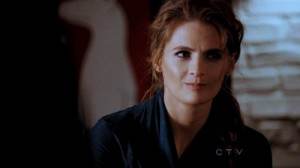 There are just way too many aspects I loved about last night's episode, but I have to say one of my absolute favorite moments was watching Castle screaming like a girl when that corpse fell on him. Nathan Fillion just pulled that off so well, that I was genuinely laughing out loud with that scene. In fact, that whole sequence of him and Beckett exploring the haunted house was hilarious. When she started telling him about her experience with the supernatural, I knew from the get go that she was yanking his chain. And that alone says so much about how far she has come since season 1, when she didn't even laugh at his jokes, let alone joke with him. Also, am I the only one who has noticed that Castle seems to go to Beckett's apartment a lot now? She didn't even look surprised to see him at her doorstep.
About the double date, I just really felt bad for Jenny. Poor thing was just trying to be nice and friendly and ended up causing Lanie and Esposito to break up. I really hope they talk this out and get back together soon. Although I am curious as to who was in favor of marriage and who wasn't.
Speaking of relationships, can I just say that I see Ashley becoming a thing of the past in the near future? I really liked Alexis in this episode and how she is dealing with the fact that being in a long distance relationship is not easy and sometimes said relationship is just not strong enough to survive the time apart.
To sum this up, 'Demons'was by far the funniest episode in a really long time and I thoroughly enjoyed watching it. A+