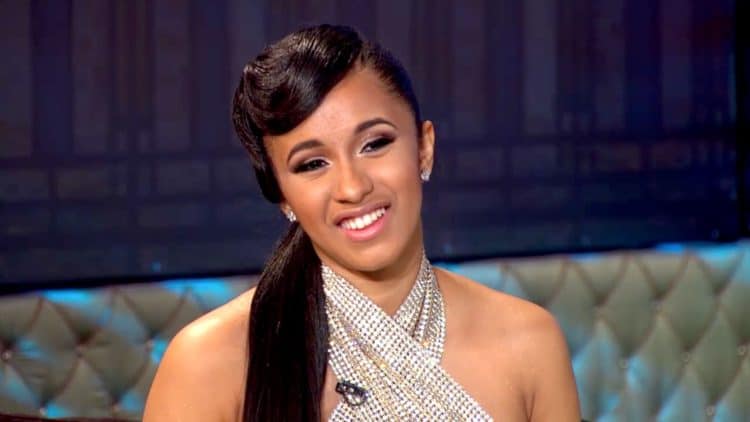 When she first showed up on Love & HipHop: New York, Cardi B had us at Hello. Though she already had a million followers on social media at the time, Cardi, who is the queen of Hip-Hop according to Halle Berry, was on the verge of changing her life 'draaastically.' She exploded, thanks to her over-the-top tell-it-as-it-is personality. Cardi became a fan favorite and stayed on Love & Hip-Hop for two seasons. By the time she was out, she was already a star. She left her fans with one too many memorable one-liners. These are our favorite:
1. " I'm Just A Regular Degular Shmegular Girl From The Bronx"
For someone who wasn't familiar with Cardi B from social media, meeting her on Love & Hip Hop was like coming face to face with a giant ball of unapologetic authenticity. Right from the time Cardi B introduced herself, she gave the aura of a rising superstar who was not afraid to be themselves: " Hey America, what's poppin'? My name is Cardi B. You might know me as the annoying dancer on social media that be talking hella crazy, with the long nails and the big old titties. But I'm just a regular degular shmegular girl from the Brox. I be dancing all around America, hosting all around America, and my goal is to make that shmooney and turn everything up! Ain't no party like a Cardi B party, like, you know I got that party poppin'."
2. "You Know You Not Paying Their Rent"
Peter Gunz was a handful. When he wasn't fooling around with Amina, he was in the arms of Tara, his longtime love. Just like the rest of us, Cardi B was watching the drama unfold, and during the reunion, she gave him a piece of her mind: " Look what you gave Amina and Tara…Babies! And that's it…I see what I see on TV and men like you are the type of men that I be talking about. You need to get from these guys what you want. You get [censored] out of both of them, and what do they get in return?" Though she was seated right next to him, Cardi B went all in, going as far as asking Peter whether he was paying Tara and Amina's rent. When Peter said, " Yes!" Cardi B was certain that he was lying. She proceeded to mock Peter by squinting her eyes and making a silly face. " You know you not paying their rent," she quipped.
3. "I'm An Emotional Gangster"
When it came to her personal life, at least for the time she was on Love & Hip-Hop: New York, Cardi B declared that sometimes she found herself in her feelings. According to her, however, she quickly snapped out of it every time she got reminded that she had bills to pay. She and DJ Self had been at it for two years. The guy was driving her a little crazy because he was leading her on and lying about it. In all honesty, Cardi B had a boyfriend who was incarcerated, but at least she was honest about it. Self had one too many dodgy moments. Cardi B played it cool but sometimes things got out of hand. She dealt with it in a way only she could; by being an emotional gangster: " Everybody thinks that Cardi's so cold and whatnot, but you know, I'm an emotional gangster. You know, I cry once a month and whatnot."
4. " If A B*tch Have Beef With Me, She Gonna Have Beef With Me Forever!"
While DJ Self was lying about seeing other people, he got a little bit more than he could chew. Mariahlynn had invited Cardi B to a party that Self was also to attend. Both of them weren't aware of the invites, so it was a no-brainer for Self to show up to the party with someone else. When Cardi pulled up, she was ferocious. " One thing for sure, I'mma handle this…Cardi B Shhtyle!" She said. Handle it she did, in the most Bronx way possible. It didn't matter that Self was between her and his new beau, Cardi initiated a messy catfight, forcing security to come between them. Later, she and self were alone in the studio, discussing the incident when Cardi expressed that she was so furious. The kind of furious that had not been invented yet, and if a b*tch had beef with her, they were gonna have beef with her forever.
5. " Hello There, My Name Is Cardi B, And I Am From The Bronx"
You can always trust Cardi B to be herself today, but back when she was on Love & HipHop: New York, she had to take an etiquette class. The minute she set foot in Tara's class, she knew she was in for a ride. Cardi B, who was in the company of her friend Bianca, had a number of preferences. For instance, she preferred to have a visible cleavage because her teeth were crooked. " There's the thing Tara, right? I got crooked teeth, so, I don't want people to look at my crooked teeth, so I'd rather let them look at my titties," she told an amused Tara. Tara wanted Cardi and Bianca to work on their speech. For starters, Cardi said she hadn't exercised her tongue lately because her man was in jail. And when it came to introducing herself in the most sophisticated way, Cardi simply said, " Hello There, My Name Is Cardi B, And I Am From The Bronx."
6. "What Was The Reason?"
Cardi B returned to the seventh season of Love & Hip Hop: New York as a whole new person. While she maintained her sense of humor and witty persona, life had changed. To begin with, her teeth were not crooked anymore since she'd had them done. She was ready to use her mouth for what was intended; killing rhymes. In place of DJ Self, Cardi had a whole new love interest with whom she was working, Swift. Swift had a girlfriend back in London, but he didn't mind mixing business with pleasure when it came to Cardi B. At the season's reunion, 'Petty LaBelle' came face to face with Asia. She didn't hold back. Cardi B proved just how Petty she was. She wanted to know why Asia, Swift's girlfriend, was talking about her. Asia said she had a reason. "What was the reason? What was the REASON? WHAT WAS THE REASON???" Cardi B screamed. Soon after, TikTok would pick the phrase up and take it viral, making it her most popular one to date.