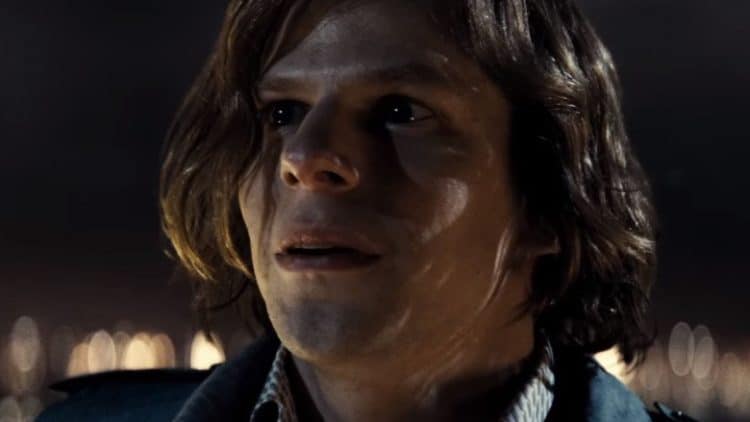 There are roles in which Jesse Eisenberg has been seen to be great in when it comes to his style of acting, but as Lex Luthor he was kind of a dud. Some people might want to dispute that and say that he had what it took to create another character that was someone who was with the times and actually had the nerve to stand up and take a role that was iconic when it comes to Superman, but seriously, they could have picked someone else and done a much better job. Who they might have picked is hard to say but the role in Batman vs. Superman could have gone to Michael Rosenbaum and things could have been far different. There's just something about Eisenberg that speaks of nervous energy that just doesn't relate well to the character of Luthor since he's always been a cold, calculating individual that doesn't seem socially inept or even a little bit nervous or hesitant about anything. Some might even say that Kevin Spacey would have been a better choice, but then again his career has been kind of rocky as of late and he is getting pretty old. But Jesse almost seemed TOO young for this role and definitely not right no matter how right he seemed in the moment.
Honestly a lot of people might state, and Chris Sims of Looper would agree, that Gene Hackman is the guy that defined the role the best and set the bar so high that almost no one could reach it. Rosenbaum did thankfully but as a TV star and not in the movies, though it does seem that had he been given the chance he could have made it work and created a vision of Lex that would have been much more acceptable. Jesse is really better for roles such as Columbus in Zombieland, or Danny Atlas in Now You See Me. That nervous energy he seems to carry most of the time seems like it's best when unleashed in a role that calls for it and allows him to be kind of a nervy, brainy individual with serious control issues that needs to be the smartest guy in the room no matter who he's standing with. That kind of attitude can be highly annoying and it might be one that you could attribute to Lex Luthor, but the truth of it is that Luthor is already confident in his abilities and intellect and doesn't need to prove anything to anyone. He doesn't mind flaunting his superiority when it comes down to it, but Jesse just doesn't seem to have that final note of attitude that Luthor is known to possess.
Fans might actually argue with this even in the light of Batman vs. Superman being one of the DC movies that allowed the company to continue tanking on the big screen when it came to the reviews. For some reason there are people that thought Jesse's character worked to a tee, but when you equate his performance with the Luthor we've seen in the comics and in other movies and animated features it just doesn't measure up. The fact is that he's a very talented actor and has put in some very great roles during his time in show business, but this was not one of them. If anything he seemed more like a nervous boy chatting with men that was in dire need of proving that he was a serious villain when in truth Superman or Batman could have swatted him like a fly. The actual Luthor has been through a great deal of trouble and strife throughout his existence and despite knowing that he's human and can't possibly go toe to toe with the heroes as a normal man, he's smart enough and has the necessary resources to tip the scales in his favor more often than not. I mean honestly, this is a human being that wants to take on a guy that has few upper limits and only a few weaknesses, and he wants to do so for no better reason than he thinks that Superman is more of a menace than a savior. Nico Hines from Daily Beast has a few things to say about Jesse that might help you to understand him just a little better, and realize why he wasn't quite the right match.
The character really needed someone that could bring the type of attitude and stern nature that Luthor is known to have, and Jesse just doesn't have that. He's way too energetic for a role such as this and while he's great when he's in his element, the DC world is not it. There are certainly other characters he could have played and been just as effective, in fact I could honestly say that as the Riddler he might have been great, but that would have been a decision for another movie. All I do know is that when it comes to certain roles it's best to make sure that you have the best person that exemplifies the character being played, and this time around that didn't happen.