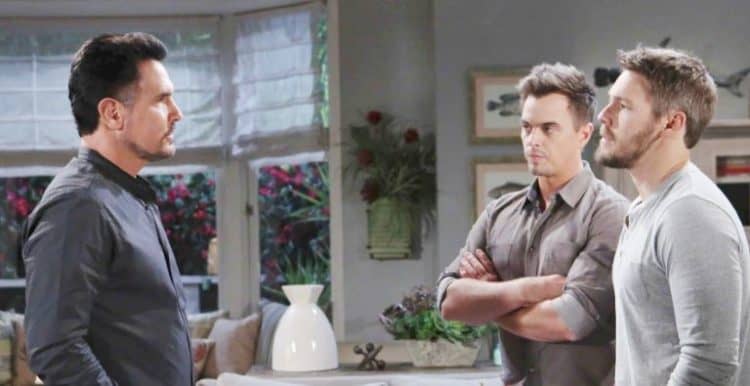 The Bold and the Beautiful fans are not surprised that we are going into a new week with the conflicts that are ongoing. They're not new. They're the same conflicts that happen all the time, so we will sit back and recap. For one, Katie and Bill are ripping one another to shreds trying to make sure the other doesn't get full custody of their son. Do they care how he feels? The simple answer is no or they'd just work together and be kind. The fact that she's now engaged to Thorne has set off Bill so hard that he cannot stand it. Ridge is siding with Thorne and Katie on this one, but his wife, Brooke, is all about supporting Bill, her ex-husband, and things there are not working out well. In fact, they shared a kiss, which is totally inappropriate, but not at all surprising.
Xander is a young man who can't decide what he wants even though he knows better than to do this to Emma. He's being a total moron right now, but he can't help himself since he's allowing this to continue and he thinks it's all right to be confused. Hope is mad at Steffy again, and that's not a big surprise. She didn't get what she wanted after not doing anything about it, and now she's mad at her stepsister. The good news here is that we think she will not be stepsister for much longer — again. At least for a few months until something happens with Brooke and Bill and their rekindling romance, and she leaves him (again) for Ridge. Perhaps writers could come up with something that isn't exactly the same thing that they've done over and over again for a quick second?
What's Happening on The Bold and the Beautiful
Did someone say it's #NationalIceCreamConeDay? 🍦 RT if you're celebrating with a sweet treat! #BoldandBeautiful pic.twitter.com/oFboAs4OUH

— Bold & The Beautiful (@BandB_CBS) September 22, 2018
We do feel that we miss all the best days when we don't get to sit back and watch this all unfold. We feel as if we are missing things like National Ice Cream cone day. And we want to have that kind of day in our lives. We want days like that. They seem nice. Can we get on board with that, please?
What's Next on the Bold and the Beautiful
https://twitter.com/BandB_CBS/status/1043862555561734145?ref_src=twsrc%5Etfw
It turns out that things are about to get very heated for a few people, including Brooke. She's unaware that her husband has the judge's ear and he is pulling for Katie and Thorne — who decided to get married before the hearing — to have this baby. She's unaware that he is pressuring the judge to get his own way, and that might not work well for him in the meantime. There's a lot happening that might not be good news for them, and she's going to flip out when she finds out what it is. She's not happy about this, and she will not be happy about this as the time goes on. She's got to face the facts that she and her husband are not on the same team as far as anything in their lives, and she's got to live with that in every capacity.
But then there is the fact that Bill is going to show up on Katie's doorstep unannounced, and we really don't know what that means or what she wants from him when she opens the door. What he wants from her is more the question, too. And that's not something we think we can handle. We aren't sure that we can sit back and keep this situation up, and we aren't sure that he won't have something to offer her that might just change this game for all of them. There's too much going on her for us to figure out what might happen in the grand scheme of things, and that's a problem for a lot of people.
Stay tuned for more The Bold and the Beautiful and be sure to check out TVOvermind daily for the latest The Bold and the Beautiful spoilers, news, and updates.