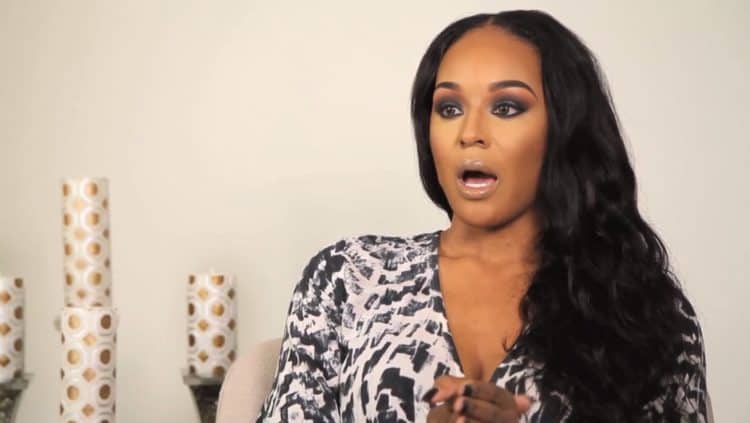 Reality star Brandi Maxiell has had her hands into so many projects. The 36-year old beauty is probably most known for her appearances on television, but Brandi is certainly more than just a reality TV star. Now more than ever, Brandi is exploring other avenues when it comes to her career and her personal life. If you've ever wondered who Brandi Maxiell is and what she's been up to, here is a list of 10 things you probably didn't know about her.
1. Cosmetic Line
It has always been Brandi's dream to have her own beauty line–ever since she was just a little girl, in fact. Her success in the television industry has allowed her to follow her dream and establish her own brand of cosmetic products. Brandi's company is called Brandi Maxiell Cosmetics. Inspired by her grandmother's love of makeup, Brandi developed her own passion and continues to explore that passion with her beauty company. According to Brandi, she created the company in order to help women gain the confidence they need in life and to help women feel empowered in their own skins. Brandi's line of cosmetics is something she's extremely proud of, and her fans love the line she's created.
2. Inspiration
Makeup was Brandi's childhood passion and fantasy, but it's easy to lose sight of that in adulthood. That's exactly what happened to Brandi, and it took something terrifying to remind her of the things she loved as a child. Brandi was diagnosed with ovarian cancer when she was only 24 years old. She overcame that adversity with a lot of help from makeup. Makeup made Brandi feel beautiful and in control during the most difficult time of her life. However, her grandmother also got diagnosed with cancer, and that's what really sent Brandi running towards the direction of her dream.
3. Midway Salon & Suites
Apart from owning her own line of cosmetic products, Brandi Maxiell is also the owner of Midway Salon & Suites. Located in Carollton, Texas, the salon offers workspaces for beauty professionals in every niche of the industry–stylists, barbers, estheticians, massage therapists, and more. The company is backed by over 25 years of experience in the industry, including Brandi's expertise and influence.
4. Basketball Wives L.A.
This show was really the first time that we ever saw Brandi on television. The VH1 show featured Brandi back in 2014. According to other members of the show, Brandi didn't fit so well, and that she's the most "middle class" out of everyone. While all the other basketball wives are sitting at home, Brandi was developing her beauty line and planning out her success. Some say that her ovarian cancer diagnosis might have been the only reason why she made it onto the show.
5. Jason Maxiell
Of course, the other reason why Brandi made it onto Basketball Wives L.A. is because she is an actual basketball wife. Brandi is married to former NBA player Jason Maxiell. Jason is most known for his time with the Detroit Pistons, but he's also played for other teams including the Orlando Magic and the Charlotte Hornets. Jason also played internationally after the NBA. Ultimately, he retired as a member of the Pistons after he came back to NBA in 2017. Brandi and Jason had been high school sweethearts before they got married and are still married to this day.
6. Infertility
While Jason Maxiell was playing basketball and working in Orlando, Florida, Brandi was actually living in Los Angeles majority of the time. After she was diagnosed and treated for her ovarian cancer, Brandi had suffered infertility for a time. She moved to LA in order to seek the latest treatments in order to have a baby. Medical breakthroughs happen all the time, and the couple felt that LA was where Brandi needed to be in order to get the best treatment. Jason and Brandi both wanted to begin a family.
7. Children
Miracles do happen, and one happened to Brandi the day she got pregnant. Brandi and Jason Maxiell had their son, Jason Maxiell II, on November 2011. Jason Maxiell II is now in elementary school. While the couple wanted another child, Brandi couldn't handle the treatments anymore. In addition, Brandi was going through a lot of trust issues with her husband. At one point, Brandi stated that she had difficulty trusting her husband with their son.
8. Texas
Brandi Maxiell is a true Texas girl at heart. Although she lives in LA now, she still owns a salon business in Carollton, Texas. Brandi was also born and raised in Dallas. She went to college and graduated from the University of Northern Texas in 2007. Brandi also got married to Jason in Denton, Texas in 2010.
9. Other shows
We've seen Brandi featured in a couple of shows including Access Hollywood and The Arsenio Hall Show. However, she's probably most famous for being on the show Iyanla: Fix My Life. Brandi and her husband Jason were featured on the show to tackle some of their longstanding issues. There were a lot of darkness that came out during that time, including the truth that Jason slept with over 340 women during the time when Brandi was sick with cancer. Although Brandi knew that Jason was sleeping around, she had no idea that it was with an exorbitant amount of women. That truth definitely shook the relationship, but the two are still holding on to their marriage to this day.
10. Net worth
As of today, Brandi Maxiell's net worth is about $2.5 million. She shares that net worth with her husband Jason, but we're fairly certain that a good portion of that amount is from her own work. Brandi's brand of cosmetic line, her salon venture, and her television appearances have made her more than her fair share of the combined net worth.
Tell us what's wrong with this post? How could we improve it? :)
Let us improve this post!