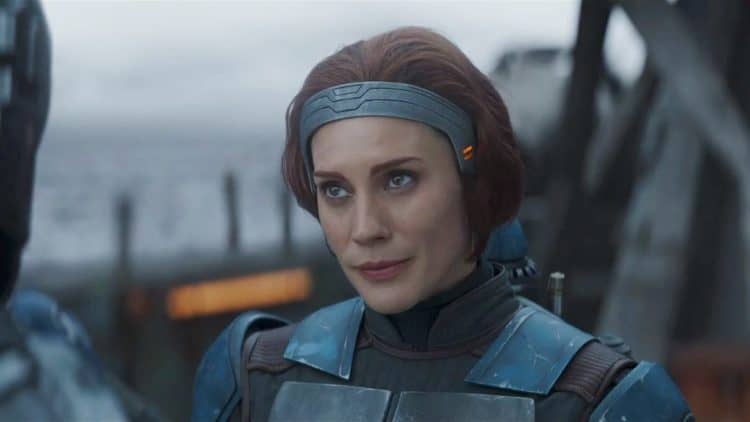 Just when you thought we couldn't get enough Star Wars spin-off shows. Now Bo-Katan Kryze, the former rogue Mandalorian, might be getting a Disney+ series of her own. And just keep in mind, that is a very big might. It was nice to see Katee Sackhoff actually reprise her role in the second season of The Mandalorian, especially since it was in live-action. That only tells me future Star Wars shows will indeed bring back those voice actors to actually play the characters they have voiced in the cartoons. Yes, I am very much thinking about Lars Mikkelsen for Admiral Thrawn. That just has to happen for the Ahsoka Tano series. Since we're on the subject of more Disney+ shows, I don't think it's too outlandish to think that a Bo-Katan series is out of the question. What gives some fire to this smoke? The Mandalorian and the Book of Boba Fett star Ming-Na Wen retweeted a report that claimed the show is in development. On top of that, Ming-Na Wen congratulated Katee Sackhoff on getting her own show. Of course, Wen quickly deleted the tweet, as no confirmation has been made official, but still, this does raise some questions.
How much does Ming-Na Wen actually know about a potential Bo-Katan series? Probably a little something, since she was quick enough to delete that tweet. There's always something to hide when tweets are deleted. It is possible we're reading too much into this, but we just have to speculate on all the possibilities this news stirs up. Yes, Bo-Katan is a cool character, but what exactly makes her cool enough to warrant a Disney+ show just for her. It's not like she's as popular as Obi-Wan or Ahsoka and she has spent almost all of her time as a supporting character. Let's start by thinking about where we last saw Bo-Katan. The finale for season two of The Mandalorian put her in a difficult spot with Mando, but was soon interrupted by the intrusion of the Dark Troopers. And we all remember what happened afterwards, which almost made us forget about her gripe with Mando. Call it a gripe or whatever, but it does set the stage for the third season of The Mandalorian. And if these reports have some truth behind them, it could set up everything for a Bo-Katan series.
So just a little recap, we all remember her issue with Mando inadvertently claiming the Darksaber. Is it his? Since he defeated Moff Gideon in combat, then technically yes, by Mandalorian law. That's a problem for Bo-Katan, since now she apparently has to challenge Mando to a duel in order to rightfully claim it. And no, I guess he can't just yield and give it up. That would be boring and we need to see more of Mando using that awesome Darksaber. I'm guessing that will be the beginning of the third season of The Mandalorian and if that's the case, what could Bo-Katan possibly do for her own adventures? Anyone remember the Rangers of the Old Republic show that was supposed to happen? With the firing of Gina Carano, that ship has long sailed into the very far horizon. It's kind of sad news, because I did want to see a squadron of ragtag rebels get together and hunt down the remnants of the Empire. That sounds like enough material to carry a show, but based on what was heard about it, Bo-Katan was supposed to be in it.
What are the chances this supposed Bo-Katan spin-off is actually meant to carry on Rangers of the Old Republic? It's probable, but that does leave a lot less material to work with. Personally, I thought Disney should just recast the Cara Dune character. Since that likely won't happen, Bo-Katan will have to find more comrades. She still has her small squad of Mandalorians backing her up, but she will also have to increase her ranks. Anyone else counting in Sabine Wren? This is a character Bo-Katan has encountered in Rebels and in a situation that mirrors the finale of the second season of the Mandalorian, she accepted the Darksaber from Sabine. Everyone's been asking why she would accept it from Sabine but not from Mando and I'm wondering that myself. I'll be honest, I never finished Rebels, so I can't come up with an answer. However, I feel like an explanation can he given in the series, especially if Bo-Katan encounters Sabine Wren again.
I do know that Sabine Wren will appear in the Ahsoka series, played by Natasha Liu Bordizzo. As of now, she isn't involved with Bo-Katan's conquest to retake Mandalore. She needs to help Ahsoka find the missing Ezra Bridger, which will eventually lead to Admiral Thrawn's live-action debut. That's exciting, but I think they can find a way to reunite with Bo-Katan. Maybe they can participate in her conquest to retake Mandalore? Ahsoka already helped her do that when she was younger and now she can do it with her two new clear lightsabers. It could lead to their journey of finding Ezra or maybe it's because Sabine feels obligated to help, but I could see these characters interacting again. Now if this news isn't true, then Bo-Katan could just meet with Sabine and Ahsoka again in the Ahsoka series. That sounds like the more logical approach, but who knows what Disney can do with another solo series. I wasn't expecting a solo Boba Fett series, but I'm glad we got it, because I'm enjoying it so far. I'm just very curious to see if this idea will resurrect a fraction of what Rebels of the Old Republic was supposed to be. That's something I would've watched, but maybe Disney can put their own spin on it. If a Bo-Katan series is the best approach to that, then I'll check it out. I'm more curious to see that duel between her and Mando for that Darksaber. That's cooler than a lightsaber. Care to disagree? What are your thoughts, Star Wars fans? Do you think a Bo-Katan spin-off will happen? If it does, what do you think it will be about?
Tell us what's wrong with this post? How could we improve it? :)
Let us improve this post!