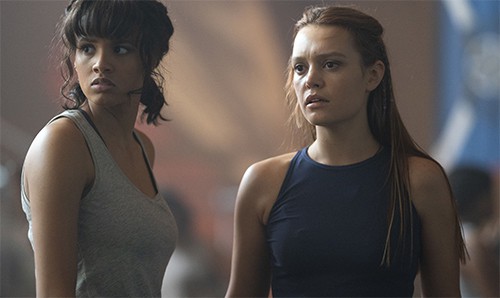 Ashley Nicole Williams has only been acting professionally for about two years, but during that time she has already become a star. She is best known for playing Abigail Bellweather in the TV series Motherland: Fort Salem and her portrayal of the character has taken a lot of people by storm. Within that one role, she has managed to show just how talented and versatile she is. As a result, other opportunities are sure to open up for her. Although she has two film projects that are currently in the works, it's unclear when they will be released. However, there's a very good chance that we will be seeing a lot more of Ashley in the future. Keep reading to learn 10 things you didn't know about Ashley Nicole Williams.
1. She's From Dallas
Ashley was born and raised in the Dallas area and she comes from a very close-knit family. Although her home life was good, life in Texas wasn't always easy. In an article for Teen Vogue, she opened about how her experience growing up in Texas and some of the racism she had to deal with it.
2. She Studied At Baylor
Ashley fell in love with acting when she was in elementary school, so by the time she got to college, there was no doubt that she wanted to focus her studies on the arts. She attended Baylor University where she studied Film & Digital Media. However, it's unclear whether or not she ever completed the program.
3. She Wants To Get Into Directing
At this point in her career, Ashley has spent the majority of her career in front of the camera. At some point, though, she plans to experience what it's like to be on the other side. She would love to get into writing and directing and one day she hopes to act in her own projects.
4. She Loves Fashion
From what we can tell, Ashley doesn't have any experience working in the modeling industry, but that hasn't stopped her from falling in love with fashion. Ashley has a great sense of style and fashion is an important part of her self-expression. No matter the occasion, you can bet that she's going to pull up looking good.
5. Her Faith Is Important To Her
Ashley hasn't gone into detail about her religious beliefs, but it's clear that she is a Christian and her faith has played an important role in her life. She has leaned on her religion during difficult times and continues to put God at the forefront even when things are going well.
6. Taraji Is Her Favorite Actress
Not only is Ashley a talented actress, but she's also a fan of other talented actresses and Taraji P. Henson is her favorite. During an interview with MTV, Ashley said, "My all-time favorite actress is Taraji P. Henson. If I can ever work with her, that would just be a dream come true. Being able to not only work with her, but just soak in everything she has to say like a sponge, to be around her for a conversation, would be amazing. I wouldn't even have to work with her, just to be a sponge around her. I feel like she can just embody any character and freaking kill it."
7. She Loves Connecting With Her Fans
Even though Ashley is still very new to the industry, she already understands the importance of building strong relationships with her fans. Ashley often takes the time to retweet comments and compliments from her fans and they love knowing that she sees what they're saying.
8. She Believes In The Importance Of Representation
As someone who has had to deal with the realities of racism and a lack of representation on screen, Ashley is proud to be able to provide that representation for other people. She told Black Girl Nerds, "I feel like representation on the screen and in the media is so important. I always say, I love that I can show little Black girls that they can be a bada** kick-a** warrior as well and see themselves on screen."
9. She Loves Being Outdoors
Ashley is very thankful to be able to do something she loves for a living, but she also enjoys being able to take the time to unwind and relax. When she has free time, she loves to spend it outdoors exploring the beauty of nature. She loves hanging out by the water and doing things like hiking.
10. She's A Big Disney Fan
Ashley is soaking up the excitement of the moment, but she's also looking forward to the future. She loves Disney and Pixar movies and hopes to get the chance to work with either one of them. She would especially love to play princess Tiana if they ever make a live-action version of The Princess and the Frog.