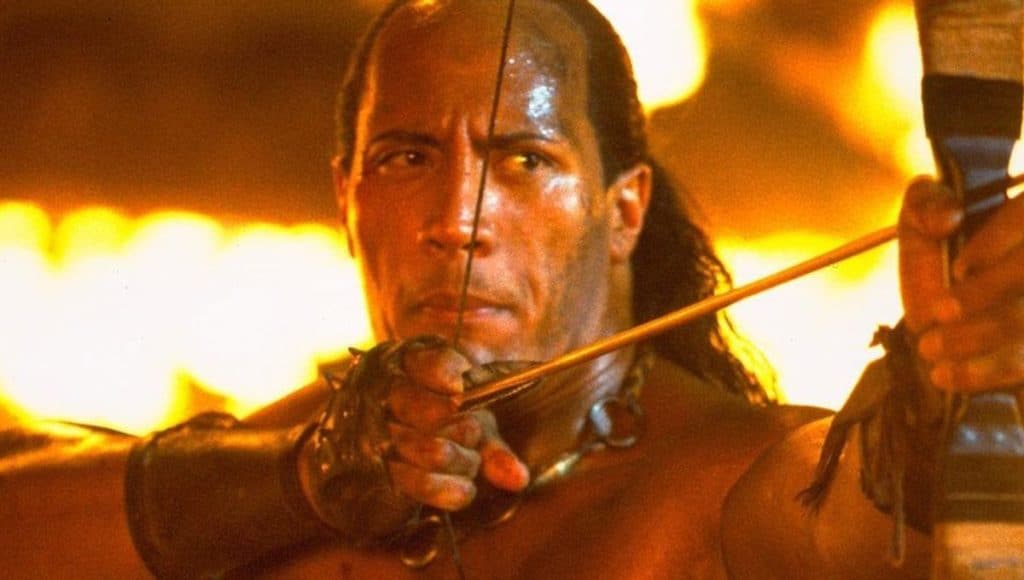 There are still a few people out there that might have something to say about the original Scorpion King that came out in 2002, but for the most part, a lot of people appear to think that it was a great movie and that it was worth making a few straight to DVD add-ons. But it does sound as though a reboot is in the process of being made, and that reboot is going to take things into the modern era, which is bound to be interesting since the original was set firmly in ancient times with Mathayus of Akkad, played by Dwayne Johnson initially, taking on the lead role of the main warrior. The first time we got to see Mathayus was as a marauding king in The Mummy Returns as he played the villain that was supposed to be the big deal of the movie, and ended up becoming a CGI nightmare that turned a lot of people off in a heartbeat. The opening of the movie was great since it showed Johnson in action and as the strong and capable king. Things kind of went downhill from there.
In all honesty, The Scorpion King wasn't the worst movie to ever be made, but it was far from the best since it incorporated a great deal of humor and a lot of slapstick moments that a lot of fans weren't expecting since from the previews it looked absolutely awesome. But following in the footsteps of the Mummy movies, it didn't get heavy with the bloodshed, and the violence was kept toned down in a big way. While this was okay when it came to being a little more family-friendly, it wasn't really what a lot of fans were hoping for, and as a result, quite a few people felt a bit cheated since in terms of action the movie was great, but the dialogue and the act of censoring certain scenes was kind of hard to deal with from a moviegoer's perspective.
But there was plenty of action, that much is agreed. What isn't easy to figure out is how the Scorpion King turned into the villain at one point, though some people have pointed out that perhaps he wasn't the villain in The Mummy Returns, at least not initially. That's kind of hard to buy into without added context however since in The Mummy Returns it does appear that his forces were the aggressors and that they were beaten back until Mathayus made a pact with Anubis without realizing what he was doing. But then again, in The Scorpion King it does appear that he's a very intelligent and forward-thinking individual, so making a pact with a god of death would be kind of tough to reason with since it means that he simply lost hope. But oh well, the point of the reboot is that the Scorpion King is going to be taking on modern times, which is interesting to think about since it's easy to imagine that there will be something about prophecies, fate, destiny, and many other buzz words that will get people interested. Johnson is going to have a part in the movie, but as of yet, there's no word on where he'll show up or what he'll be doing.
It is interesting to think that this movie will be headed back to the big screen if that is the plan since it's been lying around for a while now and it doesn't appear as though much thought was given to it for quite a while. A lot of fans did want to see it continue, and it did, but they wanted to see Johnson take on the role again since he's the one that made it work in the first place, kind of. The figure of Dwayne Johnson and his acting talent has come a long way since The Scorpion King since as the picture of a warrior he's definitely impressive enough and had the physical skill to make it work, but when he was still just starting out his acting still felt like it needed a bit of help to really come around. As of now, there are still moments when Johnson feels a bit stiff in a role, particularly when he's acting with someone that can be completely loose like Ryan Reynolds.
But he has improved a great deal and he has made it possible to believe that he can do it again when he shows up in this movie. Whoever is going to be picked to take on the lead role however is going to have to be someone that people will actually believe in, since otherwise, it might as well be another direct to DVD affair. There's a lot of faith that this can work, but until people get to see something they're going to wonder without any doubt.